Easily understand LED screen price
How much is an LED screen?
Many consumers understand the specifications, features, designs of LED screens, but they're going to get confused that different LED screen products have the same design and even the same specifications but with a major price difference; why are those differences? Are producers paying more profits? What's the real cost of the LED screen product?
Suppose you are also concerned about how much USD you can buy a LED screen or how much USD you need to start a LED screen business. In that case, you can read on, or you can directly fill out the beside contact form to get the price of outdoor, rental, and indoor LED screens; our advantages are as follows.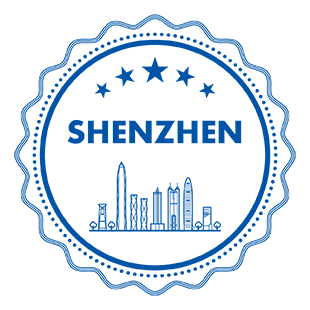 We are locaed in Shenzhen where is the original factory specializing in OEM and ODM for the world.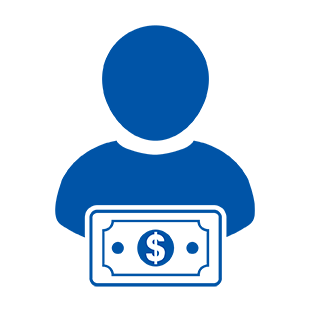 All of our sales are professionally trained in LED display and your solutions can be delivered within 24 hours.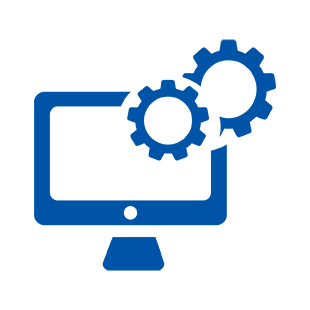 Our engineer is professionally trained with linsn, novastar, colorlight, you can get the support always on time.
Quickly have the price for your project
Check The Price Of LED Screen Types
Get start to invest at $5,000 to buy your own LED screen.
Things You Need to Prepared Before Asking Price
The Ways of How to Calculate the LED Screen Price
The information you need to calculate the price of an LED screen.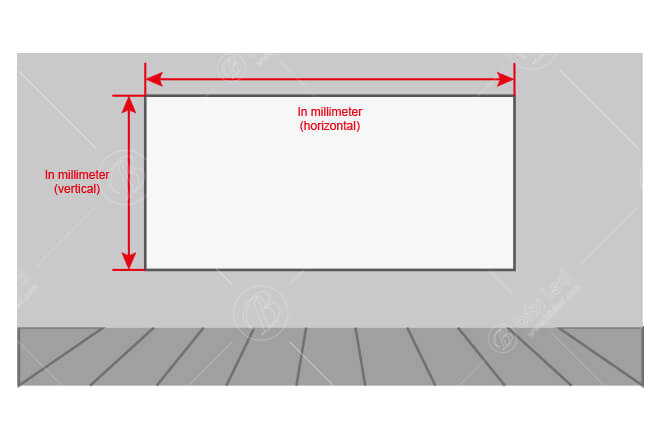 How To Measure The Size Of An LED Screen?
The first step in deciding the price of the LED screen is to know how big it is going to be. To do this, we must use measuring tools. You can use a tape measure when LED screens are not very big. Or use the professional laser rangefinder when LED screens are big. We're going to take measurements in millimeters, recognizing that 10mm = 1cm. 
Also, you will need to calculate the horizontal
the length you want in millimeters for your LED screen. And calculate the vertical height you want in millimeters for your LED screen.
Resistance To Rain:
Indoor Or Outdoor LED Screens?
The following two methods can be used to confirm if the LED display screen needs to be waterproof, and then to confirm if an indoor LED display screen or an outdoor LED display screen should be used.
Outdoor LED screens: Outdoor LED displays are installed in places that are open to rain and outdoors. This means that they require shielding to enhance water resistance and are more costly than indoor LED displays.
Indoor LED screens: These LED screens are mounted in the enclosed areas and are not exposed to rain or weather. They do not need superior sealing protection and are simpler to manufacture, much more economical.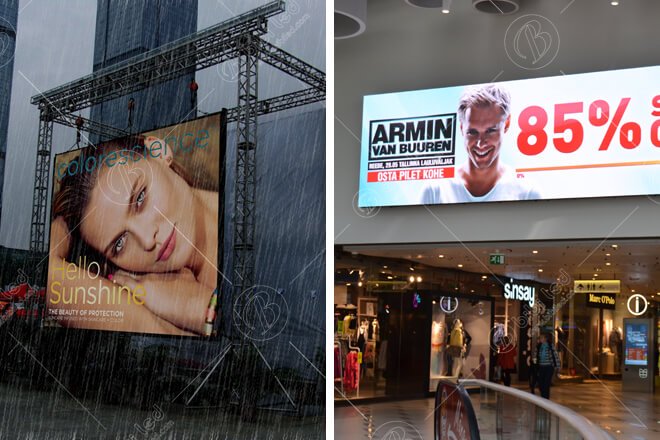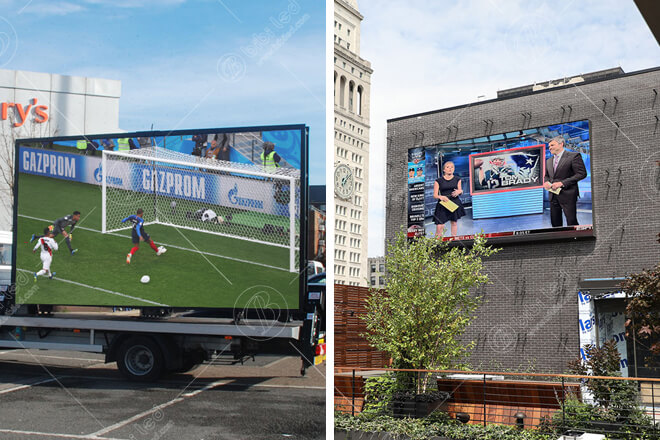 Movable Or Fixed Installation?
The price of the following two usages of LED screens has a big gap. One is permanently installed in one place; the other needs to often move to a different place to use. We can judge which one is more suitable for you according to the following two points.
Fixed installation LED display: When the LED display is installed, it does not need to be moved. It will always be installed in the place. We can choose to use affordable sheet metal iron or aluminum material and use disposable plywood box packaging.
Movable LED displays: When the LED display needs to be frequently disassembled and installed, it will need to move to a different scene to use. We must use a lightweight die-cast aluminum material with quick-lock or magnesium alloy material; packaging also needs reusable flight cases.
Installation Site Images And Videos
When we can receive pictures and videos of the installation site from you, we can recommend the appropriate pixel pitch and the installation method based on the actual situation.
Pixel pitch selection method: When the total pixel is greater than 60,000, it is generally recommended according to the viewing distance, for example, the best viewing distance of PH10mm is 10-30 meters, and the best viewing distance of PH5mm is 5-15 meters.
Types of LED screen installation: Installation methods include wall mounting, column mounting, roof mounting, hanging, etc.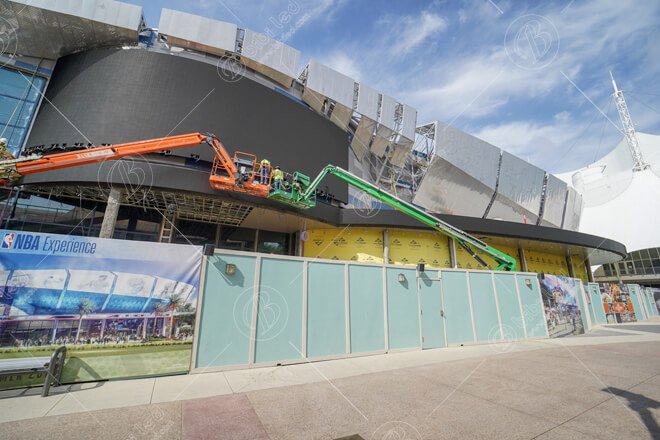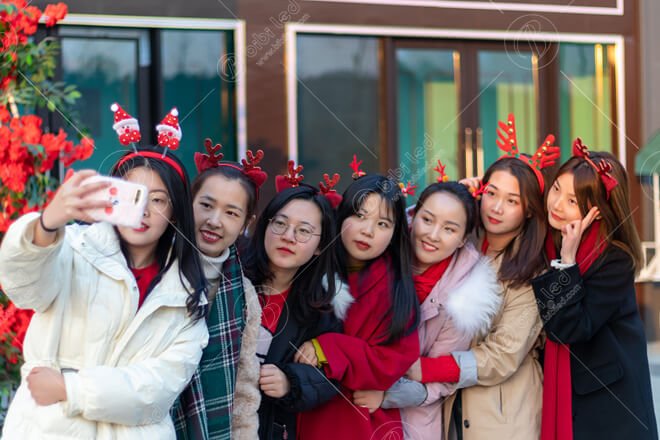 How to receive an LED screen price?
When you have LED screen projects that need to be priced, you can get in touch with us in the following ways.
1. Email: click to contact us page, leave your information and requirements.
2. Whatsapp/tel: There is our contact number and WhatsApp at the top and bottom of the website; you can contact us anytime.
3. Social Media: There are our social media at the top of our website, where you can learn more about our company and leave messages.
4. Direct contact with our sales staff: At the bottom of the About us page, there is the contact information of all our sales staff, you can also contact them directly.
5. Contact our overseas distributor: We have led display distributors in Albania, Nigeria, Sweden, South Africa, and the United States, so if you are considering buying LED displays locally, we can also provide the contact information of our local distributors.
Get the Price for LED Screen Now!
Discuss the price of LED screen with experts.
How much is an LED screen?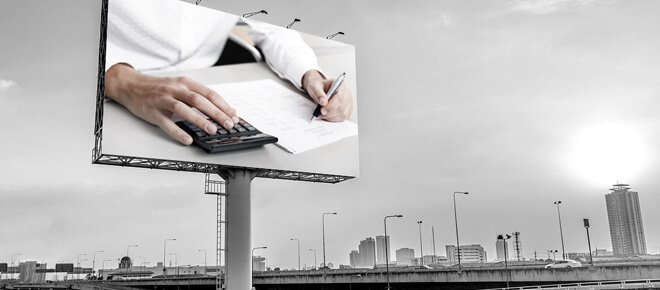 As new technology accompanies the offline advertising industry's development, more and more advertising media companies and other companies have increasingly recognized LED displays.
So, we write an article about LED screen price. 
It takes 15-20 minutes to finish reading; 
After that, you will understand how does the LED screen price comes.
However, due to the uneven prices in the market, it is not enough for everyone to understand the LED display, resulting in more and more people being pit.
Next, a professional Chinese LED display manufacturer will bring you an article about LED display prices.
We will discuss the LED display price in detail through the following nine chapters.
9 chapters to know exactly led screens price!
Chapter 1: The Price of the LED Video Walls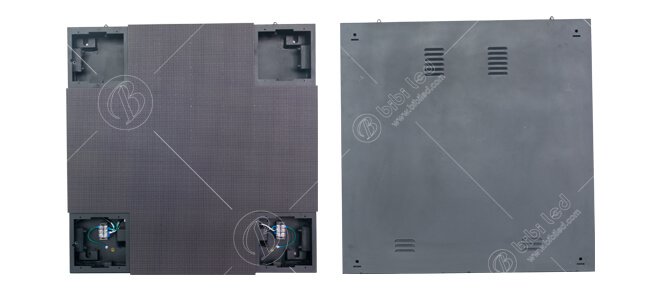 1. LED display screen size
The first step in determining the LED display screen price is to measure the size and size of the LED display you need to buy first.
Usually, a tape measure or a professional measuring tool is shown below.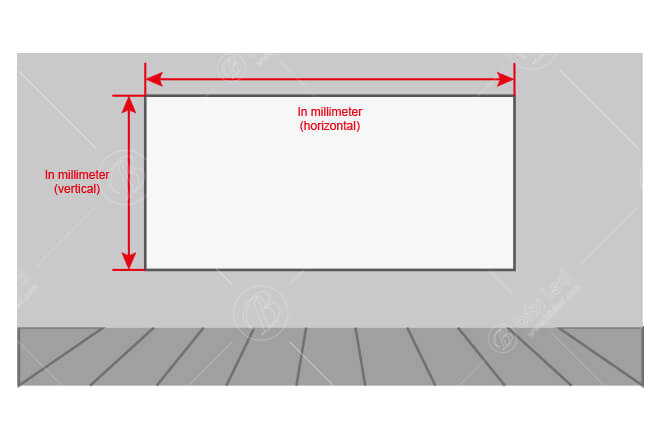 And the unit of measurement is millimeters or meters.
The price of the LED display is generally calculated according to the square meter.
It can be calculated according to the following formula.
W = Width, H = Height
Then it is W x H x SQM Price = LED display price.
Of course, if you buy an LED display, you will also need to buy corresponding accessories, such as control systems, packaging, spare parts, etc.
Then the LED display's total price is equal to the cost of the LED display + the price of the LED display accessories.
If your LED display is installed in the air, there is no specific size.
Then you can provide the following information to the LED display factory:
1). Take some clear pictures and videos of the installation position of the LED display
2). Tell me what the purpose of this LED display is?
3). What is the viewing distance of your target audience?
Therefore, a professional LED display factory will give you reasonable size recommendations.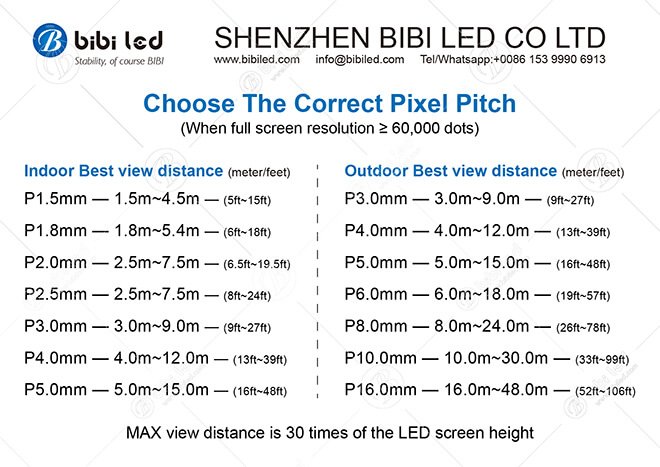 2. LED pixel pitch
The closer the pixel pitch is, the more LED lamp beads there are in a flat square, so that the price will be higher.
How you choose the pitch depends on the closest viewing distance you are using and the pixel resolution you want.
For example, when the same-sized LED display screen, the closer the distance, the higher the resolution under the same size can display, the clearer the displayed content.
For example, we see the below video on the lower surface, the pitch PH2.6mm, and PH3.91mm, the same size.
3. Indoor and outdoor applications
We will use two points to determine how to choose an indoor or outdoor LED screen.
1). Do I need to be waterproof?
2). Do you need high brightness (LED display face the outdoor environment)
You need to meet the demand of one of them; 
Then it would help if you chose an outdoor LED display.
The price of an outdoor LED billboard will be higher than an indoor LED display.
Because the outdoor LED display is designed to ensure it can be used generally in rainy weather and requires.
You can still clearly see the contents of the LED display face direct in the sun.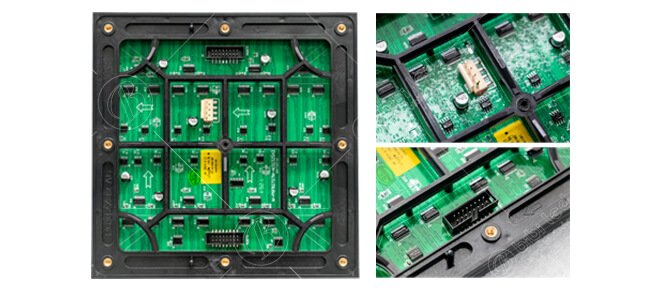 4. Selection of raw materials
Here we mainly talk about four main materials: LED lamp beads, IC, power supply, cables.
1). LED lamp beads
 At present, the best-LED lamp bead produced in China is Nationstar. 
The price is also the most expensive in the Chinese market.
The second is the King light LED lamp beads.
If the budget is enough, choose Nationastar LED lamp beads. 
If the budget is limited, choose Kinglight LED lamp beads.
Here is a blog post about how to choose LED lamp beads?
2). Driving IC Chip
The LED display driver IC's quality will directly affect the display effect and durability of the LED display.
The LED chip's role is to ensure the display stability of the LED display, eliminate the LED flicker phenomenon, and provide a high-quality content display.
The LED chip will also directly affect the refresh rate of the LED display.
There are more ICs used in the market, such as Macroblock, ICN, FM. 
Among them, the quality of the Macroblock is the best and most expensive.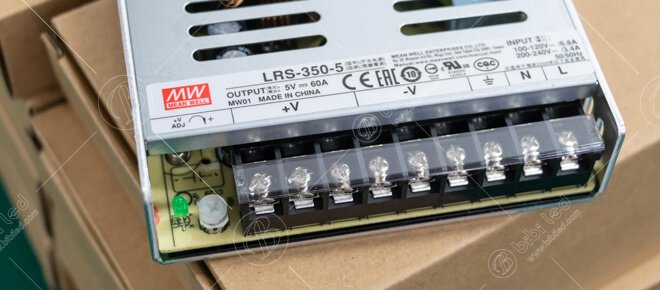 3). Power supply
At present, the most recognized power supply for the quality of LED displays is Meanwell Power Supply.
Meanwell can be sold second-hand even after two years of use.
So you can imagine how reliable the quality of this power supply is.
Of course, if the cost is considered, we will recommend the power supply of G-energy, which is relatively stable in quality.
There will be hundreds of different power supply brands on the market.
When you haven't heard of that power supply, you must talk to the salesperson more and understand more about this power supply.
Because the power supply is used to power the LED display and the main control of the security of the LED display.
The picture below is an inferior power supply used in a shopping mall, which caused a fire.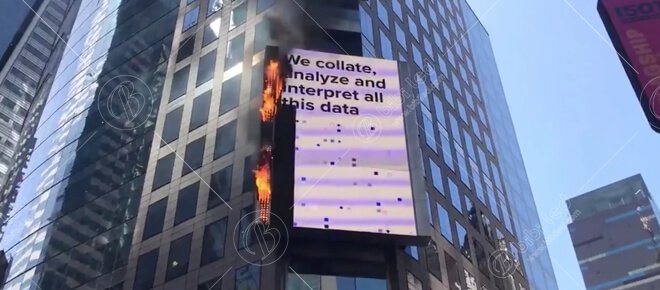 4). The cables.
The cable is the same as the power supply; in addition to transmitting power to the LED display, it also adds security.
The following video will show you how to choose the right cables for your LED screen.
If you need more solutions, you can send an email to our mailbox and leave your question [email protected].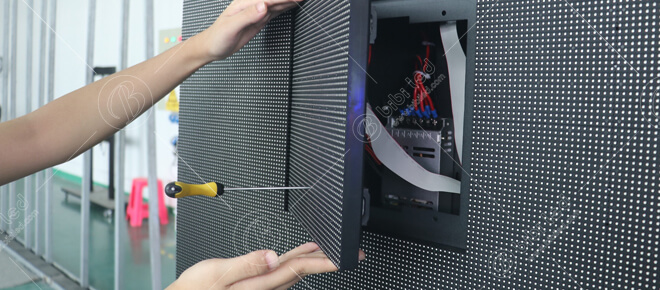 5. Front and back maintenance
Regarding whether the LED display is indoor or outdoor, for the LED display itself, front maintenance will be more expensive.
At this time, you need to consider whether it is possible to do an 800mm maintenance space on the back of the LED screen at the installation site.
If it can be done, then we recommend using back maintenance.
However, if the installation structure will affect the aesthetics and the installation location is within 10mm, it is recommended to use the front maintained.
One thing to note here is that if you do front maintenance, you will save more on the cost of the installation structure.
So when the cost of the structure plus the screen is not much different, we will further recommend the front maintenance LED display.
Of course, it is also necessary to make suggestions based on actual conditions, and you can communicate with professional LED display suppliers
Chapter 2: The Price of Buying an LED Display.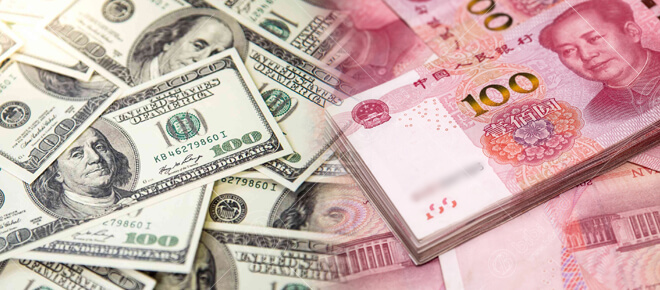 This chapter mainly talks about the price difference of purchasing LED display screens from different places. 
The following is our analysis for you:
Buy from a local dealer
Buy from China
Summary:
If you are more concerned about after-sales service and do not care about the price, you recommend choosing a local dealer.
If your budget is limited and you can do it yourself, you can learn from it. 
We suggest you buy it directly from Chinese LED screen manufacturers.
Of course, even if you buy it from a Chinese LED display factory, professional technical support is still in place. 
But it is only about installation suggestions and software support.
Just the hardware installation will be more complicated.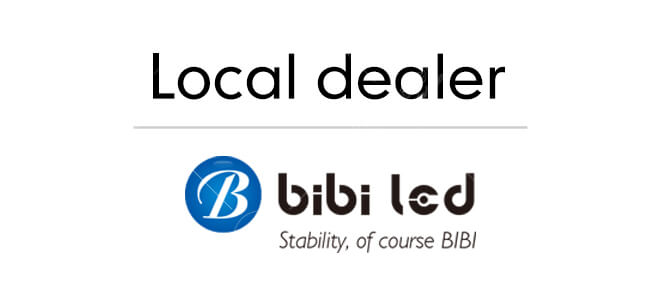 Chapter 3: Transportation costs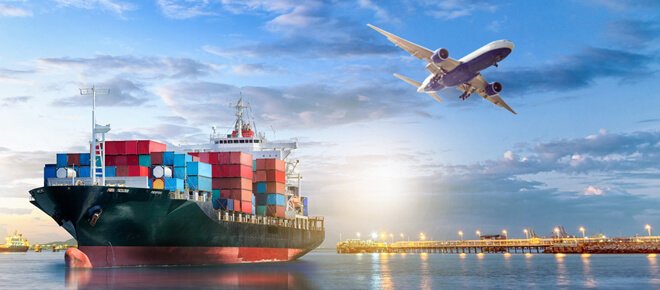 When you buy an LED screen from China or any other countries, you will need to consider the transportation cost, import tax, and customs clearance.
Types of transportation ways
1. Air shipping
When the delivery time is very urgent, especially stage LED screen always need to be in the location on time, so air shipping is the best choice.
2. Sea shipping
Since the fixed LED screen's weight and size used to be very big, most LED screen importers chosen sea shipping if not in a very hurry.
3. Train shipping
The train shipping way is only suitable for some countries, such as Russia and Europe, connecting land with China, the time is around 12~20 days, and the cost is higher than sea shipping but lower than air shipping.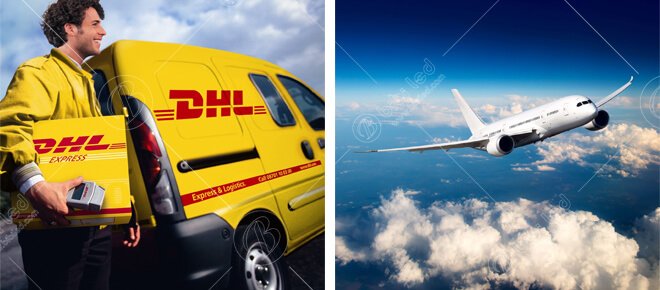 4. Door to door by express delivery, like DHL, UPS, FedEx
For LED screen, some of the importers buy the parts, like LED modules, power supply, control card, and cables, they build the LED screen by themself, if the weight is below 100KG, door to door shipping way is the best choice.
Conclusion: almost 70% of LED screen importers choose sea shipping because it is very cheap although it takes a long time.
Cost of import tax
Here is the HS code of the LED screen: 852859.
You need to call your local customs department with the above HS code or find the LED screen's local HS cost; it might be different.
Then you will find out the exact import tax of LED screen in your country.
Customs clearance
When you import the LED screen, an agency contact with you, or the customs department will contact you to ask you to prepare the documents for the import customs clearance.
It will need the certificates when you sell or use the LED screen in some countries, which will cost some.
Chapter 4: Prices for Different Product Types.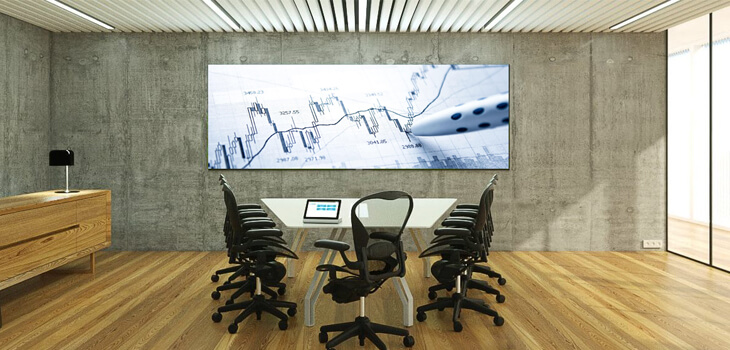 Different products will have different prices. 
There are main LED screen products as below to select:
Message LED Screen
Taxi LED Screen
Bus LED Screen
The estimated price of LED screens reference below
$5,000 for P10 SMD 5000mm x 4000mm advertising outdoor fixed LED screen.
$9,000 for P5 SMD 5000 x 3000mm advertising indoor fixed LED screen.
$28,000 for P1.875 1920 x 1080 2K high-resolution fine pixel pitch LED screen.
$12,000 to start rental LED screen business with P3.91 rental LED screen.
$90,000 for an outdoor big LED screen, like over a hundred square meters.
So, when you need to buy an LED screen, the price range starts at $3,000 up to $200,000.
Chapter 5: Installation Costs.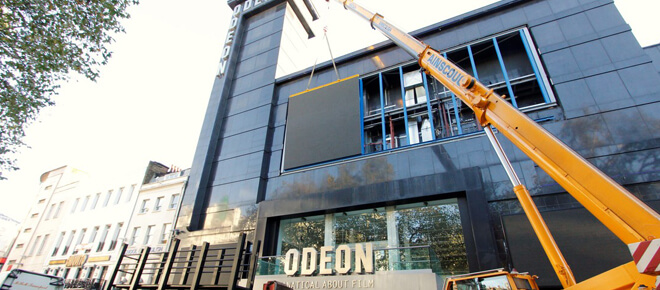 When you receive the LED display, you will need to pay another fee, which is installing the LED display.
There will be three plans as below:
1. Install by yourself
2. Ask your local installation company to install
3. Invite you to purchase the LED display supplier to provide installation services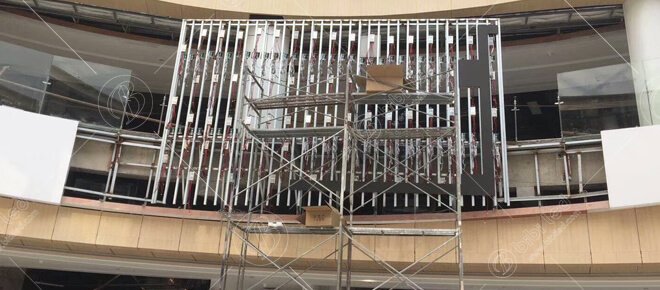 1. Install by yourself
If your LED display is about 10 square meters, and the installation position is safer, you can also make your own steel structure.
Then, you can let the LED screen supplier that you buy the LED display give you the drawings of the LED display.
Next, according to the LED display screen's drawings, the installation structure is made, and the LED display screen is installed by yourself.
Then, you only need to pay the cost of the installation structure.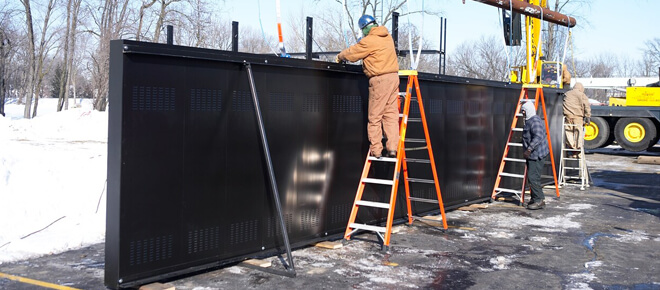 2. Ask your local installation company to install the LED screen.
If your LED display is relatively large and requires a team to complete, the installation location is also more dangerous.
Then at this time, you must ask a professional installation company to install it.
In this case, you will need to pay the installation structure's cost plus the labor costs of professional installation personnel.
3. Invite you to purchase an LED display supplier to provide installation service.
We do not recommend this option for the following reasons.
1.) Even if you are invited to purchase LED display suppliers to provide installation services, it will only send a professional installation engineer and a translator.
We still need to call your local workers to do the handwork.
2.) You will need to provide round-trip costs for one or two people, including all living expenses, and a daily salary of about US $ 200 per day.
And generally, the installation of an LED display will take 7-15 days.
To sum up, you will need to pay for the costs for this solution: the cost of the installation structure + the cost of local installation workers and technical all expenses.
Therefore, we will further recommend option one and option two.
Chapter 6: After-Sales Expenses.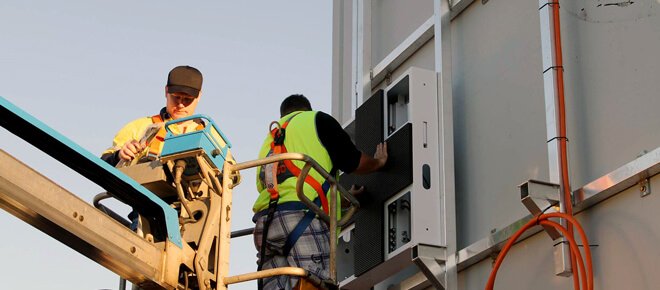 The main after-sale expenses of LED display divide into two parts:
Maintenance costs
Cost of repair
1. Maintenance costs:
The LED display is recommended to be maintained once a year in the first five years. 
What is the main maintenance of the LED display?
Mainly to repair dead LEDs and clean the screen, and so on.
Next, I will give you two maintenance plans:
1.) Self-maintenance:
If you know how to change the module and repair the LED lamp, how to clean the screen, you can do your regular maintenance.
Here are two blogs to learn as below:
What you need to spend: cleaning equipment and spare parts costs
2.) Please professional LED display repair company maintenance
If you do not know how to replace the modules and repair the dead LED, do not clean the LED screen.
Then we recommend finding a local professional LED display to do the regular maintenance for you. 
Costs: labor service + maintenance cost.
2. Repair costs:
If there is a problem with the LED display and needs repair, then there are three options.
1.) Self-repair.
When there are small problems with the LED display screen and how to find out the issues, you can choose to do your repairs.
At this time, you only need to spend your time and energy with no extra costs.
Therefore, knowing basic maintenance knowledge is the best way.
Here is the blog on how to find out the problems of the LED display screen.
2.) Ask your local professional LED display repair company.
If you do not understand how to troubleshoot and repair the LED display, it is recommended to ask the local LED display repair company.
Also, you can consult the installation company to help you with maintenance services.
In this case, you will need to pay extra labor and repair costs.
3.) Invite you to purchase an LED display supplier to provide repair service
Communicate with LED screen suppliers on time, assist remotely, find out the cause of LED display screen obstacles, and know whether your LED display screen is under warranty during the period:
If this happens during the warranty period, you only have to pay the one-way freight.
If the warranty period has expired, in this case, you need to pay the return shipping fee.
The above is a small problem for the LED display failure. 
When a massive failure occurs, you still need to ask a professional maintenance team.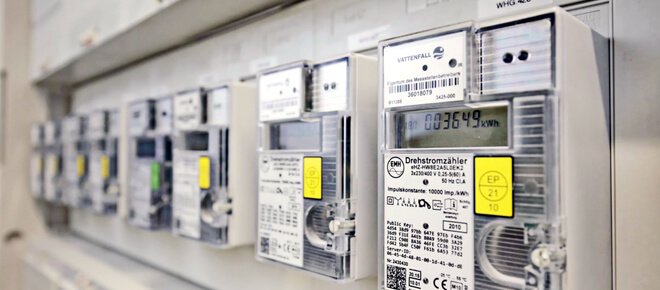 The cost of use is dividing into electricity costs and installation site rental fees.
1. About electricity cost
Different from the big and small LED displays, the power consumption is different. 
However, LED displays are all relatively energy-saving optoelectronic products.
The power consumption range is 0.3-0.8KW per square meter per square hour.
To understand the detailed LED display power consumption, please refer to this article; how to calculate the LED display power consumption?
2. Regarding the cost of venue rent (only for indoor and outdoor fixed installation of advertising screens, renting screens does not require site rental costs)
When you are ready to buy an LED display, you must see that the LED display is very profitable, and the return on investment will be compared high.
But the same, when you buy an LED display, there is a necessary and high cost of a point: venue rental costs.
Venue rents are mainly calculated based on the flow of people. 
The larger the flow of people, the more expensive the rents are.
The easier it is for your advertising space to be sold at a good price.
Therefore, before you are ready to buy an LED display, you must go to the local market to calculate the flow of people and the price of renting.
Of course, if necessary, you can also refer to the LED display next to your selected location. 
How much does their advertising cost?
In this way, you can figure out how long it will take to return your investment to the original.
Chapter 8: How to Get a Quick Quote.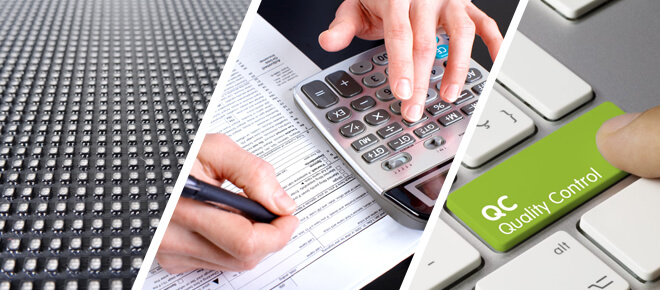 This chapter is mainly about where you can get the price and what information you need to prepare before getting the price.
Information to be made in advance
1. The LED screen size you need?
2. The clear pictures and videos of the installation location?
3. Do you have your long-term cooperate forwarding company?
4. Are you able to do the customs clearance?
Where to get the price
1. Click to enter https://www.bibiled.com/contact-us/, fill in your name, phone (essential), email.
And prepared information in advance, and click Send.
2. Our professional sales team will reply within 24 hours. If it is a more urgent project, you can call directly Or WhatsApp.
Chapter 9: How to work with a trusted LED Display Supplier?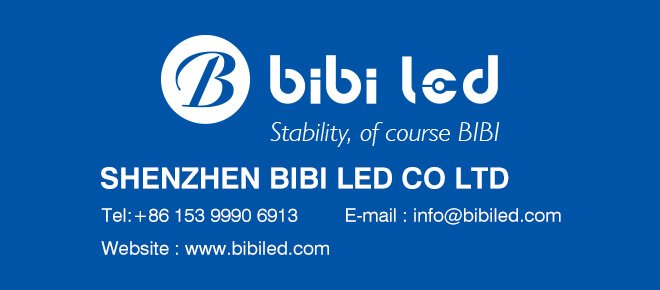 After reading this article, do you still think it is a simple matter to buy an LED display?
At this time, it is particularly important to cooperate with a professional LED display supplier.
BIBILED, a one-stop LED display factory with a 6-year professional export service team and professional production equipment.
We have a professional technical team, business team, and localization service team.
We can not only provide the price of LED display but also offer the cost of LED display parts to our customers, such as
Control system, video processor, power supply, cables, flight case packaging, LED die-cast aluminum cabinet, LED steel cabinet, Installation structure, LED modules, stage lighting.
Work with trusted LED screen suppliers is the key to the success of the future LED screen business. 
Quickly have the price for your project