LED poster screen is used to replace the traditional roll-up banner promotional tool. The biggest feature of the LED poster screen can be wirelessly controlled through mobile 4G, WIFI, and other ways to play video and other dynamic advertising LED display, can significantly attract customers and clear expression of promotional content.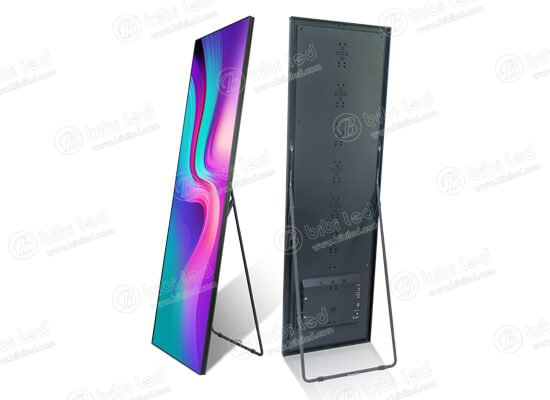 Quickly get 2021 New Price!
CP Series Quality Inspection Video
Quality not only means excellence but also reliability
CP Series is a top design of poster LED display in the whole LED screen industry.
It is used for High-speed trains, airports, Sales will, education, hotel, mobile phone shop, Auto 4S shops, etc.
CP Series is the right one to choose from if you need easy use and a movable LED screen to post your advertising.
Pay your cost for the details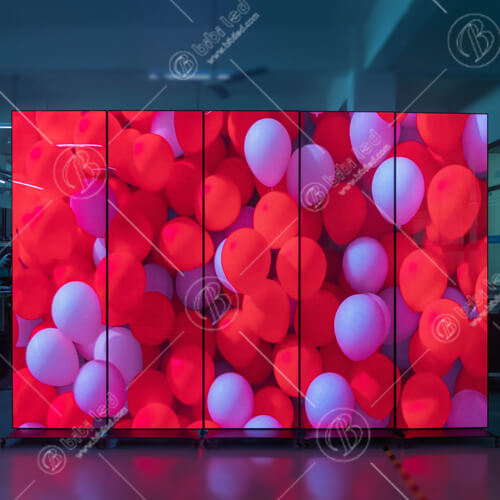 Cascading LED posters by Novastar T6 control card, maximum 8pcs LED poster together as one big LED screen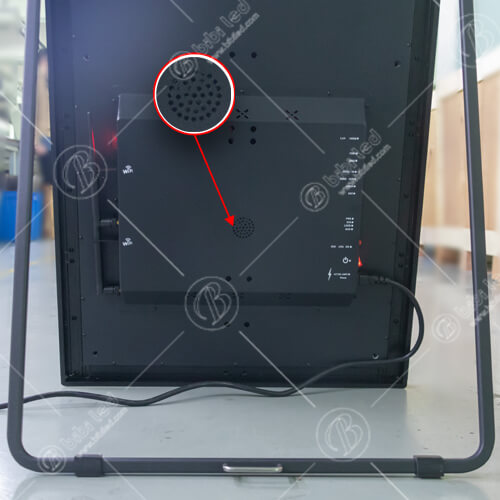 IP series LED posters are able to play the voice while playing the videos, meanwhile the sound system is switchable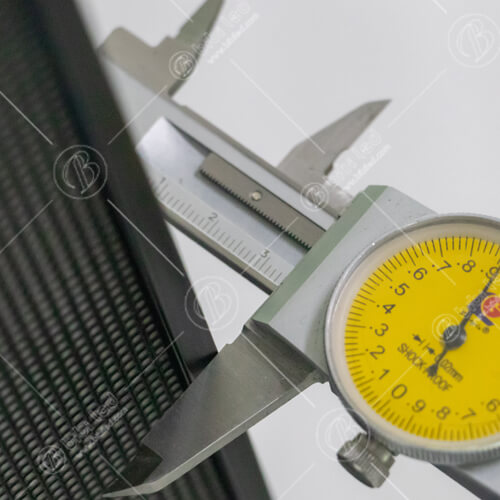 The LED poster is only 33mm thickness, the best design in the LED screen industry, and the weight is only 28.5kg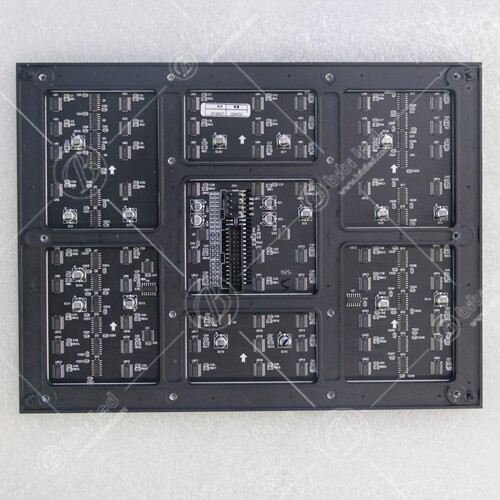 Better service always has a better flatness performance, the LED module will not move during the transportation
Friendly Tips: To ensure that you could make the correct solution for our CP Serice poster LED display.
Please continue to read the following introduction and download our specifications.
Can't find what you are looking for? Contact us.
Your email will be responded to within 1 business day.
ITEM
UNIT
P1.75
P2
P2.5-I
P2.5-O
Pixel pitch
mm
1.75
2
2.5
2.5
LED type
N/A
SMD 3 in 1
Size
mm
1920x570x33
Driving method
N/A
1/40
1/32
1/27
1/27
Weight
kg/pc
28
Brightness
nits
1000
3100
Rrefresh rate
hz
≥3840
Gray scale
bit
≥12
Colour temperature
Deg.K
3,200 ~ 9,300
Brightness control
N/A
255
Contrast ratio
N/A
4000:1
Video angle H
deg.
140
Video angle V
deg.
120
Input AC operation
volt
AC90~264
Power consumption(Max/Avg)
w/m2
800/250
Storage tem.
F/C
-4 ~ 140F/-20C ~ +60C
Storage humidity
RH
10%~85%
IP rate
N/A
IP31 Not waterproof
Life time(50% brightness)
hour
100,000
Control mode
N/A
Cloud system, WIFI system with Mobile phone
Poster LED screens: The Ultimate Guide
Chapter 1: What is a Poster LED Screen?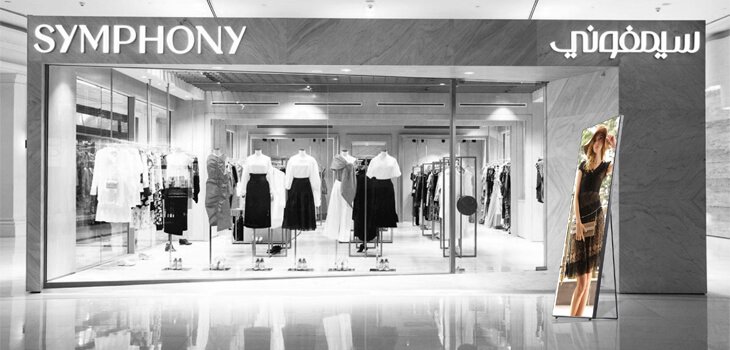 Have you seen a poster LED screen?
This is a common sight in shopping malls.
Basically, a poster LED screen or "static screen" is, as it is more popularly known, is a type of display device that is mainly being used for advertising purposes.
Its initial design was to display a static picture in the form of timing switching. But it has then evolved and is now capable of displaying videos as well.
There is even a more advanced version of this.
Did you know that there are already LED display screens built that can access the internet?
Since the introduction of cloud servers, users can already use their mobile phone, tablet, computer, or other data terminals to process the data information through the cloud server.
This allows them to access the data in the cloud server and then push the content to the LED screen display anytime and anywhere. That's how convenient it is nowadays.
That technology is already implemented in LED poster screens.
These screens are capable of display HD images and videos and have a 3840Hz refresh rate.
It also has a 140-degree wide view angle and has the capability to be spliced into multiple screens without an edge line.
These lightweight and slim LED displays can always be easily moved.
That's the beauty of this type of display screen.
Chapter 2: Poster LED Screen Applications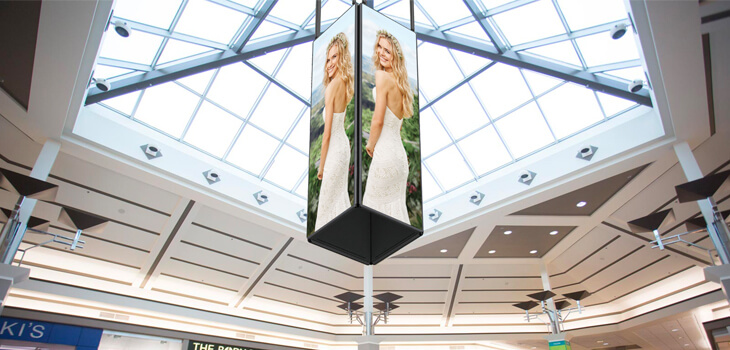 As mentioned above, these LED poster screens are used for advertising.
That's why you commonly see them in these places:
Shopping mall
Theaters
Hotel
Airport
High-speed rail stations
Store windows
Expo and exhibit venues
Brand stores
Performance venues
Large-scale conference rooms
You normally see them in shopping malls displaying the latest unveiled products or any information about their promos and discounts.
They are also being used in theaters, specifically outside the theaters.
They usually display a few scenes of the movie that are currently being shown to either capture the attention of potential audiences or inform people what type of movie is currently showing.
Another common place you see LED poster screens is in airports.
Now the use for these devices isn't normally for commercial purposes.
Instead, these display devices are used to display flight information.
You will normally see flight arrivals and departures on these display screens.
It's a bit different from the normal commercial application but still comes in pretty useful.
The same can be said in high-speed rail stations.
Like in airports, poster LED screens are also being utilized to show the day's train schedule.
Although some of these screens are also being used to display ads, you will mainly see them displaying train schedules.
As you can see, these LED screens have two main uses. They either be for commercial or informative use.
They are used for commercial purposes when they display ads of specific brands.
They become informative display devices when used to display important information like train schedules, plane departures, arrivals, or even store discounts and promos.
Chapter 3: Poster LED Screen Advantages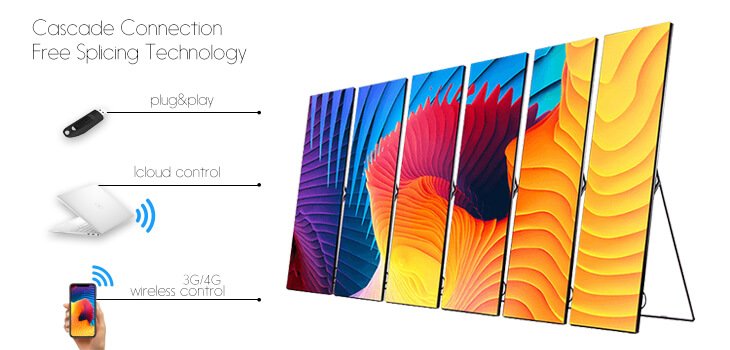 Using this type of LED screen does have its own benefits.
Aside from what was mentioned above wherein, you will have the ability to control what will be displayed on the screens even though you are in another part of the world (cloud technology), there are also other advantages that it brings to the table (some more obvious than others).
As you've already noticed, poster LED display screens are lightweight. This makes it very easy to move around or place in a different location. If you are planning to rent it out, you won't have a hard time transporting it to and from the location.
It is also very easy to use in that is it is virtually a plug-and-play device. Plus, it has the "mirror screen" feature that makes it easier for the user to display a more eye-catching image or video.
Color and sharpness are very evident especially when used in a quiescent state.
You will be able to control static images a lot better, thereby allowing you to avoid fast or slow image changes.
Apart from these advantages, what makes the poster LED screen really a very attractive option is its intelligent cloud remote control system, which will allow you to publish content anytime and anywhere. You simply can't find that in other display devices.
Chapter 4: How To Install A Poster LED Screen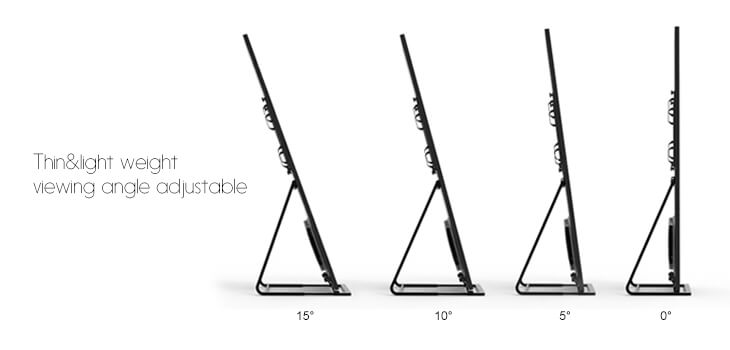 There are several ways to install an LED poster screen.
The most popular one is also the easiest to install.
The floor-standing method is basically just like setting up a picture frame, only it is a much bigger picture frame.
All you have to do is lock the LED panels into the frame using the locking mechanism provided upon purchase.
After doing that, you can then set up the stand so that the poster LED screen can be propped up.
All that's left to do is set it up according to how you will want to control it.
If it will be using the cloud, it has to be connected to the internet via 3G/4G.
If you want the screen to be lifted upwards instead of it standing on the floor, you will need some sort of mount that you have to attach at the back of the poster screen.
The procedure is almost the same as the floor-standing type.
You have to attach the LED panel to the frame.
Then, attach the mount to the back of the panel and connect it to the beam where it will be lifted above the ground.
Of course, locking mechanisms will be provided when you use the mount.
Multi-screen and creative screen installations are more or less the same.
You will need to join the poster panels together either by hanging them or propping them up on the ground and display them as one big video or image content by several single poster led screens.
The trick is to set up the panels to act as one main screen.
You will be able to achieve that by using specific software that will allow you to control the images that will be displayed.
There are several software available on the market today that will allow you to do that.
Quickly have the price for your project