The hospital's LED screens could display the hospital's promotional video, helping the people understand the hospital more straightly
Outdoor LED screens
High brightness, waterproof quality LED screen installed in outside
Indoor LED screens
LED screens in the storefronts and windows to attract more traffics
How does an LED screen helps for hospital
Urgent news
When there are other emergencies such as severe weather, warnings, epidemic information, etc., LED digital signage can be used as an emergency response tool. The LED display can quickly update the message function. Managers can send messages to the central control behind the LED display at any time.
Improve patient satisfaction
Whether it's a patient or visiting someone, sitting in a hospital waiting room and waiting for the results is boring. Even a few minutes feel like a year has passed. But install an indoor fixed LED display. You can not only provide rich and interesting content but also avoid it. If you miss the queuing information, the LED display can be split. The left side can display news, weather, sports reports, animations, etc. The right side can show the waiting queue number, medicine number, inspection number, and important hospital announcements.
Help with wayfinding
In hospitals, installing LED displays can free hospital staff from directing traffic and reduce close interactions in corridors, solving the worrisome social distancing of infectious diseases.
Promotion tool
Educational content such as health tips, medical advice, etc., is displayed on the LED display screen to provide patients and visitors with health care knowledge, which is beneficial for staying healthy. At the same time, it can promote the hospital's medical breakthrough discoveries, treatment services, important information on facilities and research, the purpose of the hospital, and so on.
2023 New LED Screen Price Check
Quick and easy: Enter your specifications and get a quote in one business day
Where does the LED screen used for hospital
Find the right place in your hospital to install the LED screen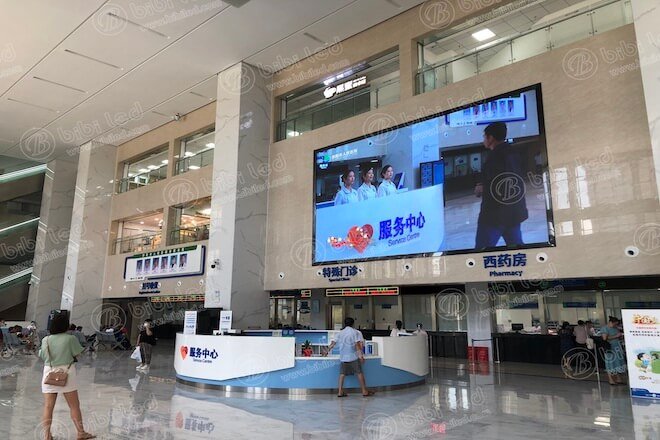 Front Desk Lobby

1) Information Center:

Indoor LED screens in the lobby of hospitals and clinics are displayed 24 hours a day, showing: the history and spirit of the hospital, important health information and lifestyle choices, doctors, support services, ambulance service, etc.

This will help patients understand the hospital's basic situation in time and can quickly find the right doctor to get treatment. It improves the medical staff's efficiency at the front desk service center and can help others better and more. It can help the hospital to get better authority.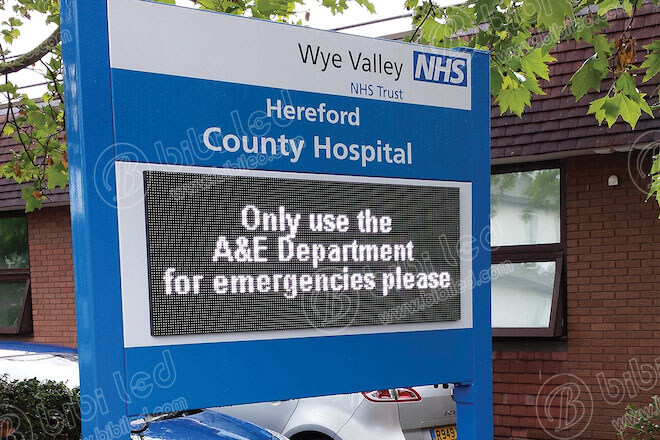 Entrance of the Hospital

1) Directions:

Outdoor LED billboards not only indicate where patient visitors need to go but also help them get to the right area on time.

2) Broadcast Emergency:

When there is an emergency in the hospital, the LED display is immediately broadcast through the network, helping evacuate personnel and ensuring their safety.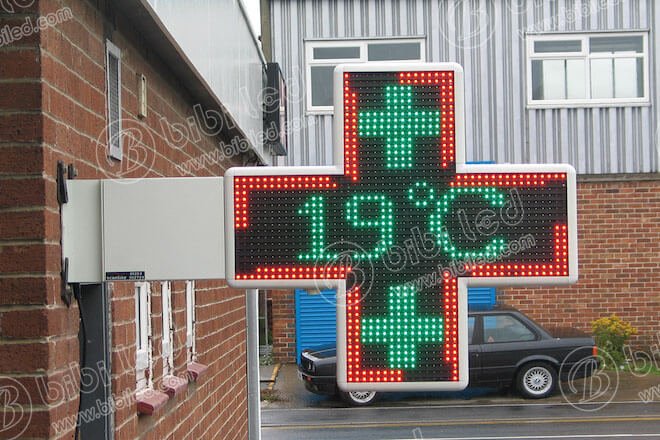 Above the Main Entrance--Outdoor Fixed LED Screen/Cross LED Screen

1) Information guide:

install monochrome display mostly in the form of text display, broadcast hospital simple news, time and current weather conditions, warm health tips, and so on, convenient for people in and out of the hospital, need to pay attention to things.

For example, due to the impact of the Covid-19, every public place should take precautions, especially hospitals. So the LED display needs to show that people entering the hospital must wear a good mask free alcohol at the entrance to wash hands and take temperature; please enter the hospital to prepare in advance.

Patient satisfaction and cost savings are the two most important parameters for any public or private healthcare facility, hospital; LED displays are an effective and cost-effective way to increase patient and healthcare delivery satisfaction; LED Digital signage is more convenient and impactful than traditional printed signage.
Bibi Led display solutions provide hospitals with displays that use video images. They can display waiting times, appointment times, healthcare education, and treatment plans that can significantly improve the clinical performance of each department, saving you time and money.
Bibi Led provides you with LED displays for different purposes in hospitals, medical institutions, and clinics, including outdoor LED displays, indoor LED displays, monochrome LED information boards, etc. You don't need to worry about whether the outdoor LED displays will be affected by the environment. Influence, Bibi Led outdoor LED display has designed outdoor products suitable for different regions, they have IP65 high waterproof, moisture-proof, anti-corrosion, heat dissipation, and other functions.
2023 New LED Screen Price Check
Quick and easy: Enter your specifications and get a quote in one business day