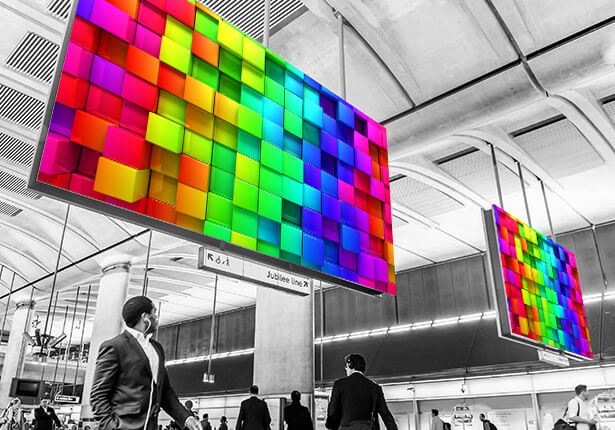 Indoor LED screen

Dynamic promotional content for better eye-catching

It can be customized in size; it is simple to install and use

High resolution and rich playback content, including the ability to play text, video, and images, as well as files in a variety of formats

The best tools for indoor advertising makes your business outstanding

2023 New LED Screen Price Check
Quick and easy: Enter your specifications and get a quote in one business day
Who needs an indoor LED screen?
Indoor LED displays are extremely useful in high-traffic areas. As a result, indoor LED displays that can play dynamic content have become the most effective tool for advertising in shop windows, airports, shopping malls, and businesses.
Furthermore, indoor LED displays are used in conference rooms, museums, and other public places to show people more details and clear content via video or dynamic content.
The LED display's large size, high brightness, and dynamic playback effects catch the attention of passing people.
What is an indoor LED display?
An Indoor LED display is an LED display installed in indoor applications. It has a high-definition resolution and ultimate display effect. But indoor LED displays are not waterproof.
There are two main uses of indoor LED display, one is for advertising, the other is for conference or stage display.
When it comes to advertising purposes. We all know that most businesses have a high demand for advertising, they need to attract a large number of customers, as well as let customers know their brand. The best way for a business to build a brand in the minds of customers is through advertising. Indoor LED displays can be the best tool for your advertising promotion plan because they can play promotions and publicity advertisements in your store and places with high traffic, deepening the business of the enterprise into customers' hearts.
Indoor LED displays for conference and stage purposes are mainly used to replace traditional projectors and LCDs. The indoor LED display has the advantages of any size, high brightness, and high color reproduction, and has become the best digital display equipment for conference rooms and stages.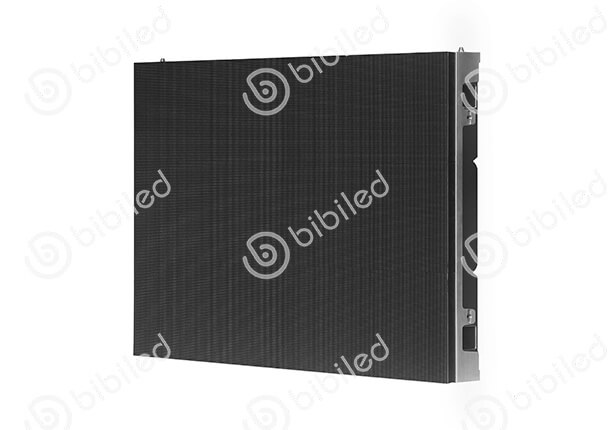 Indoor LED screen technical features
The critical parameter of an indoor LED screen is resolution and size ratio.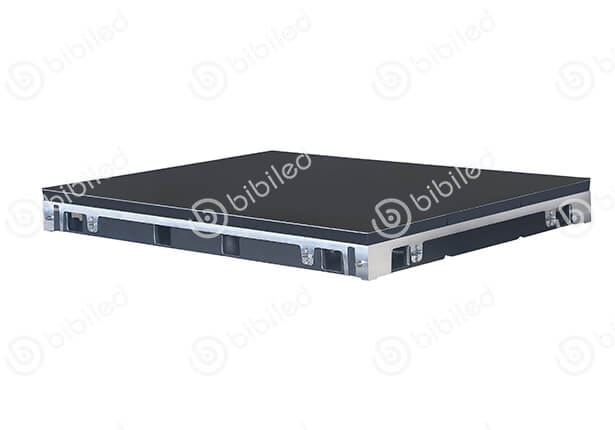 To select the best indoor LED display, you must first determine the installation method, viewing distance, and which content to be played.
The accessories and maintenance methods for indoor LED displays will differ depending on the installation method. To begin, you must determine how to install the LED display.
When selecting an indoor LED display, we choose a smaller pixel pitch to play a clearer video effect and provide a good view experience to people who watch the LED display from a close distance.
The final factor to consider is which content to be played. It is recommended to use a 16:9 aspect ratio if it is being played by movie video. Others can be chosen based on the installation location.
ITEM
UNIT
Description
Pixel Pitch
mm
1.86, 2, 2.5, 3, 4
LED
N/A
Black LED
Refresh Rate
Hz

>1920

Key Point
High definition video visual advertising, indoor fixed installation
2023 New LED Screen Price Check
Quick and easy: Enter your specifications and get a quote in one business day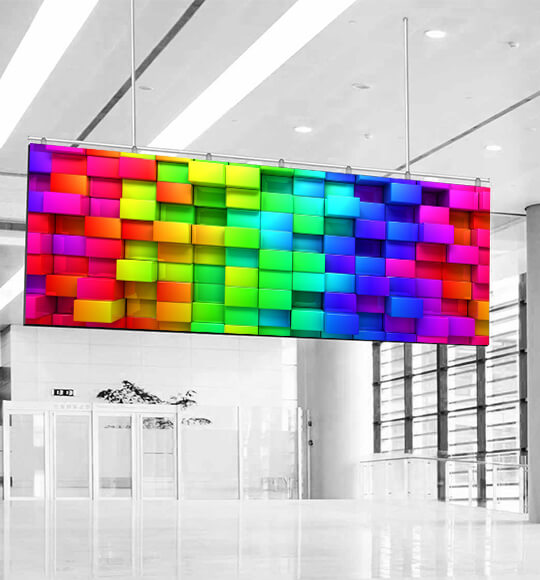 Indoor LED screen set up

Indoor LED displays are generally lighter and thinner, and their installation is very simple. As a result, you can install it yourself in most cases, and we will provide the installation structure and drawing.

There are three indoor LED display installation methods: wall-mounted installation, hanging installation, and inside wall installation.

Wall-mounted installation requires enough load-bearing capacity on the wall itself.
1. Determine whether the wall can withstand the weight of the LED display.
2. Determine the wall's maximum width and height.
3. Confirm the tools and structures required to install the display.

Hanging installation: The hanging method is suitable for no wall around and no fixed points available, but the roof has enough load-bearing capacity.
1. Determine the weight of the LED display and confirm that the roof can support the weight of the LED display.
2. Determine the height of the LED display from the ground and the height at which the LED display must be installed.
3. Prepare the hanging bar to connect the LED display to the roof.

Inside the wall installation: The LED display must be installed invisibly and in the same position as the wall.
1. Determine the thickness of the wall and the thickness of the LED display.
2. Confirm the maximum width, height, and thickness of the LED display installed on the wall.
The indoor LED display control method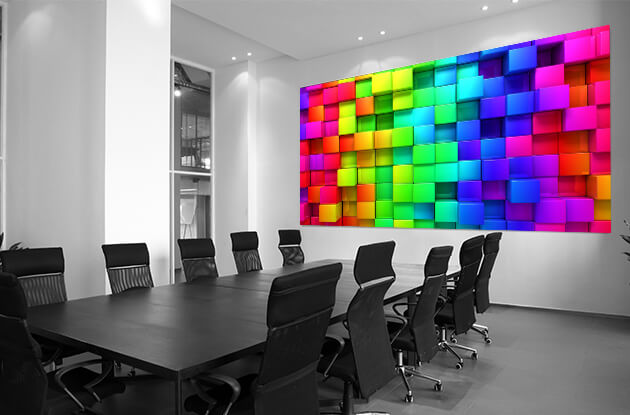 Various control systems make using an indoor LED display easier and more convenient.
It is recommended that a remote or mobile device control the indoor LED display for advertising purposes. You only need to use our free software on a computer or mobile device to change programs quickly.
The indoor LED display for conference rooms must have the desktop projection function, which can be connected to the control computer to display the content of the computer desktop. When choosing the indoor LED display for conference purposes, we must select the 16:9 ratio so that the computer desktop can be perfectly displayed on the giant LED screen.
In addition to the above two indoor LED displays, there will be information broadcast, publicity, and other uses. If you have a specific application in mind, please get in touch with us to provide you with the best control system solution.
Indoor LED screen can do more
Indoor LED displays are widely used in churches, governments, schools, and banks.
Church
Churches are no longer just places for believers to gather and pray; they are also places for new couples to choose to marry. More churches install indoor LED displays to meet these needs better and create a more romantic atmosphere for weddings.
Government
Install an indoor LED display in the government hall that can update news, spared content, latest policies, and so on in real-time with the effect of dynamic display. The indoor LED display helps in public relations and improves the government's image.
School
Indoor LED display screens have gradually made their way onto the campuses of primary schools, middle schools, and universities in recent years. LED display screens have helped to publicize and popularize knowledge on campus.
2023 New LED Screen Price Check
Quick and easy: Enter your specifications and get a quote in one business day