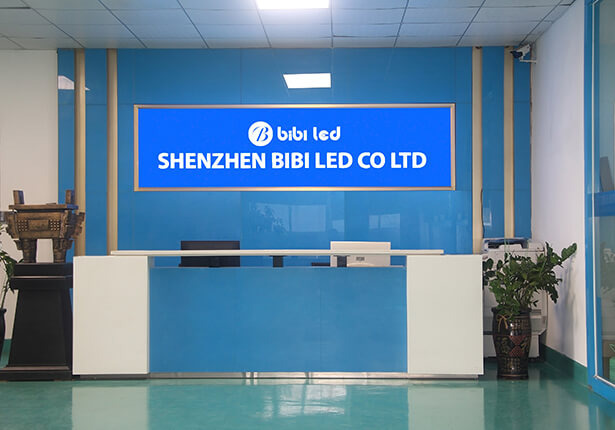 LED Display Manufacturing

5000 SQM+ production area.

40+ professional staffs.

6 years production experience

Four automated production lines.

Located in Shenzhen.

2023 New LED Screen Price Check
Quick and easy: Enter your specifications and get a quote in one business day
How are LED displays manufactured?
Have you ever wondered how to make a LED display? Do you know how the large dynamic video-playing electronic LED displays you see on the main streets of your city are made? If you're curious or thinking about buying an LED display, you might be wondering: How are LED displays made? Bibi Led, as a leading brand LED display manufacturer in Shenzhen, we would like to tell you every detail of the LED display production process to ensure that you can better understand the LED display.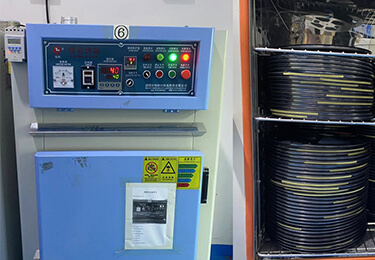 1. LED lamp baking
If the SMD lamp beads are not baked, there will be many dead lights after application. Therefore, in order to better ensure that the lamp beads can be used normally, they are generally baked before use.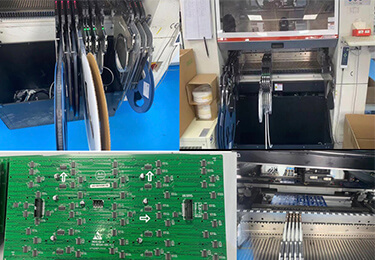 2. PCB SMT
IC SMT needs to brush solder paste first, then paste IC, resistors, capacitors, power sockets, and signal sockets, and reinforce them in reflow soldering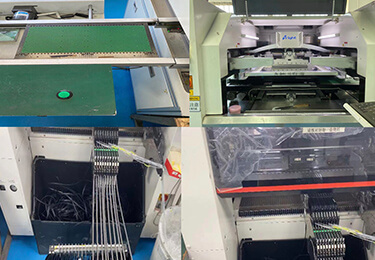 3. LED SMT
The lamp bead surface patch also needs to be brushed with solder paste first, then patched on the SMT machine, and finally reflowed.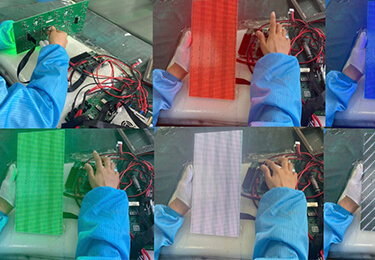 4. Light on test
This is the first lighting test, if there is a problem, it will be repaired and then proceed to the next step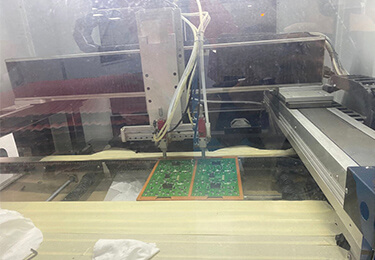 5. Brush three anti-paint
The three-proof paint has good high and low temperature resistance; after curing, it forms a transparent protective film, which has excellent insulation, moisture-proof, anti-leakage, shock-proof, dust-proof, anti-corrosion, anti-aging, corona resistance and other properties.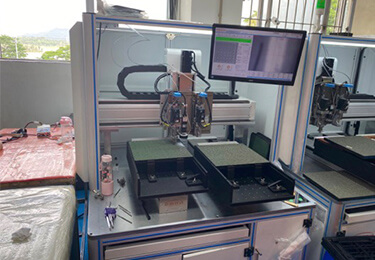 6. Screw (bottom case)
Secure the bottom case and PCB with screws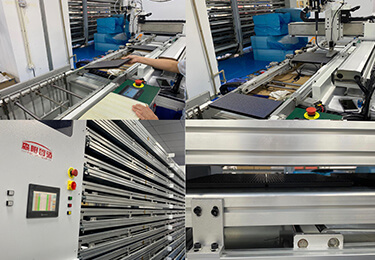 7. Glue (outdoor LED modules only)
The glue is used to waterproof the surface of the outdoor LED display. After the glue is poured, it needs to be prevented from drying on a horizontal shelf.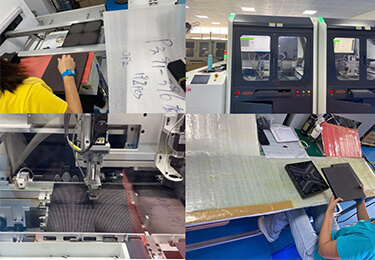 8. Screw (mask)
Secure the mask with screws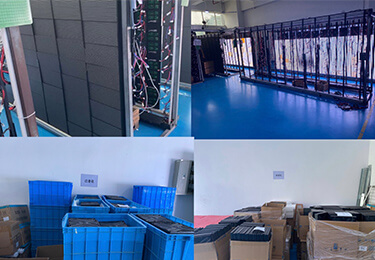 9. LED module aging
After the LED module is produced, it will be aged for 6 to 12 hours to ensure that there is no problem before proceeding to the next step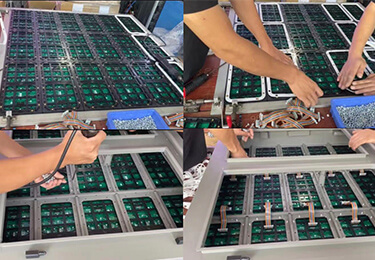 10. LED cabinet assemble
Assemble the LED module, power supply, receiving card, and cabinet together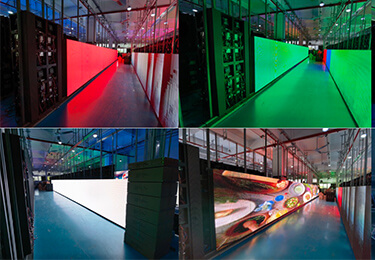 11. Full LED screen aging
When the LED cabinet is assembled, build the entire LED display and conduct an aging test for at least 24 hours.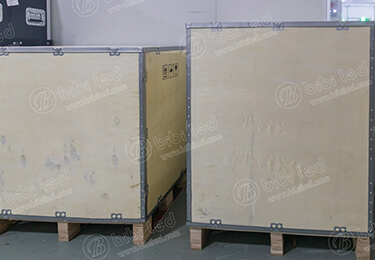 12. Package
After the LED display test is completed, package and deliver
Check more LED display production details
LED display manufacturer equipment show
Our investment in the latest technology also ensures that we can offer competitive pricing to make you satisfied. Four automated production lines allow us to achieve a higher output while maintaining the same high-quality product.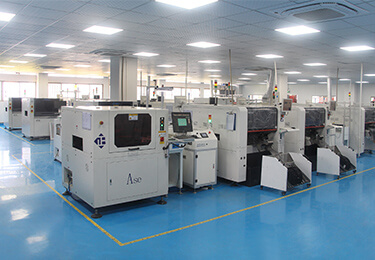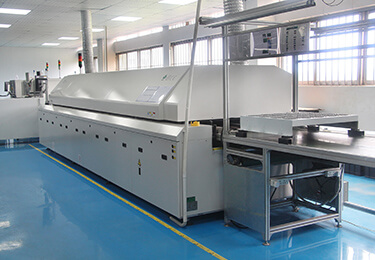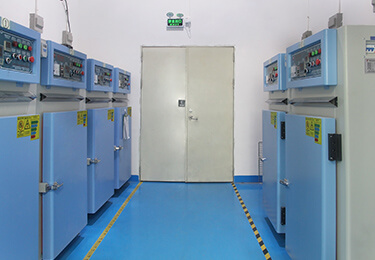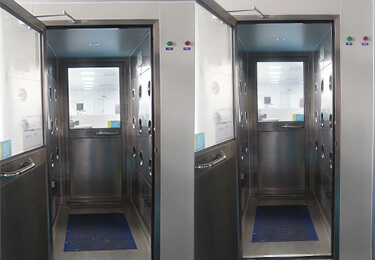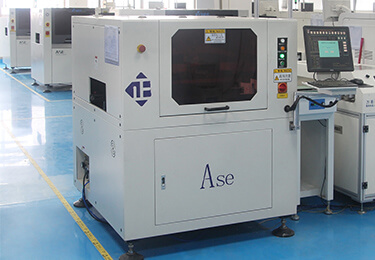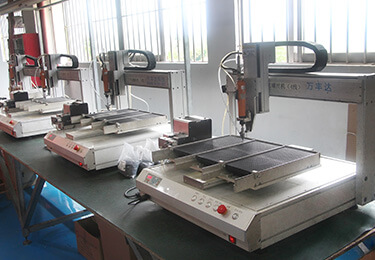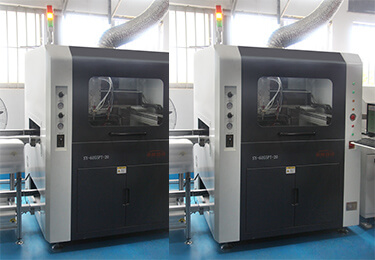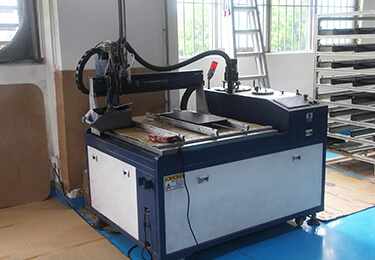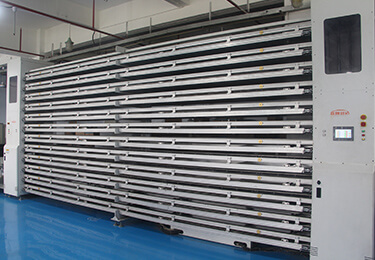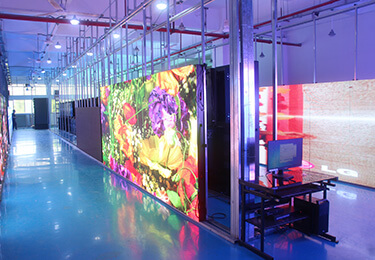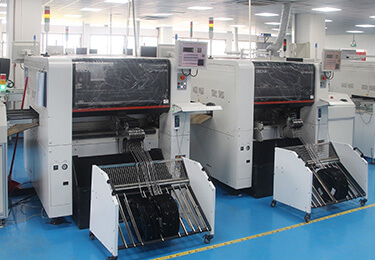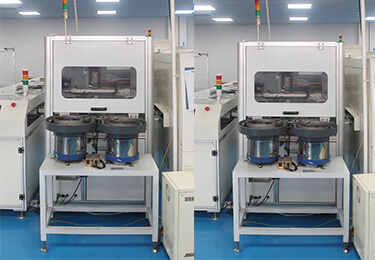 LED display production time
Most of the LED displays are customized, so the LED displays basically need to be temporarily produced, but Bibi Led will also prepare some stocks for regular LED displays to deal with some urgent projects. Generally, the production time of LED displays is 15 to 20 working days, and the time for advanced customization will be about 2 to 3 months. When you have project requirements, you can contact us to get the production time.
Have a project? Check with Us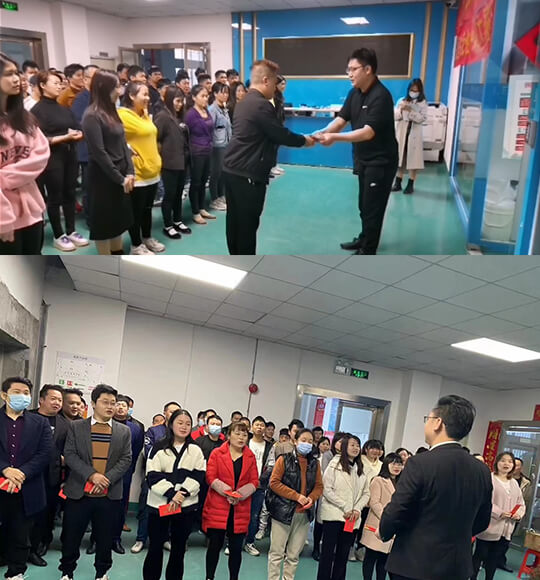 Professional production team

In the past 6 years, we work with our overseas clients, and we understand how important quality is! Good quality LED screens will help your business increase, and it is just a matter of time. The most important is, when you have a good quality led screen, you will always have the satisfied customers in your company and you have less after-sales service work need to do.

In ensuring the quality of LED displays, a professional production team has become a very important part. Therefore, we are very strict with the work attitude, efficiency and product details of our employees.

Craftsmanship is at the heart of your LED screen manufacturer. We call ourselves craftspeople to express the passion we have for creating durable LED screens, and we are continually improving the manufacturing process, pushing your project to succeed as expected.

We believe only the most qualified staff can go that extra mile to meet your expectations of perfection. It is the reason why Bibi Led never stops employing more LED screen experts in the LED display industry.

At Bibi Led, we are happy to be your brand OEM factory. All Bibi Led LED display products can be affixed with your company's logo to better promote your brand in your local area.
At the same time, when you have special requirements for product details, under the condition of ensuring quality stability, we will also work hard to cooperate to meet your company's needs.
Of course, we have more privacy-conscious customers and don't want their other local competitors to know their supplier information. In the above cases, we will protect your company's privacy.
Regarding the cost of OEM service, OEM is a win-win cooperation model. We meet the production needs of the Bibi Led factory and ensure the local and global promotion of your company's brand. Therefore, we are very supportive of big brands in OEM's long-term cooperation with us.
2023 New LED Screen Price Check
Quick and easy: Enter your specifications and get a quote in one business day