Church LED Screen Solutions
The church LED displays can effectively communicate church announcements and activities, making the ceremony more interesting and lively, inspiring members' emotions and active participation
Indoor LED screens
LED screens in the church stage to display the content
Outdoor LED screens
Outdoor LED screens in the front door of the church to spread the information
Stage&Event LED screen
LED screen for church stage and movable to different location
Small pixel pitch LED screen
High resolution LED display to show ultra video content in the control room to keep safety
The advantages of using the LED screen for church
Practical – Wide range of uses: Church LED displays can display lyrics, Bibles, church information, and temporary emergencies, help find ways, hold weddings, donations, child baptisms, and other activities, advertise for volunteers, etc. Evolving content needs.
Disseminated – real-time update of information: If the church encounters an emergency and needs to be immediately estranged, it is only necessary to edit the text on the computer or mobile phone and send it to the LED display control system. All church screens quickly display the content at the same time, which is convenient for everyone to watch and evacuate quickly.
With modernity – fast publicity, attract attention: LED church screen can play eye-catching pictures, colorful videos, and clear text, which helps to spread your message of faith, whether it is the Bible, the Koran, the Torah, Verses from the Vedas, the Guru of the Bible or the Tripitaka inspire regular congregations, in line with today's way of spreading the faith and involving more young people.
Convenience – lots of event info to scroll through: your church can host multiple events a week; it's not just a place of worship, it's a family gathering, a community center to help the homeless and donate, etc., and the stage LED display can rotate Event information or promotional videos, this is a very efficient and convenient way.
Profitable – Fixed Income: Although this is not the main function, it is a good choice if you can help others and increase your regular income. For example, the remote villages cannot sell too many potatoes, and they are forced to rot at home. Through the promotion of LED displays, more people will pay attention. People who like to eat potatoes can buy good things. People's lives improved, and churches received a meager regular income.
2023 New LED Screen Price Check
Quick and easy: Enter your specifications and get a quote in one business day
Where the LED screen used for church
Find the right place in your church to install the LED screen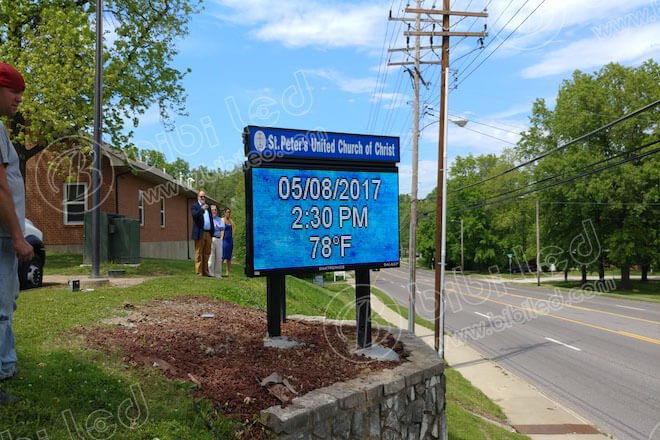 At The Church's Outdoor Entrance

1. Spread the word effectively:

Churches can communicate a variety of information on outdoor LED billboards for easy promotion and sharing, such as bulk schedules and services, fundraising projects, community outreach, and partner programs, announcements of church festivals, weddings and other events, weather conditions, traffic information, emergency alerts, and more.

2. Directions for visitors and pedestrians:

Maps and directions can be displayed for the church to help people attending weddings and other church events reach their destination.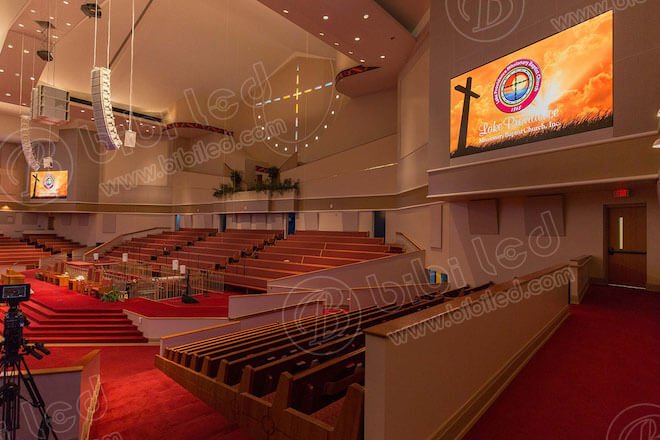 Indoor church

1. A profound experience:

The LED display makes every sermon, every hymn, every scripture, and picture with pictures, words, and videos unforgettable so that every faith participant in the church is fully involved.

2. Switching between different event backgrounds at any time:

The LED display gives the church a modern twist, especially for live musical performances and wedding events, where brightly colored LED video productions culminate in the atmosphere and the singing words of the participants.

Bibiled's indoor fixed LED displays are available in P3, P4, P5 to customize any size to suit your needs.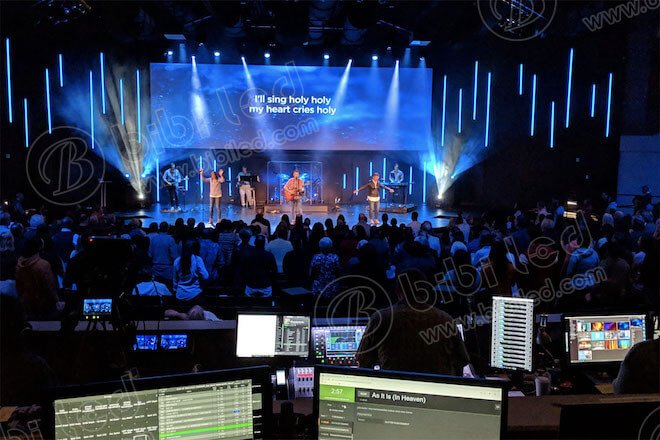 Indoor And Outdoor Event Stage Holding

1. Quick to disassemble and install, easy to transport:

Church event promotion location is flexible can be indoor and outdoor, such as outdoor community events, church outreach, and different areas of the charity events, etc.

2. Good for promotion:

Design the stage theme according to the church event to better promote the church's scripture communication and increase the event's impact.

For stage performances, bibiled can install indoor fixed LED displays or rental LED displays.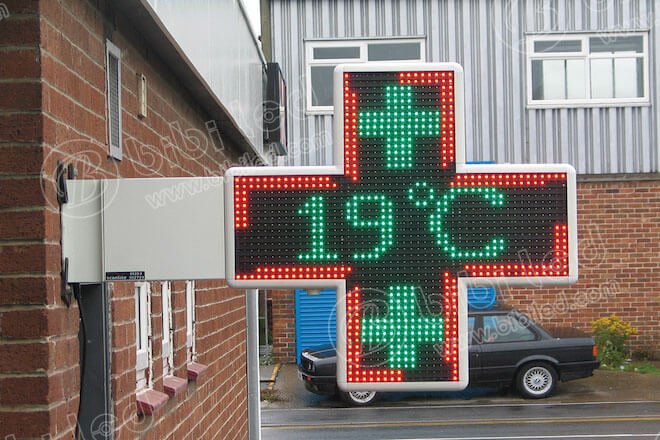 Outdoor Church Signs

1. Landmarks:

The bright display of the LED cross allows people to quickly identify the church's location and serves as a road guide.

2. Information display:

It gives an excellent impression to Christians and believers and can display important information such as the weather and temperature, warnings, and church announcements.

Bibi Led: Your leading church LED display manufacturer
Bibi Led is one of the LED display manufacturers in Shenzhen, China, we tend to provide you with a one-stop solution for LED displays, and its products are exported to more than 37 countries and regions.
Bibi Led provides you with LED displays for different purposes in churches; these include outdoor LED displays, indoor LED displays, rental LED displays, monochrome LED information boards, cross LED displays, and more.
Through eye-catching graphics, colorful video content, and clear text, the Bibi Led church LED display provides different services for the church, such as church announcements, church cultural publicity, event holding, road guidance, landmark display, etc., attracting more churchgoers to come to pray and participate actively.
As an ISO 9001 certified LED display manufacturer, BIBILED strictly controls the quality of the display, and we can follow up with different standards such as CB, CE, RoHS, PSE, etc., according to your needs.
Bibi Led can provide you with the best-LED display according to your display needs for church screens. We wholeheartedly provide you with one-stop solutions in LED display manufacturing, such as OEM, third-party product testing, installation plans, and drawings, scene installation renderings, online factory viewing, etc. So you can focus on how to create value for your customers.
2023 New LED Screen Price Check
Quick and easy: Enter your specifications and get a quote in one business day