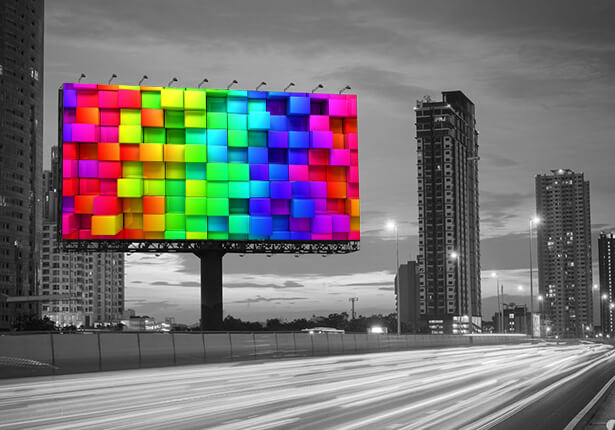 Outdoor LED billboard

Super large-size play of dynamic advertisements, such as videos and pictures

7/24 hour uninterrupted advertising, working during the day and night

Super long-distance viewing, wide display coverage

The most attractive outdoor advertising tool

2023 New LED Screen Price Check
Quick and easy: Enter your specifications and get a quote in one business day
A digital LED billboard is the best option to spread your brand
In the current era of rapid information dissemination, traditional outdoor advertising technology can no longer keep up with the high-efficiency dissemination requirements of enterprises, and the effect is not good enough to attract audiences. To follow this efficient dissemination, a new advertising carrier must appear, that is, digital LED billboards. Digital LED billboards are the best choice when spreading your brand. This outdoor LED billboard has now become the favorite of all advertisers. It can play dynamic advertisements, change advertising content in real-time, and work 24/7. Advertisers will install it in areas with the largest and busiest traffic. Attract everyone's attention. Digital billboards are the best outdoor advertising products in the true sense. You can see it in any busy streets, shopping malls, places with high traffic, and the most popular advertisements are playing all the time.
What is an digital billboard?
A digital billboard is a billboard composed of LED electronics that can play dynamic advertisements.
The technology has improved significantly over the past several years, and it has greatly impacted the performance of LED screens.
You can mainly see outdoor LED billboards being used as billboard signs. It is also being used as store signs, commercial LED displays.
They are more preferred as the advertisement display medium because of the crisp and vivid images. 
For marketing purposes, fixed billboards will actually serve you well if you want to get your product across to many potential customers.
But ordinary fixed billboards can only do so much.
There are also other benefits to using outdoor LED displays, which we will discuss in the below content.
An Outdoor LED billboard is a fixed installation in the outdoor environment that can play dynamic advertising, used in the commercial advertising industry. It is mainly installed in shopping malls, pedestrian streets, banks, shopping centers that have high traffic areas.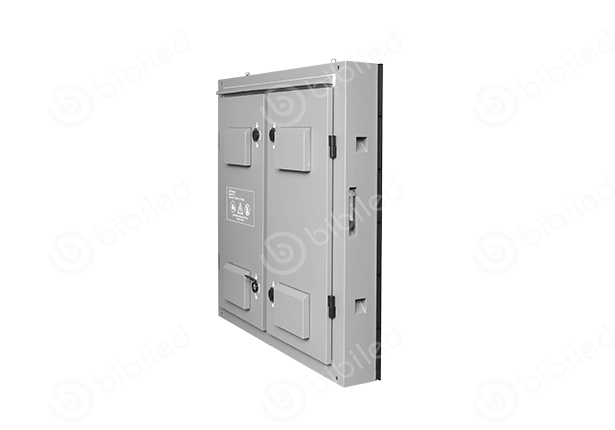 Whereas an outdoor LED display has the following advantages:
#1 The videos or images can be updated quickly
Compared to a fixed billboard with an LED display, the administrator can change the outdoor display's advertising content at any time. It is also very easy to change the content. Always advertising is the theme of LED displays.
#2 More creative options for advertising
Since the advertising format is videos, naturally, you don't have to rely on stagnant content. Thus, your advertising material becomes more enjoyable than traditional advertising. There will be a domino effect because your ad will become wider and more attractive. Then hopefully, a more attractive ad will translate into more potential customers. After all, that's what your goal is, right?
#3 It can be used for different purposes
Outdoor LED displays can be used to play advertisements and be used to place movies on advertisements. It can even be used to insert advertisements when playing movies. It's a popular way to attract more traffic. There are, of course, non-commercial applications for LED displays, like using them as an LED wall for outdoor stage events.
#4 Custom size
The great thing about outdoor LED display screens is that they can be made to be any size according to the installation site's needs. What happens is, they will combine a specific number of LED panels according to how many will fit the installation site. This way, you won't be stuck with an LED display that will either be too big or too small.
#5 Allows you to play different advertisements
Another great advantage of using an LED display as a billboard is playing videos, pictures, text, and sounds (if needed). So, even one LED display will allow you to advertise several different products. In effect, you can make money out of it by offering to play different ads from different renters on just one LED display screen.
#6 More profitable than a conventional billboard
Speaking of making business about it, the revenue of the outdoor LED display is charged in seconds. Therefore, the most practical thing to do is to rotate the advertisements of different businesses (unless they request that their ad will be the only one displayed). Usually, the regular display will be charged on a quarterly or yearly basis. Of course, you can arrange it where you can only show ads for one or a few businesses simultaneously, and no competing will be in the same slot.
Outdoor LED billboard technical features
Pay your cost for the details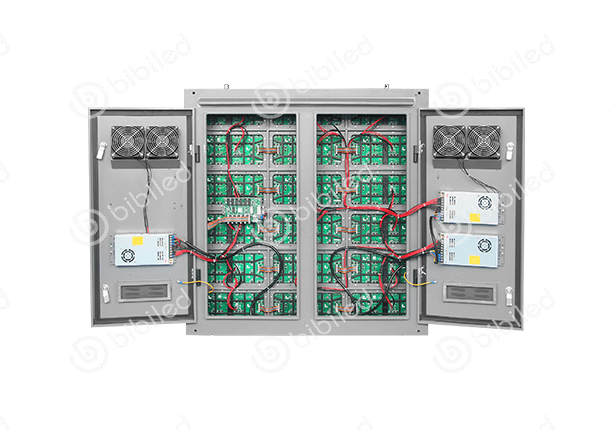 When you need to choose a digital billboard, you need to consider the durability of the benefits that this LED advertising screen can bring. At this time, we will choose better raw materials.
After the LED display is installed, most of the time the air conditioner will not be installed to assist in heat dissipation, so it is necessary for the LED display to have a better heat dissipation system.
When the ambient brightness is relatively high and the display is installed outdoors, we need to consider the brightness and outdoor waterproof performance.
ITEM
UNIT
Description
Pixel Pitch
mm
4, 5, 6, 8, 10
Brightness
Nits
Up to 10000
Refresh Rate
Hz

>1920

Key Point
All weatherproof, customized size
2023 New LED Screen Price Check
Quick and easy: Enter your specifications and get a quote in one business day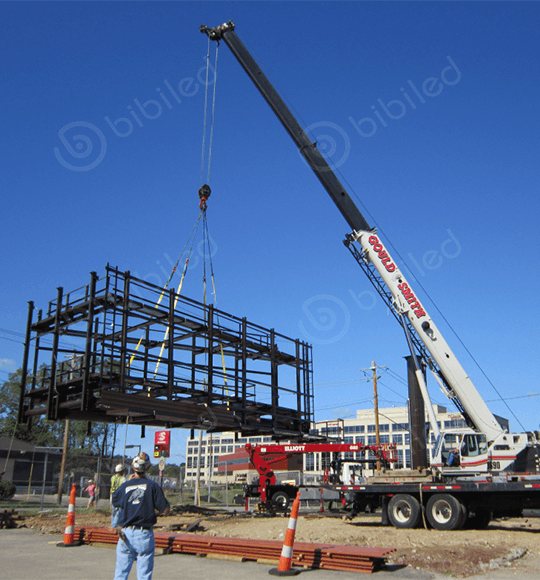 Outdoor LED billboard installation

Basically, there are three ways to do it, depending on how the LED billboard will be used. The LED billboard can either be installed by hanging, wall mount or standing on the floor or other LED display installation ways. If you see other methods of installing it, you don't need to worry; they are just a variant of these three main methods. Here's how they are done.

#1 Hanging installation
When it comes to hanging installation, the first thing you need to make sure is that the screen you will be using is light enough, and you've got a suitable place to hang it. You will have to make sure that the LED screen you will be using can be hung. LED screens that have this capability usually come with locks to hold them into place above. They are locked into a metal hanger with the help of those locks. Bear in mind that when the screen is installed outdoors or even semi-outdoors, the wind force should be calculated just for safety.
#1 Wall mount installation
For wall mount installations, it is a bit simpler. You will have to use a frame that will be bolted on the wall. This is actually the most common installation method for both indoor and outdoor LED screens. The frame will hold the LED screen. You need to attach the LED screen to the frame using the wall mount slot and wall mount locks of the LED screen. However, before you start doing that, remember that the total weight of the screen and the weight of the frame should not be heavier than the maximum weight that the wall can bear. So whatever you do, don't mount the LED screen on a skinny wall.
#1 Standing on the floor installation
Well, this is a fairly easy way of installing the LED screen. If you are going to use it indoors, all you have to do is place the LED screen on top of the provided stand. You need to make sure that the stand is placed on even ground. If you are going to install it outdoors, this will usually involve giant LED screens. There are two ways you can do this. You can either use a unipolar type or a double-column type. When you go the unipolar type route, you will normally require that the screen's size be less than 30 square meters. As the name suggests, only one pole is needed to hold the screen up. The double-column type can hold an LED screen that is about 100 square meters at most. The poles will have some frames to hold the screen into place. All you have to do is lock it in place. For this kind of installation, the good news is it won't be possible to do it on your own. You will really need help from several people. We recommend you hire professionals.
How to control the outdoor LED billboard?
#1 Synchronous Control
In layman's terms, when we say synchronous control, it is a way to display images or videos on an LED screen using an outside input source.
Outside sources include computers, DVD or Blu-Ray players, cameras, VCRs, etc.
This can be done by using an asynchronous control card.
This control card will always need to be connected to the LED screen for the screen to display videos and images.
This control system is mainly used in outdoor and indoor advertising displays, stage LED displays, sports LED displays, and studio LED displays.
#2 Asynchronous Control
An asynchronous control system, on the other hand, will not require an outside source to display the video.
The key here is that the LED screen will always be able to work separately.
What happens is the videos or images will be edited on a computer.
It will then be sent to the control card via a UTP cat5 cable, a USB disk, a WiFi connection, 3G wireless, or other data transmission forms.
Once the control card receives the data successfully, it will save it on its memory, and you can now cut off the connection.
It will then just keep playing the videos or images until you turn it off.
This is an ideal setup If the control computer is very far from the LED display or if the installation position is not convenient for wiring.
It is usually being used for shop entrance LED displays, small size LED signs, roadside LED displays or outdoor advertising.
How do I install the digital billboard as I am new in this industry?
After I bought the LED display, how do I install it?
1. About how to install it:
The good thing is, In many countries and regions, some companies will do the work for you.
If you don't know much about this industry, we can recommend our partners to help you install your outdoor LED display.
Just hit us up.
2. About how to use and operate:
The good news is, we will provide online remote technical support, we can teach you how to use the LED display.
If you don't like going that route, we have obvious video tutorials and articles that will guide you on using and operating your LED display screens.
You can also browse our blog to learn how to use LED display screens correctly.
Third, once you become our customer, you can actually visit our factory and have our guys teach you.
Lastly, if you want to work in this industry for a long time, you can become one of our dealers.
We will send technology every year, and your company will train your technology on site.
2023 New LED Screen Price Check
Quick and easy: Enter your specifications and get a quote in one business day