Pole led display is mainly installed in the street lighting pole for advertising and display, also used for smart city terminal display, it is lighter and easier to install, pole led display used be the small size with high resolution and high brightness, compared with traditional LED displays, it covers more places on the road as long as there is enough lighting pole to install.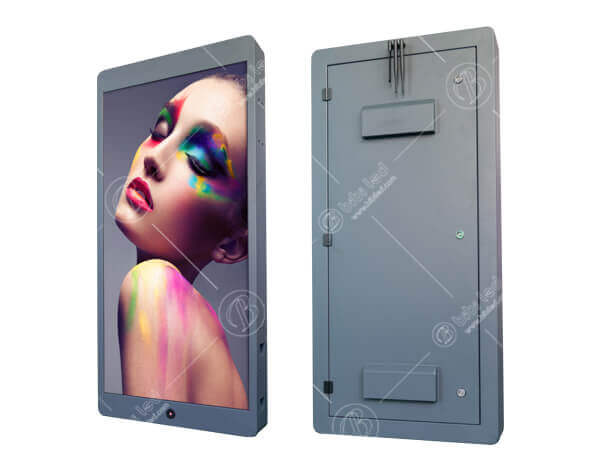 Quickly get 2021 New Price!
MP Series Quality Inspection Video
Quality not only means excellence but also reliability
The MP Series is a small, lightweight, high-resolution LED screen installed in the lighting pole.
It is used for smart cities, digital cities, tourist locations, city streets with large quantities in one place.
MP Series is the right one to choose if you need to invest the LED screens for street advertising.
Pay your cost for the details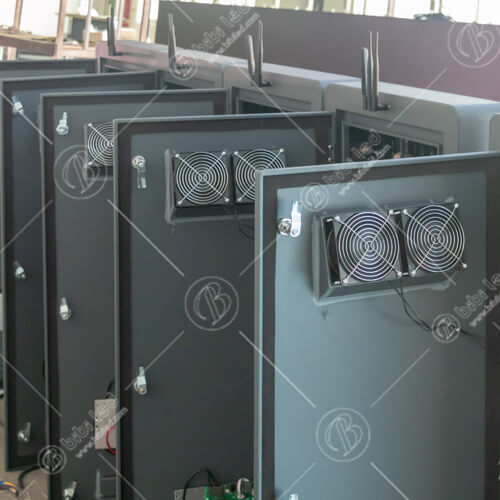 The cloud system remote controls multiple LED light pole screens for program release and remote power off; there is no need to operate on-site, conveniently, and easily.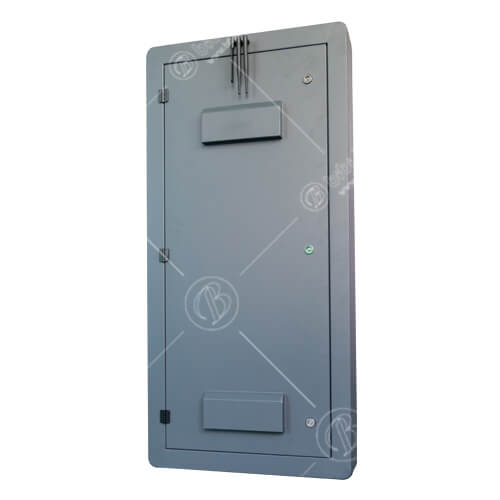 Multiple LED light pole screens play the same picture and videos at the same time to improve the overall display effect and enhance the advertising effect on the street show.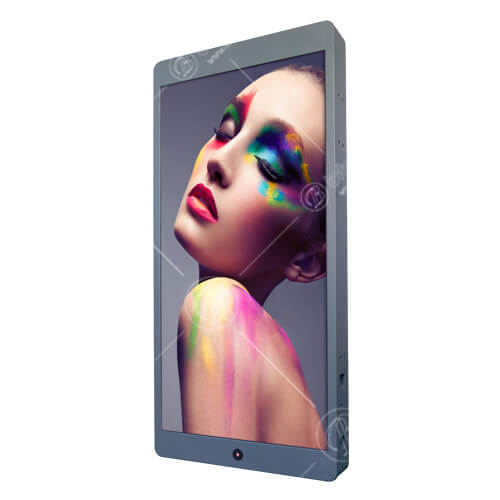 The pole LED screen's brightness can set automatically or at regular intervals, with high brightness during the day for better display effect and low brightness at night for more energy saving.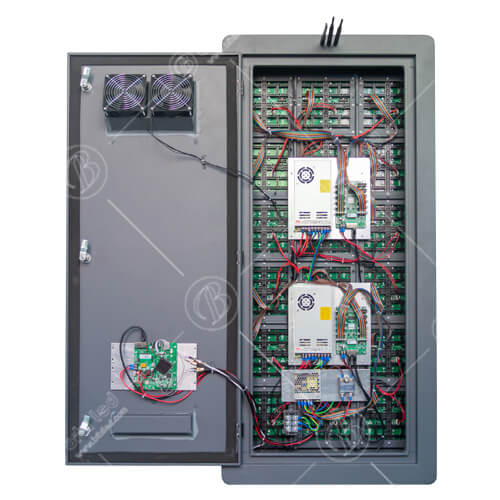 It is automatic access to Internet weather information and supports real-time environment monitoring such as wind speed, wind direction, temperature, humidity, PM2.5, noise, etc.
Friendly Tips: To ensure that you could make the correct solution of our MP Serice pole LED display.
Please continual to read the following introduction and download our specification.
Can't find what you are looking for? Contact us.
Your email will be responded to within 1 business day.
ITEM
UNIT
P3
P4
P5
P6
LED Type
N/A
SMD1921
SMD1921
SMD2727
SMD3535
Pixel Pitch
mm
3.33
4
5
6.67
Ingress Protection
IP
IP65 front/ IP54 back
Viewing Distance
in/meter
131/3.33
158/4
196/5
236/6
Driving Type
Scan
1/12
1/10
1/8
1/6
Module Dimension
in/mm
12.6×6.3/ 320×160
Module Pixel
Pixel
96×48
80×40
64×32
48×24
Cabinet Dimension
in/mm
25.20×37.8/ 640×960/ Customized
Cabinet Resolution
Pixel
192×288
160×240
128×192
96×144
Installation Way
N/A
Side Hanging/ Middle Hanging/ Roof hanging/ Mounting, etc
Extra Function optional
N/A
Wifi sharing/ Security monitor/ GPS/ Power charing/ etc
Cabinet Material
N/A
Steel/ Aluminum
Cabinet Weight
KG
45KG/m2
Brightness
Nits
5000~7500
Refresh rate
Hz
1920/3840
Digital Processing
Bit
14/16
Gray Scale
Level
16384
Colors
Million
687
Color Temperature
Deg.K
4,500-8,500 Adjustable
Brightness Control
N/A
255
Contrast Ratio
N/A
4000:1
Viewing Angle H
Deg.
140
Viewing Angle V
Deg.
140
AC Speration
V
AC90~264
Power Consumption(Max/Avg)
W/m2
800/250 ( Estimate )
Storage Tem.
F/C
-4 ~ 140F/-20C ~ +60C
Storage Humidity
RH
10% ~ 85%
Operating Tem.
F/C
-4F ~ 140F/-20C ~ +60
Operating Humidity
RH
10% ~ 85%
Lift time(50% brightness)
Hour
100,000
Installation Type
N/A
Fixed
Control Mode
N/A
3G/ 4G/ WIFI/ Cloud mass control Async
Pole LED Display: The Ultimate Guide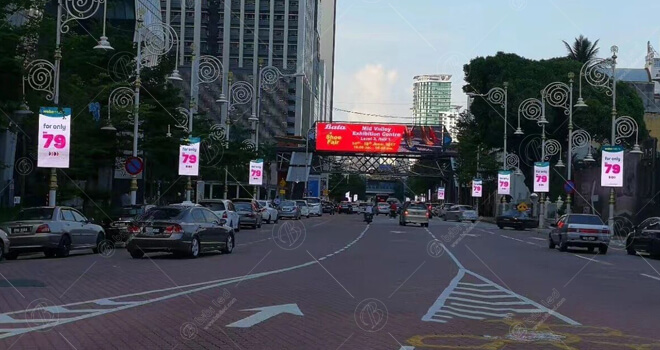 Pole LED display is the LED display that needs to install on the lighting poles by small size with high resolution and brightness; that's why it calls pole LED display.
Pole LED display is a matching product of street poles; it brings the street lighting poles to profit from the advertising and helps to display the information.
Next, it will explain what a light pole screen is, its benefits, and what application scenarios are available.

Finally, it will also compare lighting pole LED screens with outdoor LED screens and explain when it is more appropriate to use what product.

Chapter 1: What is the Pole LED Display?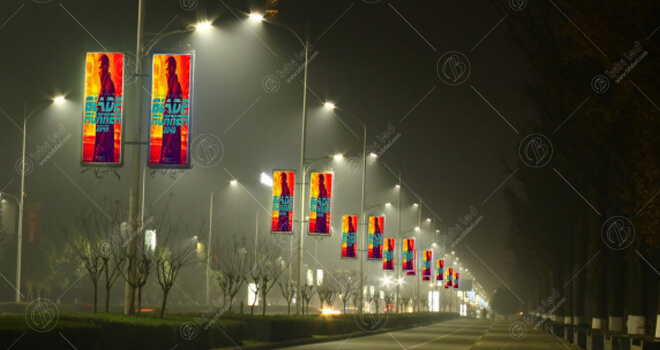 A light pole LED screen is a small LED screen equipped on a light pole, which combines with ordinary light poles or smart light poles.
Its main feature is "one pole for multiple uses", such as traffic signals, billboards, municipal notice boards, etc.
Compared with the traditional solution, the light pole LED screen has self-illumination, which has a good display effect in any outdoor scenes.
The following will briefly introduce you to the source of the light pole LED display and product characteristics.
1. Why light pole LED display is a big trend
The development of urbanization in the world moves from digitalization to intelligence, mainly in the level of construction of smart cities.
And the smart city is composed of big urban data, urban command centers, convenient intelligent services, and so on.
Simply put, this matter involves the collection of big data, distribution of information to the whole city, one-stop convenience services, intelligent regulation of service forms, etc.
1-1 The wave of "new infrastructure" brought by smart cities
There are three main reasons why smart cities are so sought after.
● IoT, cloud computing, 5G, and other technologies have been developed significantly in recent years.
Especially 5G, which makes data internet, fast transmission, and large-scale devices links a reality.
● High technology companies need to find a way to land their technology for profitability and expansion.
● The certainty of urban development, the backward urban service landscape —> digital city —> smart city.
In short, smart cities are an inevitable trend from multiple perspectives, including the realization possibilities of technology, the development demands of enterprises, and the urban planning of governments.
The various infrastructures that serve smart cities are also called "new infrastructures".
These "new infrastructures" will become the entrance and terminal of various smart city services and are bound to be widely promoted.
1-2. Smart light poles are the most suitable solution
5G smart light poles are a deservedly high-quality choice for the following reasons.
● Light poles are visible everywhere and regularly distributed.
● Light poles can collect information and are usually equipped with electronic eyes/cameras to collect data on the number of trips, moving violations, crimes, etc.
● Light poles are for information distribution by installing LED screens (i.e., light pole LED screens) for municipal notices, real-time news, advertising information, traffic signals, etc.
● Light poles provide convenient services to the public, such as charging and wifi, by installing charging piles/wireless base stations.
● Light poles intelligently display relevant information because it is usually installed with light-sensitive devices and can adjust the brightness of lighting/LED screen display in real-time.
2 Product Features
Why do we recommend the light pole LED display to you?
What is good about it?
Can it adapt to different environments?
2-1. Brightness
● Self-illumination: as an LED screen, the light pole LED screen can be self-illuminating to display information even on sunny days.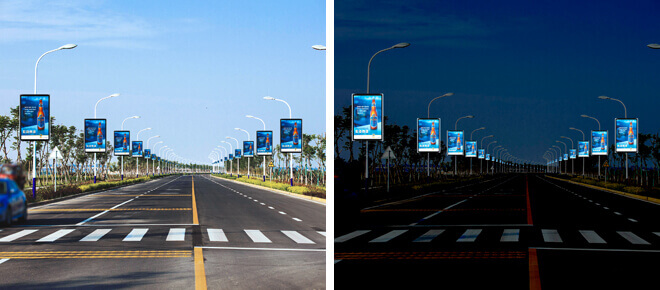 ● Auto brightness adjustment: the top of the pole LED display is equipped with a light sensor, adjusting its brightness according to ambient light change.
When the sunlight is strong, its brightness increases.
When it is cloudy/night, its brightness decreases automatically.
Brighten gives the most suitable display brightness for human eyes without making people feel blinding, blurred, and tired.
According to the environment changing light, can effectively save energy, saving you electricity costs, but also eliminates the tedious manual operation;
2-2. Self-contained audio
The government can use it as a broadcaster, and advertisements need to synchronize audio and video, so they usually choose to install audio in the smart light pole.
But you only need to install the light pole screen; you don't need to find the matching sound.
The LED screen comes with quality sound for multiple uses.
● The above effectively reduces the work of repeated assembly and eases the work of construction.
Imagine if a street needs a total of 50 light pole LED screens, then you save a total of 50 times the cost of repeatedly installing sound.
2-3. High-temperature resistance
Light pole LED screen is also a kind of outdoor LED screen, need 7 * 24 exposed to the outside environment.
The main indicator to test the outdoor LED screen's quality is working under high temperatures.
● Heat dissipation design
There is a ventilation outlet designed in the back of the LED cabinet and a cooling fan installed.
This structure can form a return flow of incoming and outgoing air inside the cabinet.
2-4. Thin and safe
A light pole LED display is installed on the top of the pole; if it is too heavy, there will be a risk of falling.
The light pole LED screen is different from the traditional large outdoor LED screen; it is small, scattered installation, thin and light material.
If you have risk considerations, it is recommended to choose a die-casting aluminum cabinet, smaller, lighter, and thinner.
2-5. Customized shape
In some specific scenic spots, pedestrian streets, and advertising themes, light pole LED screens, and light poles need to do customized style transformation.
You could also choose the color which you like.
Chapter 2: What Value can Pole LED Displays bring?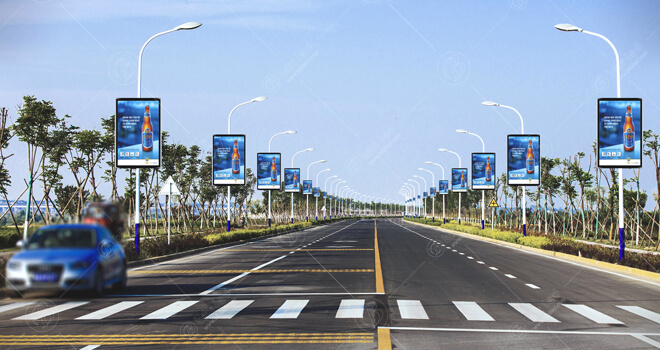 This section will explain from the government, advertisers, consumers how the ROI is from pole LED displays.
Government: Improve the service management level
1. Enhance the wisdom of the city through the light pole LED screens all over the city and strengthen the large data monitoring information
Advertisers: Expand the coverage of publicity to make profits
1. High-frequency appearance in the region, increasing the frequency of contact to enter the minds of consumers
Unlike large outdoor LED screens, light pole LED screens are spread all over a certain area, and there will be one about every ten meters or so.
Therefore, people can see it as soon as they look up, and they can see it more than once.
It is easier to remember high frequency and single short appearance in terms of memory law than low frequency and single long time appearance.
The ultimate goal of advertising is to make consumers remember and enter their subconscious to remember the brand when they buy naturally.
That's why light pole LED displays are very suitable.
2. Easier to penetrate new scenes and fill the gap that is difficult to be reached by large LED screens
Due to the growth of people's income level, the economy of leisure tourism has been developed.
However, scenic spots usually have specific styles, such as ancient cities with generally narrow roads and retro styles and seascapes with generally open views.
Therefore, the traditional large LED screen, a light pole bulletin board, is not very suitable.
The former needs to have supporting commercial facilities.
The latter may pull down the tone of the scenic spot, and local style does not match.
The light pole LED screen can be customized style, color; it is easy to be combined with the scenic spot style.
3. Open up new publicity scenes and create differentiation advantages
The form and applicable scenes of the light pole LED displays are different from the traditional led screen.
This also determines that it can enlist users that are not covered by traditional outdoor screens.
When the other outdoor advertising scenes are almost all divided, this can effectively occupy the differentiated scenes and grasp the new traffic entrance.
Consumers: Why light pole LED screens work for people
● Light pole LED screens must be high-frequency in a certain street or a certain area.
○ They conform to people's cognitive mind, multi-point high-frequency formation of memory, and good advertising effect.
○ Various convenient services can be seen everywhere, convenient and comfortable and enhance the happiness of life.
● User paths often overlap with public transportation routes, and light pole LED screens can quickly radiate to major users after installation.
● Light pole LED screens will be "scattered in all corners of the city" in the future, meaning that most residents in the city will be able to access light pole screen advertising.
Chapter 3: The New Market Chance for Advertising Traffic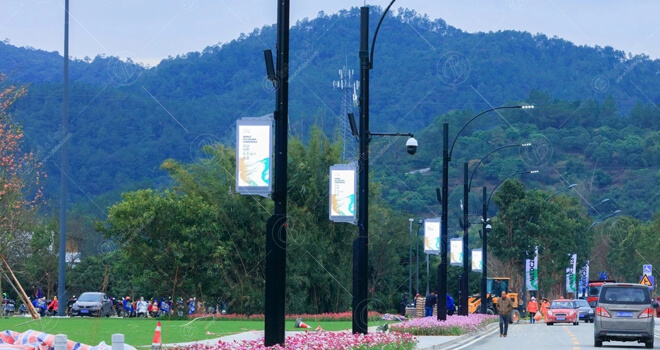 Advertising traffic is becoming a scarce resource.
First, let's take a look at what problems advertisers, government planning, and suppliers are each facing behind the rapid development of the advertising industry over the years.
1.1 Pain points that advertisers have to face
Placing advertisements on large indoor and outdoor LED screens is the first choice of advertisers.
However, the ROI of advertising placement mainly depends on the below conditions.
1. More exposure if there is more customer traffic.
2. Preempt competitors in the new scene; it is conducive to seize market share.
3. The more innovative the form of publicity, the more attractive to users.
The advertisers' pain points are very obvious; if not addressed, they may lose more.
Precisely, the following points.
Pain point one: innovation bottleneck – the user is more discerning
Consumers are accustomed to the original means of publicity, making it difficult to generate curiosity and new attention.
Pain point two: traffic bottleneck – there are still many users who can't see your ads
The original LED advertising is mainly placed in transportation hubs (such as high-speed rail and airports) and super buildings (such as inside and outside shopping malls).
However, many consumers rarely appear in these places, although they have strong purchasing power.
Therefore, the advertisements you place do not promote your products to them.
Pain point 3: Conversion bottleneck – low-frequency appearance makes it difficult for users to remember the ads.
Ads are generally placed by region, and consumers are likely to forget your ads once they leave the scene.
Secondly, such placement is not high-frequency and can only be displayed on a few LED screens at fixed points, so it does not necessarily make consumers form impressions.
Illustrated by an example: beauty brands place ads on LED screens in shopping malls.
● Consumers are distracted while they are in the mall and do not necessarily remember the ads.
● Consumers may forget the advertising message after they leave the mall.
Pain point 4: Revenue bottleneck – traditional advertising space with a fixed price and high cost
At present, large-screen advertising has become a common means, and a set of rules has been formed.
1. high traffic areas, although the publicity effect is good, the high price of placement.
2. low traffic areas, although the cost is low, the number of customer acquisition is low, and the publicity is limited.
1.2 The problems faced by the government in the construction of intelligent cities
Smart city has the characteristics of digitalization, networking, and intelligence, including smart light poles, smart charging piles, and other infrastructure.
It is also called the "new infrastructure" by various countries, and China alone has invested hundreds of billions in it in 2020.
Among them, there are three points to think about as below.
● How to realize big data, enhance the source of data collection and upload the data to the data center.
● How to provide smart city services lies in integrating charging piles, wireless wifi, lighting, and smart LED screens into one.
● How to integrate the solution with the city's tone and whether it can be adapted for special scenes like scenic spots.
The 5G smart light pole, on the other hand, is the mainstream solution at present.
The government procurement needs to consider what kind of wisdom light pole and matching LED light pole screen to meet the above needs.
1.3 Development problems faced by LED screen suppliers
What kind of light pole screen is welcomed by the market?
From the background, to answer these questions, you first need to clarify your pain points: in the original market, facing strong competitors.
Due to the Matthew effect, the strong are getting stronger, and the weak are getting weaker.
If you are not in the TOP position, then the development of traditional LED screen products will likely be at a disadvantage.
Therefore, finding a new product type will put you in a first-mover position to gain an advantage in the new track.
(1) Smart light pole LED screen is a type that has emerged in recent years, which creates new value for new scenarios and is worth being chosen.
(2) Secondly, as new infrastructure, the smart light pole is strongly supported by the government and is in the city's core traffic entrance, which is of high value.
1.4 Market Opportunities
The smart light pole's most important component is the "light pole LED screen", a small LED screen equipped on a large light pole.
It has the characteristics of intelligent dimming and high-temperature resistance and can be used for advertising, city broadcasting, road signs, and other aspects.
The intelligent light pole LED screen can bring the following values through the analysis of the pain points.
1.4.1 For advertisers
1. innovative scene marketing methods: from traditional large LED screens to innovative small LED screens, from outdoor fixed scenes to street scenes.
2. capturing more consumers: people do not necessarily enter supermarkets and subways at all times, but they will pass through the streets when traveling.
3. improve the ability of advertising dissemination: although the LED screen is small, it broadcasts ads on the street with dozens or hundreds of LED screens at the same time, spreading at high frequency and improving publicity.
1.4.2 For the government
1. support style customization in line with the tone of the city
Local governments can personalize the size, style, and structure of the light pole screen according to the city's characteristics.
It is in both urban areas and scenic spots and highways.
2. One-stop service for smart cities
Light pole LED screen integrated into 5G light pole can provide traffic guidance, advertising and marketing, information notification, scenic spot promotion, and other services.
● Traffic guidance: It can provide intelligent traffic information and route guidance during peak hours.
● Advertising and marketing: It can undertake advertising information and increase revenue for the city.
● Information notification: Compared with traditional methods such as SMS and broadcasting, government notification can be issued in one click and spread to all corners of the city at a second speed, greatly improving efficiency.
● Scenic area propaganda: It is in special scenic spots to promote the characteristics of scenic spots, incubate the city's cultural tourism industry, and bring good experiences to tourists
1.4.3 For suppliers
● Explore the value of small LED screens, find previously neglected product types, and fill the market gap.
● Discovering high-frequency communication scenes under block light poles, thus attracting governments and advertisers to use them.
● Avoiding the fierce mainstream market competition.
Chapter 4: The Difference Between Pole LED Screens and Other Outdoor LED Screens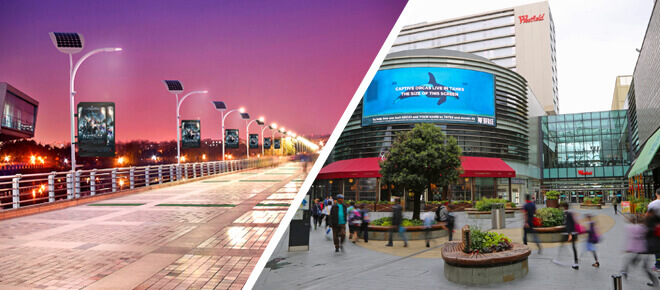 Why choose a light pole LED screen instead of a traditional outdoor LED screen for outdoor advertising?
What kind of products are chosen in different scenarios to meet the needs better?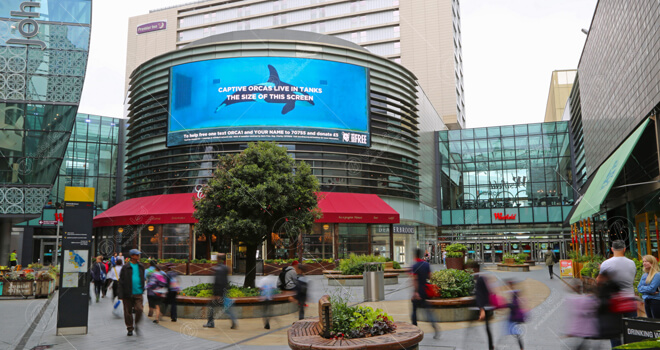 5.1 Different product characteristics
Typical outdoor LED screens, such as advertising screens, have the following characteristics.
● They are concentrated in commercial areas with conspicuous locations.
○ Usually installed on the outside of walls of high-rise buildings, in squares, and fixed in position once installed.
○ Advantages: because of the small number of large outdoor screens, they are installed inconspicuous locations and are very easy to be seen by users, thus achieving better communication
Disadvantages: people need to see the LED screen, not to find the LED screen; on the other hand, there is only one LED screen, so it can't realize multiple high-frequency transmission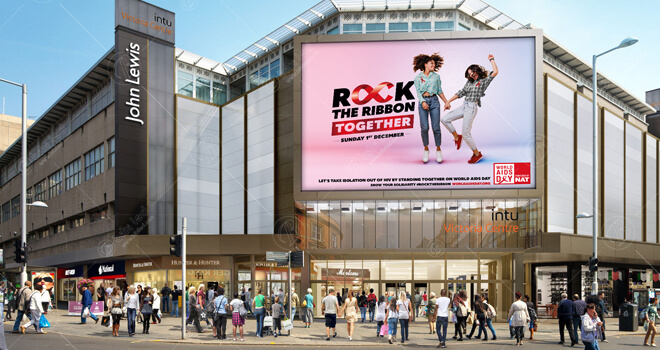 ● Large area and high cost
○ Due to the large area, electricity and heat dissipation air-conditioning costs are a relatively large expense.
○ Advantages: larger area, able to carry more content, but also can quickly attract the user's attention
○ Disadvantages: high energy consumption, high cost, as well as high cost of maintenance costs
Low quantity: Due to the cost, only one outdoor LED screen is usually installed in some areas
The opposite is true for light pole LED screens.
● Wide installation coverage.
● Installation in commercial areas and the high-frequency active areas of users, the radiation surface, and user action lines coincide, improving the dissemination surface.
● The high degree of integration with the external environment.
The light pole screen installs together with the smart light pole and can personalize the design form according to the surrounding environment and blend into one.
● High-frequency communication and good effect.
The light pole LED screen is small in area and low in cost and installs many times in a larger area.
Imagine that it takes ten minutes for users to walk through 500m, then within these ten minutes, users will receive the influence of advertising.
5.2 Different application scenarios and methods
● Different ways of advertising.
○ Outdoor LED screens are more suitable for video ads with delicate and rich expressions due to their large area.
○ Light pole LED screens are more suitable for playing simple and intuitive advertisements that emphasize text information because of their small area and wide distribution.
● Application scenarios are different.
Outdoor LED screens are more suitable for commercial areas, central squares, and other scenes with core flow characteristics centered on the "screen".
Light pole screens are suitable for installation in pedestrian streets, commercial streets, scenic spots, roads, etc., which are human-centered and follow the route of human activities.
● Different service modes.
Outdoor screens are more profitable for advertising and have no additional functions.
Light pole LED screens to combine with smart light poles to provide compounding capabilities.
● Functionality is not the same.
○ Outdoor LED screens are mainly for playing videos and doing marketing for business districts and brands.
○ Light pole LED screens can provide public services besides commercialization, such as government notification, road diversion, traffic information, etc.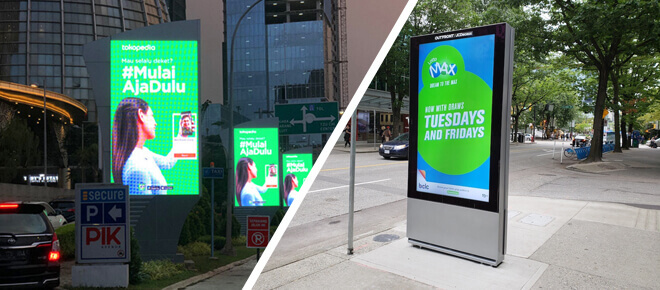 5.3 Light pole screen and LCD screen
In most people's eyes, the light pole LED screen is a "small screen", easily associated with an LCD screen, but the two are very different.
The former is suitable for outdoor, and the LCD is suitable for indoor.
The light pole LED screen is a kind of LED screen with high brightness, high-temperature resistance, and stable material, which is very suitable for outdoor use and can be seen very clearly over several dozen meters.
● And LCD screen has high clarity, but it is more suitable for viewing around a dozen meters; otherwise, it will feel blurry and unclear.
5.4 Purchase Advice
● If you want product advertisements to cover a wider area and get viral marketing, it is recommended to choose a smart light pole LED screen.
● If you mainly focus on video ads/creative ads, it is recommended to choose conventional outdoor large LED screens.
● If you want to advertise indoors and nearby in high definition, LCD is recommended.
Chapter 5: The Applications of the Pole LED Displays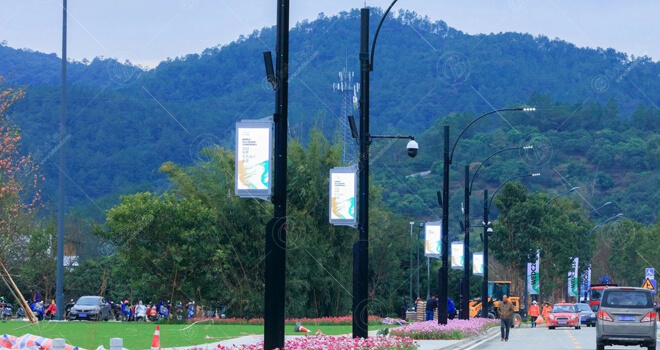 From urban planning, the wisdom light pole placement area will generally take the main urban area with high population density as the core and spread to the commuting route.
The placement scenes can be divided into three main types: leisure scenes, commuting scenes, and special scenes.
How to design these smart light poles?
How to put them to increase the effect?
4.1 Leisure scenes
For example, commercial streets, pedestrian streets, squares, and other scenes are characterized by
● High customer flow, high density, and wide radiation crowd.
● Many disturbances and mixed information, usually with other advertising screens and mobile environment affecting people's vision.
And in the street, a light pole LED screen is installed every ten meters, and people can quickly see it at a glance for the following reasons.
● Although there are many light disturbances, the light pole LED screen appears frequently, and the content is highly consistent, so it is easy to make an impression.
● The light pole screen is an LED screen that can realize self-illumination and high brightness and stand out in the night when there are more lights.
4.2 Commuting scenes
Such as places along the bus route, along the highway, etc.
● Very widespread and high publicity, public transportation routes are the daily necessities of people's lives.
● Large coverage, compared to the commercial area favored by the middle-aged and young people, this part of the scene can also give publicity to the elderly who have strong consumption power.
The light pole LED display is suitable for installation because this part of the public transportation line is a symbol of the city, and the adoption of the light pole LED screen has the following benefits.
● For the government, it can enhance the city's image, create a smart city, and improve the residents' happiness.
● For advertising, the light pole screen's self-luminous and intelligent dimming function can realize effective propaganda 24 hours a day, 7*24.
● For people, they can get city information and smart services when they go out.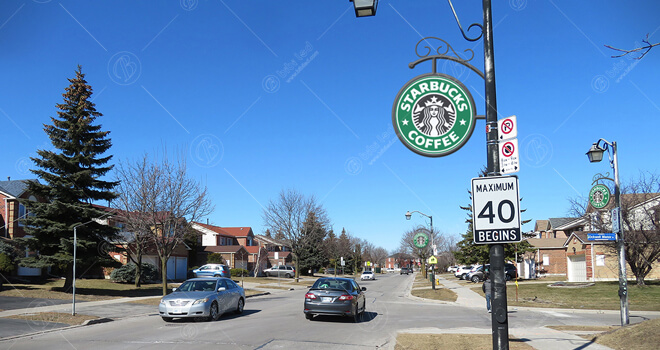 4.3 Special scenes
Such as scenic spots, cultural towns, and cultural tourism places.
● Many scenic designs, for example, in the scenic spots of ancient Chinese towns, its houses, roads, and decorations are very local cultural characteristics.
● People come with a tourist mentality, and although they hope to view the scenery with local characteristics, they also need the combination of characteristics and modernization.
The following features of the light pole screen are ideal for integrating with these scenes.
● The light pole screen's external decoration supports personalization, such as the ancient Chinese cultural town, where light poles and light pole screen images with elements such as Chinese red and Chinese knots can be designed.
● Light pole LED screens to use for information notification, informing people of opening, closing, and lost and found information.
For example, there are often children lost with their parents in scenic spots, and the light pole screen can help people to search for them, with high efficiency and wide dissemination.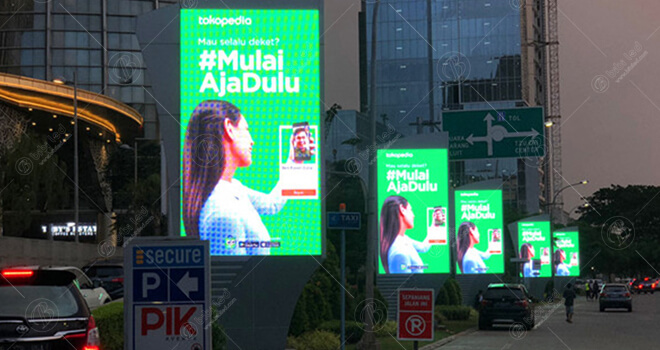 As a high-frequency, traffic-driving LED screen, the light pole LED screen is perfect for viral marketing and can give people a deep memory.
If you need to choose a small outdoor LED screen that considers public service and advertising and marketing, a light pole LED screen will be the right choice.
BIBILED can provide you with this product, customize the solution design according to your needs, and provide quality full process service.
If you want to know more about the product, seek guidance on purchasing the product, or other help, please feel free to email [email protected] or leave a message below.
We will reply as soon as possible.
Quickly have the price for your project