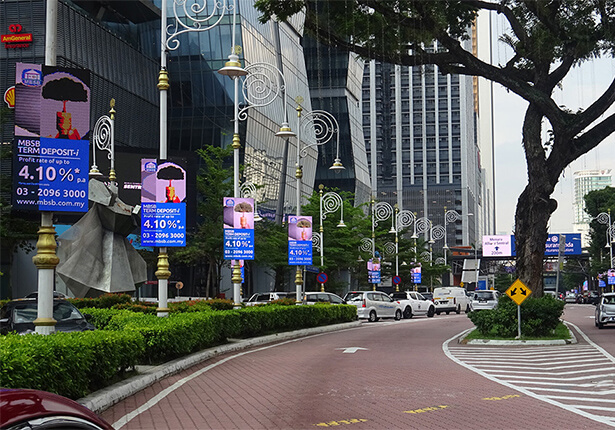 Pole LED display

The LED pole display supports 4G/5G network remote control and cluster control, as well as batch control over an unlimited distance.

The LED light pole screen can quickly publish information, and the remote control can achieve the function of receiving and playing the same information in different locations at the same time to ensure effective information distribution.

The pole LED display is water-resistant, can be adapted to outdoor installation, and automatically adjust the brightness based on the environment.

The pole LED display has an environmental monitoring function, which can monitor environmental indicators such as temperature and humidity, wind speed, air quality, etc.

2023 New LED Screen Price Check
Quick and easy: Enter your specifications and get a quote in one business day
Who needs pole LED displays?
Any company or structure that needs to build a visual communication network in a city may need our LED information screens. Our LED information screens are the best tool for quickly and efficiently creating dynamic information networks in cities by connecting with existing light poles.
LED pole screens may be seen on city streets everywhere, and they have also become a component of urban construction. LED pole displays are also quite popular as a tool for dynamic information publicity in parks, scenic areas, towns, streets, and schools.
What is an pole LED display?
The LED pole screen is an electronic digital display mounted on a street light pole and is commonly used in urban streets, parks, scenic areas, schools, and other locations.
The LED pole screen has strong protection, can adapt to different outdoor weather, and can automatically adjust the brightness according to the different environmental brightness; with a powerful information release function, the pole LED display can realize the remote cluster control screen switch, content playback, these characteristics determine the LED pole screen's powerful publicity function.
Furthermore, the product's intelligent detection function can detect the surrounding environment, and the environmental index may be shown on the LED screen, making people's lives easier.
The LED pole screen is also seamlessly incorporated into the overall urban artistic style construction, and its adjustable look may suit the cultural characteristics of different locations.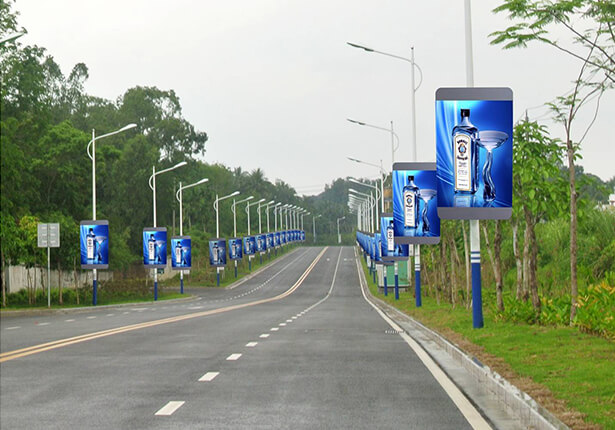 Pole LED screen technical features
A good LED pole screen should have high brightness and be stable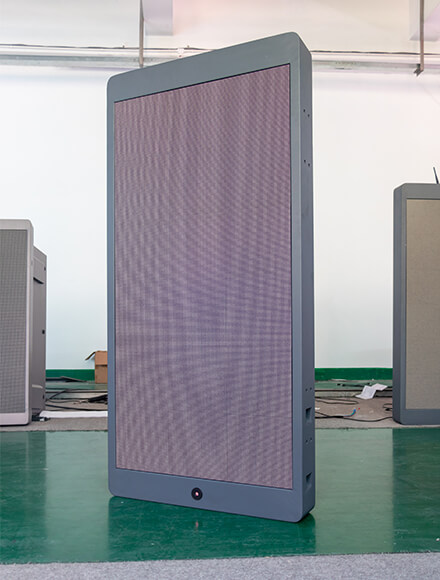 When selecting a pole LED display, you should know the following features.
Remote cluster control is supported: The remote cluster control system considerably simplifies the information release of the LED pole screen, which can achieve remote control and control batches or even the playback content of all LED displays without the need for people to be present.
Choose the correct size: Before purchasing a pole LED screen, you must first confirm the size of the light pole, understand the height and thickness of the light pole, and then choose the correct LED screen size based on the thickness of the light pole the installation height. If the light pole is thick, you can select a larger LED screen to offer a better viewing experience at a higher height.
Additional intelligent features: When selecting an LED pole screen, you should be aware of the LED screen's additional intelligent functions. Choose an LED pole screen with an environmental monitoring function based on your demands. The LED display with environmental monitoring capabilities can help with urban buildings. At the same time, it makes people's life much easier. People can know the day's air temperature indicators and weather information through the pole LED display. We can use it to keep reminding citizens of daily weather changes, pollution levels, and road conditions. As a result, warming others also contributes to a more civilized society.
Even though the outdoor LED pole screen is small, we may post advertisements on various road sections to continuously expand information distribution in a small range, thereby boosting advertisement promotion. Its installation is also easier than that of a large LED screen, as it only requires the assistance of light street poles and does not require much manpower.
ITEM
UNIT
Description
Pixel Pitch
mm
2.5, 3, 4
Brightness
Nits
Up to 6500
Refresh Rate
Hz

>1920

Key Point
Remote control, auto-brightness adjustable
2023 New LED Screen Price Check
Quick and easy: Enter your specifications and get a quote in one business day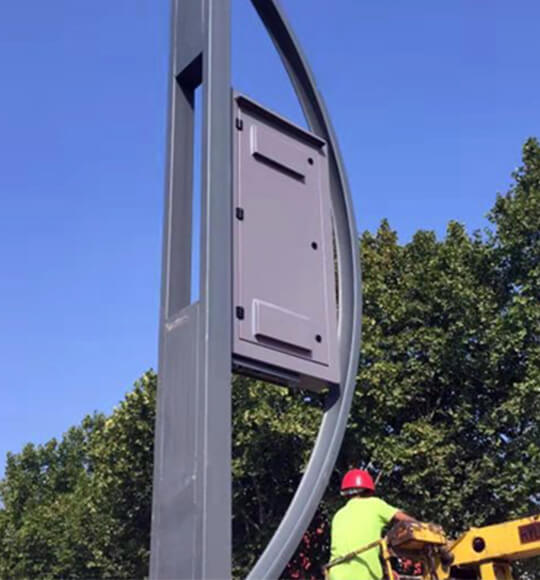 Pole LED displays set up

The LED pole screen installation is simple. In truth, the LED pole screen is just installing an LED display screen in a location with a light pole. Because the LED display panel is lightweight and small, installation is also very simple, usually requiring only a mounting frame and screws to fix.

Follow these steps:

1. Mount the LED screen to the light pole.
2. Connect the LED screen to the power supply. 
2. Connect the LED screen to the remote control device and turn it on. 
4. Distribute information that needs to be promoted remotely.
Conclusion: the combination of an LED pole screen and a smart city
In the smart city area, applications LED pole screen, as a mix of LED display and other technology, is being used in the current building and development of intelligent cities using innovative technology.
The LED pole screen street light has become an essential terminal success representative of today's smart city. The intelligent LED pole screen has an important capability called "multi-purpose with one pole." 
Intelligent, modern LED pole screen with front and back double-sided displays and various functionalities.
Smart LED pole screens can display temperature, humidity, wind direction, wind speed, and other situation data in addition to playing audio-video, video, music, text, and other multimedia content. Concurrently, it may broadcast information such as convenient matters to realize business value and people's life functions, monitor changes in the surrounding condition in real-time, and provide appropriate feedback and customer reactions.
A comparison of the intelligent LED pole screen and the traditional light pole has significant advantages in media advertising, road direction, and information disclosure. The LED pole screen has already won out a place in society. It has been well received in the market, and it is expected that the market outlook of smart LED pole screens will improve in the future.
2023 New LED Screen Price Check
Quick and easy: Enter your specifications and get a quote in one business day