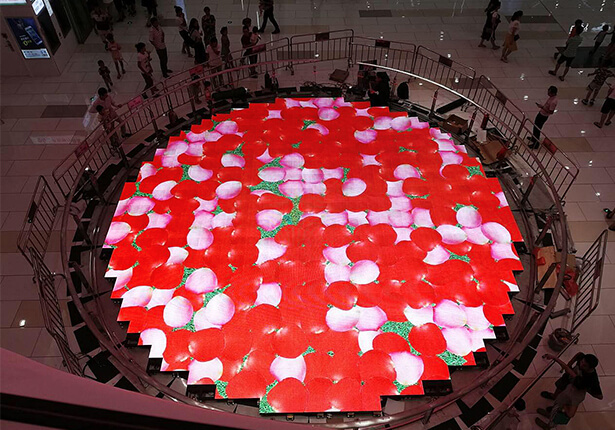 Floor LED screen

The best tool to attract attention.

Interactive And Non-interactive Design Accepted. Bring fun to users.

High load-bearing capacity can support the car on it.

High brightness and waterproof, work both indoor and outdoor.

PC mask, inside chip sensor, the best protection material for floor LED screen.

2023 New LED Screen Price Check
Quick and easy: Enter your specifications and get a quote in one business day
Who needs floor LED screens?
The floor LED screen brings a lot of passion and interactivity to the display field. Especially on the stage, in exhibitions, weddings, bars, fashion shows, large-scale concerts, and at some large-scale events. Its ground display has made it the favorite of ground stage design.
The floor LED screen is highly waterproof and can be installed in indoor and outdoor environments; it has a load-bearing capacity of more than 2000KG, and the car can be driven directly on it.
The floor LED screen is designed for visual display on the ground; it can play dynamic video on the ground, and its interactivity adds much fun and brings much attention.
What is an floor LED display?
A floor LED display is a type of LED display mounted on the ground
Like other LED displays, it can show dynamic video and high-definition images. The floor LED screen is used to attract more visitors to the event stage, exhibition, speech stage, shopping mall, square, etc.
The floor LED display's most distinguishing feature is that its load-bearing capacity exceeds 2000KG, sufficient for a car to drive from it and function normally.
The LED display on the floor tiles can also be interactive. When people touch it, it gives feedback in real-time, which greatly increases people's interest in it.
The floor LED display is waterproof and has high brightness to be installed on the ground indoors and outdoors.
The floor LED display is the best tool for attracting traffic or increasing interest through dynamic display effects.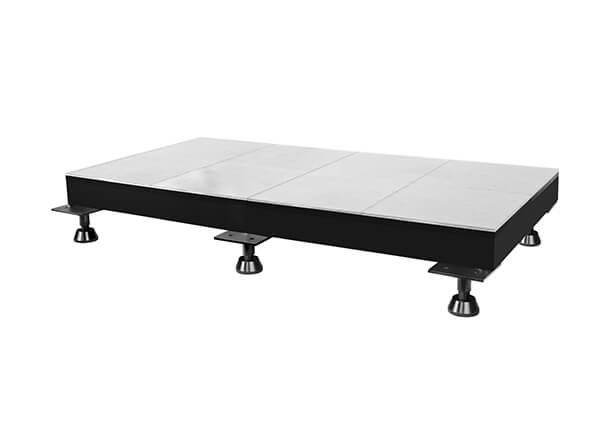 Floor LED screen technical features
When selecting a good floor LED display, consider load-bearing capacity, interactivity ways, and durability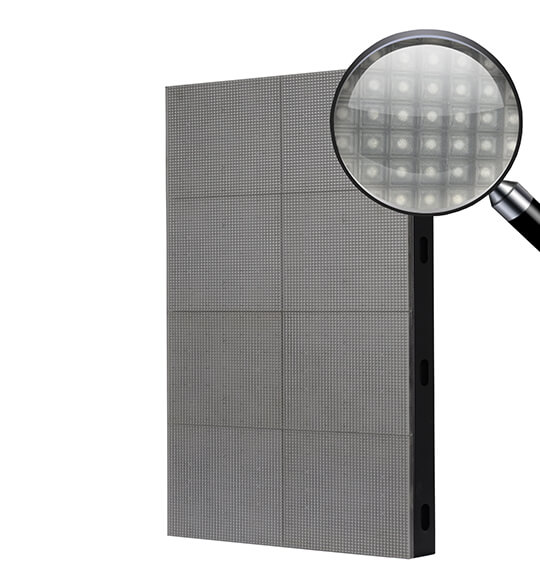 The most significant difference between the floor LED screen and other LED displays are its unique mask. There are three types of masks for floor LED displays: PC mask, tempered glass mask, and GOB method. Among them, the PC mask is the best, as evidenced by its load-bearing capacity, anti-slip characteristics, and light transmittance. Only the PC mask can achieve the best built-in chip interaction function. Of course, PC masks are also the most expensive.
Radar sensors and built-in chip interaction sensors are the two main methods for interacting with the floor LED screen. The built-in chip interacts better, and its interactive performance is better and more sensitive. For built-in chip interactive work, each square meter will have 128 chips. The radar sensor is placed in the corner of the floor LED display. The radar signal is blocked when an object is close to the radar sound wave radiation or when someone in front of the object blocks the radar sound wave.
The color of the floor LED display mask is also particular. It is preferable to select a brown color over a white color because the brown color is more resistant to dirt.
There are interactive and non-interactive floor LED screens available. PC masks and built-in chip interaction are the best options, whether interactive or not.
Many details, such as the thickness of the mask, the material of the cabinet, the thickness of the cabinet, the brightness range, and so on, must be considered when selecting a good floor LED screen. You can get in touch with us to get the best floor LED display solution.
ITEM
UNIT
Description
Pixel Pitch
mm
3.91, 4.81
Function
N/A
Interactive/ Non-interactive
Bear Capacity
Ton

>2

Key Point
It is attracting more attentions, have fun with it
2023 New LED Screen Price Check
Quick and easy: Enter your specifications and get a quote in one business day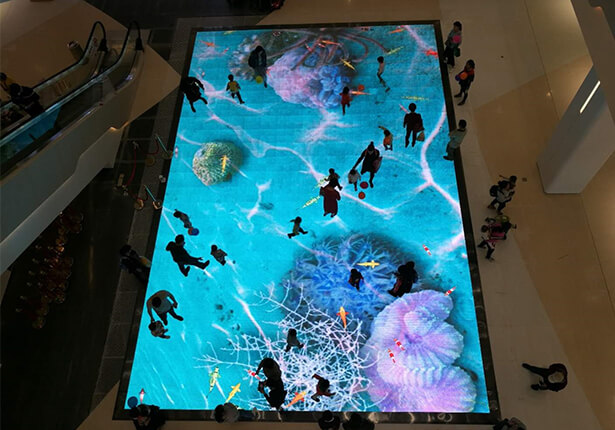 Floor LED screens set up

The installation of an LED floor screen is relatively simple; the installation steps are as follows.

1. Measure and reserve the location to be installed.
2. Installation structure.
3. Install an underground ventilation system.
4. Install the floor LED screen cabinet.
5. Connect the wires.
6. Power on and connect the control system.

When you have any questions about installation, we will arrange for our engineer to support you.

More applications of floor LED screens
Exhibition: Museums, municipal planning halls, science and technology museums, exhibition halls, exhibitions, etc.

Catering industry: hotel ballroom or passageway and lobby, restaurant ordering area or significant passageway, and so on.

Entertainment: bar counter, main channel, private room floor, and so on.

Leasing industry: primary stage of large-scale commercial performance, significant events, wedding and birthday celebrations, media, and so on.

Scenic features include a glass skywalk, a reception center, a recreation center, a viewing platform, and so on.

Municipal projects such as Garden Road, the square, etc. Command and control rooms, for example, are all part of a monitoring center.

Commercial complex: Main shopping mall passageway, central square, courtyard, cross-street bridge, children's playground, and so on.
2023 New LED Screen Price Check
Quick and easy: Enter your specifications and get a quote in one business day