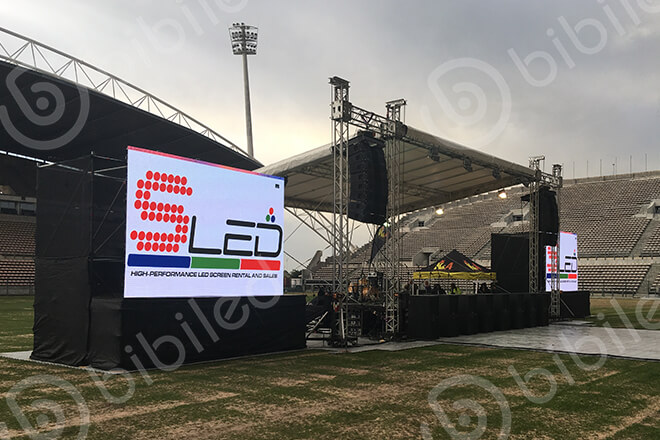 LED rental displays will be utilized at an increasing number of commercial events, including concerts, car conferences, cultural evenings, and festivals. Knowing the cost of renting an LED display will help customers and businesses understand costs, budget prices, etc. Let's discuss several elements that affect the cost of renting screens:
The choice of model affects the price of factors, such as:
The smaller the pixel pitch, the higher the resolution, the sharper the content, and the higher the price. But smaller pixel-pitch LED displays may not always be the best choice for customers, so you also need to know the price for special requests.
Common pixel pitches are P1.95, P2.5, P2.6, P3.91, P4.81, and P5.95. Among them, P3.91 and P4.81 are the most popular choice.
Size
The size of an LED rental screen will raise the cost. The price increases as the size increases. The most popular single LED cabinet sizes for rental are 500x500mm and 500x1000mm.
First off, this size has a somewhat hefty price. 500x500mm is too little compared to the floor's height; therefore, this size is better suited for indoor use. If your budget permits, I advise you to purchase the 500x500mm size, which makes it simple to flexibly extend the screen's height when establishing a sizable LED display.
This size is less expensive and is unaffected by the venue's height compared to the 500x500mm size.
Application scenarios
Where did you put the LED screen? Indoor or outdoor? The type of LED you choose depends on your venue.
Outdoor activities such as stadiums, concerts, and music festivals often use rental LED screens. Choosing an outdoor rental LED screen will add to your budget for three reasons.
First, outdoor rental LED screens must be larger to ensure good visibility from a distance.
Second, they must be prepared to withstand various weather conditions, such as rain and lightning.
Finally, they must be waterproof and bright enough to see still images and videos in direct sunlight.
Indoor rental LED screens are usually used for indoor activities such as exhibitions, award ceremonies, weddings, conference rooms, etc., and do not require high brightness or waterproofing.
Materials
LED display lamps can make the LED display luminous; the lamp beads, good or bad, can directly affect the LED display effect, brightness, life, and stability. Naionstar, Everlight, Kinglight, Hongsheng, and Multi-Color have commonly used lamp bead brands.
LED display driver IC is the key electronic component in the LED display; LED display driver IC can directly affect the display effect, brightness, refresh, and currency. LED display driver IC manufacturers to have different effects, quality, and prices. Common IC brands are Macroblock, Chipone, Silan, Sunmoon, and other brands.
The power supply is like the "heart" of the LED display.
It directly determines the stability and security of the LED display. A good LED display power supply can avoid fire, electric shock, and black screen problems. Correspondingly, the better the quality of the power supply, the more expensive it is. Common power supply brands are Meanwell, Shenzhen Megmeet Electrical CO LTD, Chuanglian Power Supply, Changzhou Chenglian power supply Co., LTD, etc.
Cabinet design
The surface flatness of the LED rental display screen should be within ±1mm to ensure that the displayed image is not distorted. Partial protrusions or recesses will lead to a dead angle in the viewing angle of the display screen. The quality of flatness is mainly determined by the production process and on-site splicing alignment. As a result, the better the flatness, the higher the price. 
Heat dissipation function
A good rental screen has a strong cooling function. Because the chassis is made of high-quality aluminum in consideration of heat dissipation and oxidation resistance, the chassis also adopts a multi-layer space structure to form an overall transparent convection heat dissipation structure, which can make full use of natural air for convection heat dissipation, taking into account both heat dissipation and Hermeticity also improves reliability and service life.
Reliability: Strength, stiffness, and heat dissipation all affect its price.
Green and environmental protection: The material is made of environmentally friendly materials, which can be recycled and reused without causing pollution to the environment.
Supporting facilities
Ancillary facilities will also affect the price of rental screens.
Suppose your LED display is used to hold events or conference training. In other words, when you need to connect external video sources, such as cameras, satellite TV signals, etc., to ensure the display's quality, in that case, you need to zoom function, multi-screen processing function, signal switching, and other functions.
Below we take the most commonly used models for you as an example: P3.91, 500x500mm rental screen, the price per square meter is $725.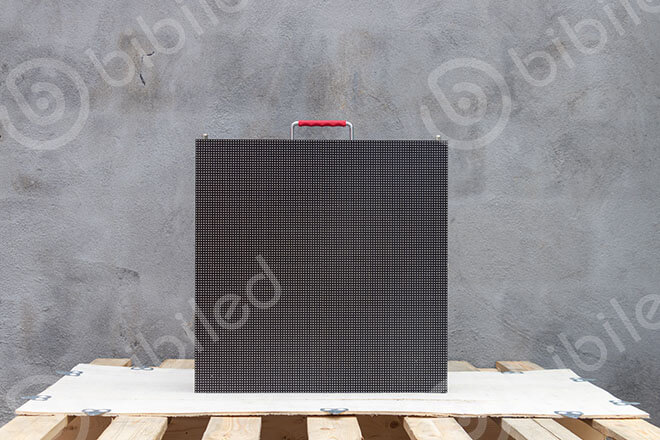 There are numerous kinds and specifications of rental LED screens, and the pricing shown above is only one type of LED rental screen. This is a customized business that requires a professional team to calculate the price for you. You can contact us, and we will serve you wholeheartedly.
If you have considered buying a second-hand LED rental screen, then I think you will definitely need this article: