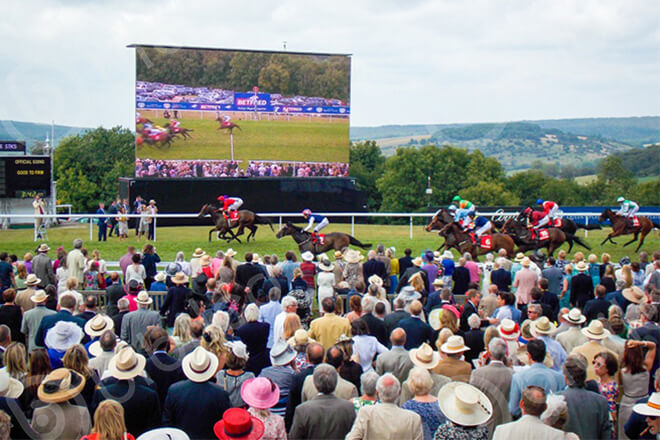 Introduction 
In recent years, the LED display stage rental market has continued to climb due to the continuous improvement of people's cultural needs. LED display has become an essential part of the overall stage design in some commercial performances, large parties, and prominent speeches. It adds beautiful color to concerts and lectures.
For investors, the LED rental display market is in a state of rapid development, and screen rental has become a promising future growth prospect for the project. Invest in and rent out an LED rental screen. According to the rental area and screen size, a certain fee will be charged for a long time, bringing more extensive and faster capital recovery and profits.
Here are 12 things you need to know about the rental LED display. It might help you better understand Rental LED Screen from the perspective of an experienced manufacturer.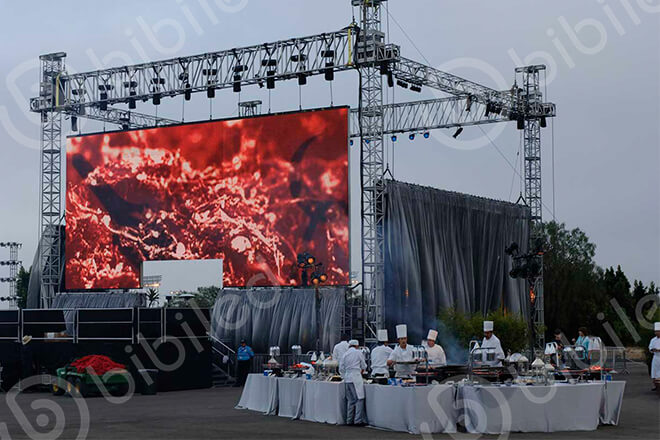 1. What are Rental LED Screens?
A rental LED screen is a type of screen used for live performances and artistic activities. It is also known as a hire LED display. Manufacturers' definition of rental LED display is the inverse of fixed installation led display and is narrowed to refer to such LED display with a very lightweight, slim, and sleek panel, support fast assemble and disassemble, and could be removable.
For example, the LED display for the concert, mobile stage background, and music festival where the LED display is there for a few days or a specific period is removed and transported to another location for new events.
2. Classification of Rental LED Screens
Our Rental LED Screens are separated into indoor and outdoor rental LED screens depending on the application conditions.
For the same series of Rental LED screens, indoor and outdoor variants typically share the same panel design and can be mounted on the same screen.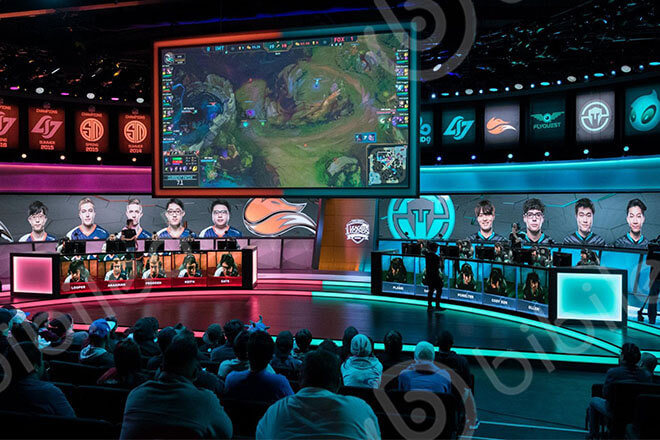 Indoor rental LED screen is usually used for indoor events like exhibitions, award ceremonies, weddings, conference rooms, etc.
There is no need for high brightness or waterproofing on the LED screen. However, our led products must be qualified to deliver the high-definition image quality and exceptional visual performance.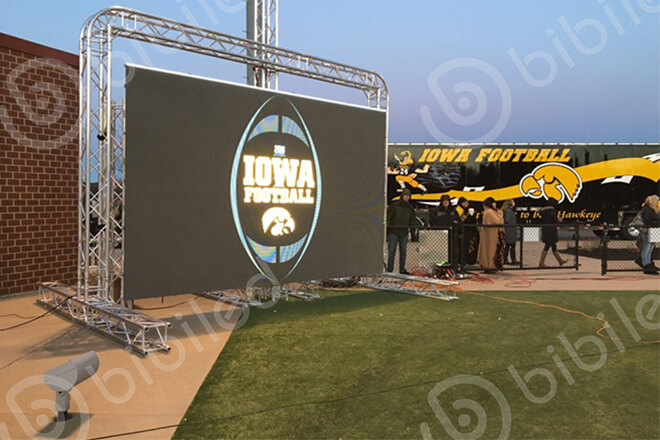 Rental outdoor led screens are frequently used at outdoor events such as sporting venues, concerts, and music festivals.
High brightness and waterproofing are requirements for the LED screen. The pixel pitch is not a significant consideration when selecting a screen for an outdoor event due to the viewing distance. Instead, stability and durability are given more weight. The market's present demand is for 3.9mm and 4.8mm, although lower pixel pitch will undoubtedly become more popular shortly.
It is worth noting that the outdoor rental screens can also be used indoors; simply adjust the brightness. On the other hand, indoor rental screens can only be used indoors.
3. Why do we choose Rental LED Screens?
Compared with traditional fixed screens, Rental LED screens have several benefits. Let me analyze it for you from the perspective of the product itself and the market.
(1) lightweight
The main advantage of LED rental screens is their lightweight and quick lock. It is simple and fast to disassemble and reassemble.
(2) Quick and easy installation
Because the cabinet is made of aluminum, it is lighter and more precise, ensuring that disassembly is simple and quick. Technicians can splice cabinets in minutes, significantly reducing installation, disassembly time, and labor costs.
(3) Flexibility
Rental displays are more adaptable than static displays and are easy to move.
Not everyone knows that buying rental equipment is an investment with a quick return. If you own a rental LED screen, you can earn income by renting out your screen.
4. Where are the rental LED screens generally used?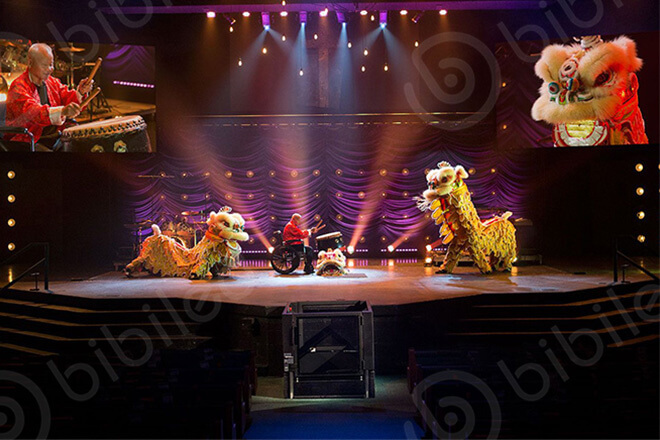 The primary market demand for rental LED screens is in stage performance. Every year, countless concerts, opening celebrations, press conferences, and other events are held worldwide. LED displays have become an essential tool for displaying the dynamic effect of the stage backdrop.
The advantages of a rental LED screen include quick assembly and disassembly, as well as easy transportation. Each exhibition has a relatively short time, and the LED screen can display the new products through the eye-catching dynamic display effect.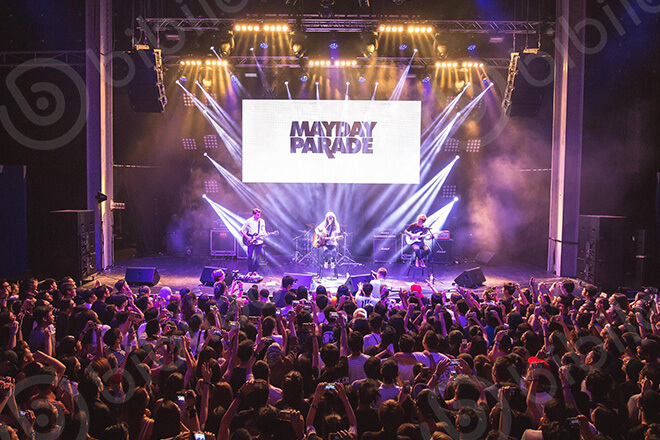 The rental LED screen has the advantage of customizing the size. It can be made at any length based on the number of people attending the speech and the stage size. The LED display is used as the background to enlarge the speaker and PPT on the speech stage, allowing the audience to be viewed in a larger format far away from the stage. The audience sees what the speaker needs to present.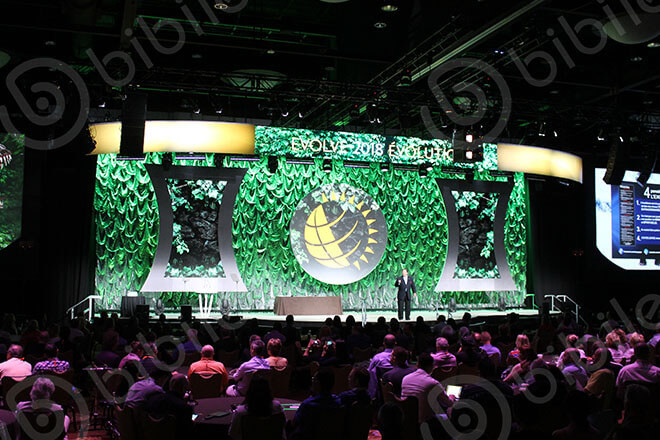 Conference planners need to rent a rental LED screen to organize meetings. When organizing conferences, especially large-scale conferences, this professional rental screen can be quickly assembled to ensure layout speed.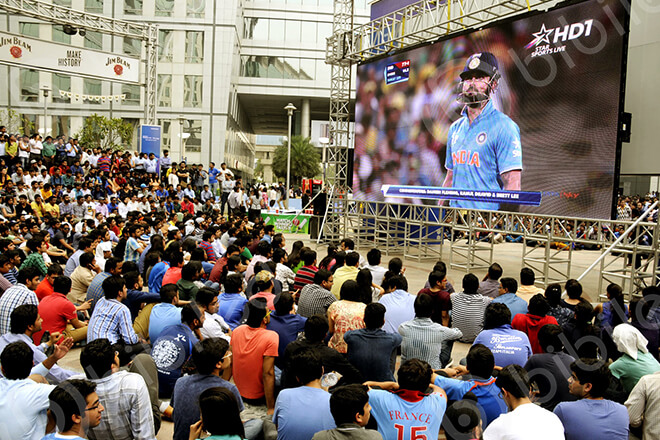 Rental LED screens are an unbeatable resource for participating in sports events or outdoor performances such as concerts. In addition to providing perfect visibility in all lighting conditions, it can also be used as a scoreboard during matches. 
5. Rent a Rental LED screen or buy, how should we choose?
If this is your first time looking for a Rental LED, you may be torn between renting a rental LED screen and purchasing one. 
Purchasing a rental LED screen is unquestionably a superior option if you need to utilize it for an extended period. Let's talk about it in two roles!
Instead of purchasing Rental LED screens, you can save a lot of money by renting them. Renting a rental LED screen will be less expensive than buying one.
Purchasing is the best option if you want to make money by renting rental LED screens. Not everyone realizes that renting Rental LED screens is a low-risk investment with a high return. Participating in multiple events allows you to recoup your investment quickly. If you can find more potential events, renting LED screens is profitable.
6. Factors to consider before investing in Rental LED Screens
Before taking any action, here are 3 essential things you need to consider.
(1) Lighting, sound, and stage support should also be considered when purchasing a screen. You also require a truck for transporting at the same time.
(2) You should look into the precise cost of the local rental screen, the variances in prices between different cities, and the distance, size, venue, and rental period.
(3) The cost to rent second-hand rental LED screens. You can make future long-term investments with the help of this understanding.
7. How easy is it to assemble a Rental LED Screen?
Self-installing LED displays is a significant saving for buyers who purchase LED displays. With our many years of experience in the LED digital display field, we found that most of our customers want to save money by installing LED displays themselves. 
The installation process is straightforward, and you can operate it by yourself. This can save 10%-20% of the total price of the LED display, which is crucial for the return on investment. 
Next, I will tell you how to properly install the Rental LED display.
There are a total of 2 ways of aluminum frame installation and hoisting.
Floor Standing Installation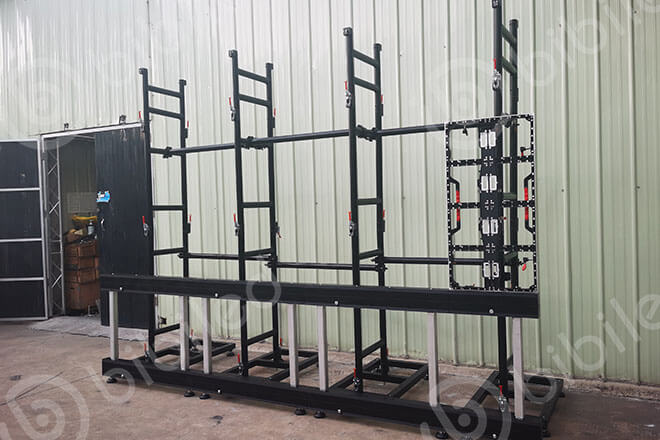 #Step 1: Confirm the installation place and make sure the installation position is stable.
#Step 2: Assemble the aluminum frame structure, which plays a supporting role.
#Step 3: Fix the aluminum frame structure and rental screen together.
#Step 4: Connect the network cable and power cable.
#Step 5: Power on.
#Step 6: Connect an external device, such as a computer or video camera, and use the software to play the content for testing.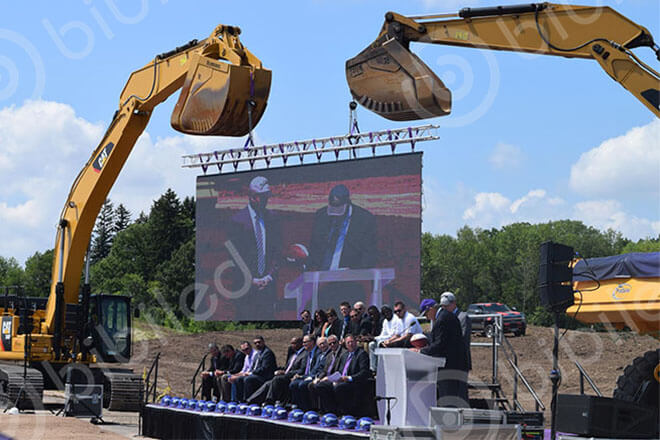 #Step 1: Confirm the width and height of the screen
#Step 2: Confirm the measurement you want to install
#Step 3: Confirm the load-bearing capacity of the established aluminum frame structure. Please note here that if it is indoors, the height of the ceiling needs to be considered. And if it is outdoors, wind speed needs to be considered. This is critical for proper installation.
#Step 4: Install the hanging beam on the hoisting structure, then connect the LED to the hanging beam.
#Step 5: Connect the network cable and power cable.
#Step 6: Power on.
#Step 7: Connect an external device, such as a computer or video camera, and use the software to play the content for testing.
Generally speaking, within 100 square meters, the displays can be installed in half a day. For larger sizes or harsh installation conditions, we still recommend customers find a professional installation company to assist in installation. We also have cooperative installation teams in some countries. You can contact us to get their contact information.
8. How is the pricing of a Rental LED Screen determined?
The cost of a rental LED screen is based on many different factors. 
The cost and strength of outdoor screens are higher than those used indoors. They resist UV rays, intense brightness, weather, and wetness.
The price of a rental LED screen will increase with its size. The bigger the size, the higher the price.
9. Tips for choosing or purchasing a Rental LED Screen
Selecting a rental LED screen is not a trivial matter. Here are 6 things you need to know about choosing the right product. 
When renting or purchasing a rental LED screen, you must determine the price budget and contact the most suitable one among the various manufacturers.
Consider environmental factors
Where do you put the LED screen? Indoor or outdoor? The type of LED you choose depends on your venue. And choosing outdoor LED screens will increase your budget for three reasons. 
First, outdoor screens must be more significant to ensure good visibility from a distance.
Second, they must be prepared to withstand various weather conditions, such as rain and lightning.
Finally, they must be waterproof and bright enough to make still images and videos visible even in direct sunlight.
Choose your size based on the location and purpose you'll be using it for—the price increases as the size increases.
The most common and standard aspect ratio for mainstream videos and displays is 16:9. For example, The aspect ratio of 16:9 is ideal for your LED screen.
Pay attention to the resolution
Even if LED technology is advanced enough to deliver superb color and image quality, you must always select the most effective resolution. You can contact us to obtain the most professional rental LED display solutions. We will make the most accurate estimate for you.
Find out about maintenance
In the event of an incident, the maintenance and repair service is just as important as the screen's quality. If you choose to trust BIBI Led, you will always have the security of a help desk team at your disposal.
Select high-quality items
With a sufficient budget, try to choose high-quality products that can effectively avoid quality problems during use.
10. Tips for extending the service life of Rental LED Screens
The light-emitting diode (bulb) is the primary factor determining an LED display's lifespan. LEDs are primarily destroyed by heat. Please keep these things in mind.
Avoid areas that are excessively bright or rainy
Place your screen on a flat surface at all times
Do not use abrasive liquids to clean the screen
Make use of a surge protector and a voltage regulator
Be careful not to knock it during installation and disassembly
If not used for a long time, occasionally need to light for at least 6 hours
Dead light maintenance should be done regularly
Purchase 5% or more of spare modules and cabinets
11. Packaging of Rental LED Screen
Generally, there is 2 rental LED display packaging types: wooden cases and flight cases. I will briefly discuss the differences between these 2 packaging methods.
The wooden case is a standard fixed installation composed of large wooden boards bound together and lacking movable wheels at the bottom. Furthermore, the wooden box is typically a one-time package that cannot be reused.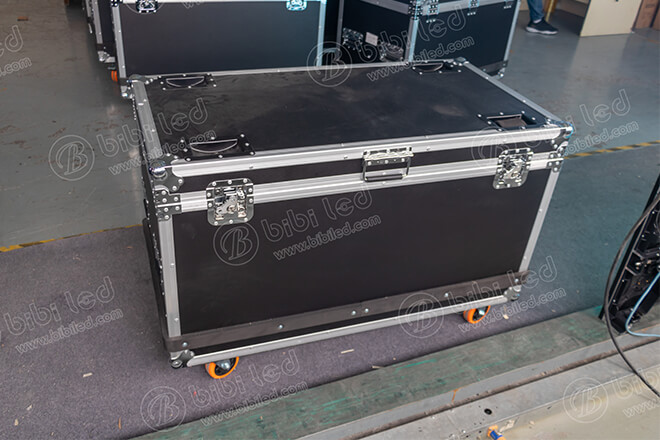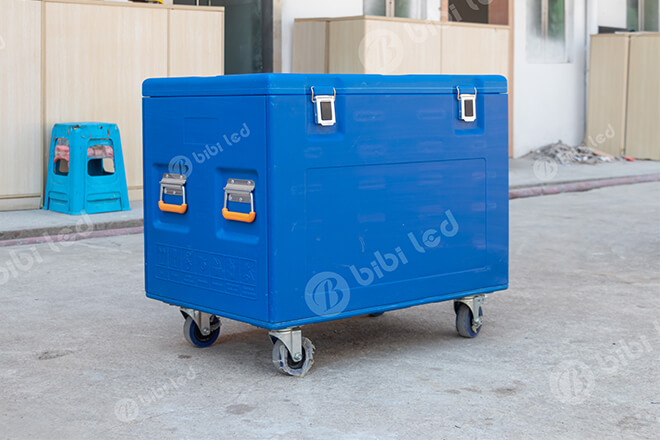 Due to the following benefits and features, flight boxes are now being used for packaging by an increasing number of LED manufacturers:
(1)The surface's material and color can be modified to meet our needs.
(2) Molds are needed in the manufacturing process for conventional packaging boxes. 
(3)Utilizing the air box can save mold costs, and the size can be altered to meet our screens' packing needs.
(4)The LED air box includes wheels at the bottom, making it easier to move and more maneuverable. There are partitions inside the air box, which are covered with shock-proof materials to safeguard better our outdoor rental LED display.
There are two other categories of flight cases: wooden flight cases and plastic flight cases. And there is no difference between them other than how they look; the particular decision relies on your preference.
12. The distinction between some standard sizes of Rental LED Displays
To get the right product, you need to choose the size based on where and for what purpose you will be using it. The most common rental LED display sizes are 500x500mm and 500x1000mm single LED cabinets.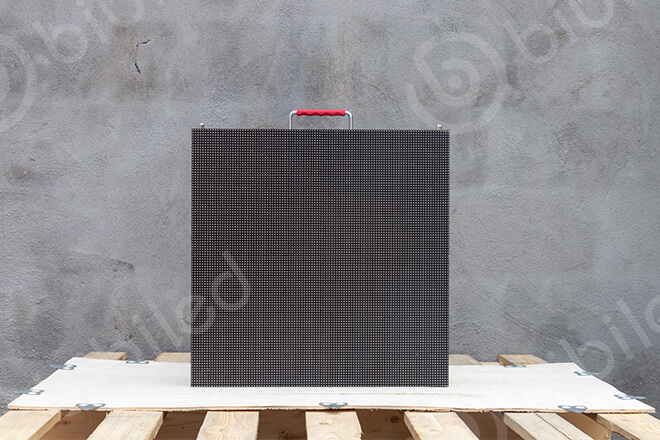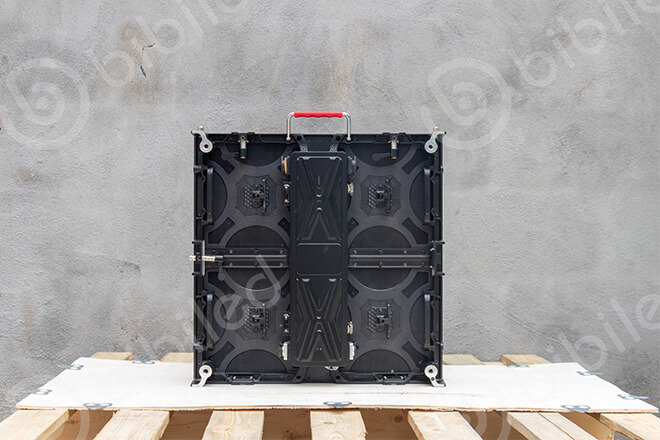 The price of this size is higher, and considering the issue of floor height, this size is more suitable for indoor use. If your budget allows, buying the 500x500mm size is best to add a height option when building large LED screens.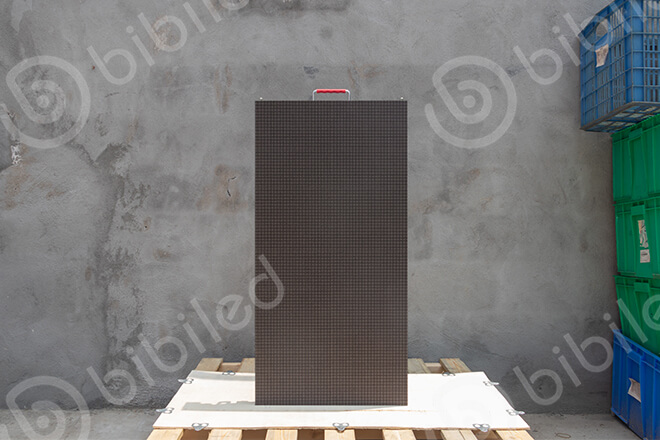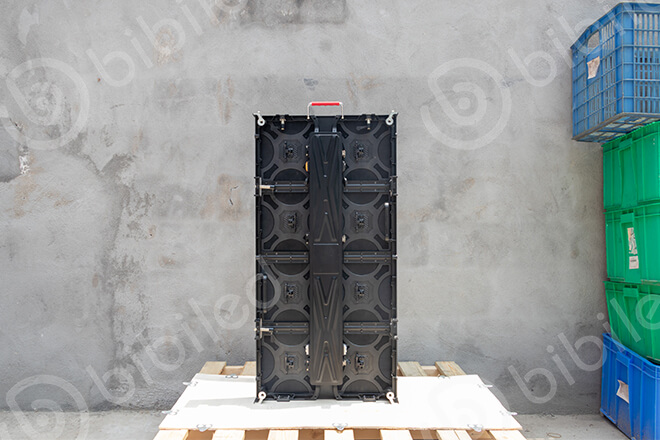 Compared to the 500x500mm size, this size is cheaper, and the site height does not affect it.
The application effect of these 2 sizes is the same. If you are a person who knows LED displays, then you can also use these two sizes in combination.
Other typical sizes include 480x480mm, 512x512mm, 960x960mm, and 576x576mm, etc.
Any size may generally be made to order for you, but the following qualities must be present:
(1) The box must be light 
(2) A plug-in connection must be easy to connect
(3) The ability to lock rapidly
13. Common external devices for Rental LED Screens
Cameras, computers, and loudspeakers are the most commonly connected external devices for rental LED displays. The number of connections is entirely up to you. However, please communicate with the manufacturer in advance if you require more.
Another critical piece of the device is the video processor. It is specially designed for LED display, a high-performance image processing and control device for full-color LED display. The main functions of the video processor are as follows:
The LED video processor can scale the image and output any screen size, which can be completely mapped to the LED screen and is not affected by the resolution.
It can connect multiple signals simultaneously, realize the connection and management of various movements, and flexibly switch between calls.
Image quality improvements
High-quality LED video processors can use advanced algorithms to modify poor image quality signals, enhance image detail, improve image quality, color calibration and adjust brightness levels.
In many cases, an LED screen must display multiple identical or different pictures. The LED video processor has a multi-screen processing function, which can flexibly meet the display needs.
If you need to input multiple signals at the same time, be sure to prepare a video processor.
13. How to choose the most suitable manufacturer of Rental LED Screen?
You need to choose the best provider to find the best goods. The ideal LED supplier will walk you through the procedure and assist you in determining which option is best for you. There are numerous methods for finding the providers, mainly divided into local search and online search.
Searching locally is the second-largest strategy for finding LED display suppliers. Compared with overseas manufacturers found online, the prices of local manufacturers will be higher.
If you are pressed for time, have no relevant experience, and are only temporarily using rental screens, you can find a local manufacturer.
One of the easiest ways to locate LED providers is through online searches. There are a lot of blogs that seem like directories and contain lists and contact information for LED vendors. Try to compare the costs, the ratings, and the services of each LED display supplier when you have located a list of LED suppliers. The best supplier is the one that is not too expensive, has excellent reviews, and provides the best customer service.
When conducting an online search, keep time in mind. These steps take time because you must consult, customize, and ship.
Suppose you intend to use the rental screen for an extended period and are familiar with maintenance, import, and export-related issues. The online search is your most superb option if you want to develop a business with other LED displays and pursue affordable prices.
BIBI LED is a leading LED display manufacturer specializing in LED display manufacturing for over six years, with strict control management and comprehensive after-sales services.
If you have questions about selecting the best-LED display, please contact BIBI Led without obligation by phone at (+0086) 153 9990 6913; by email at [email protected]; or by email by completing our form. As always, our experts will walk you through everything you need to know to make your purchase successful.
15. How to rent a Rental LED Screen?
If you're renting an LED for the first time, you may not understand how everything works. Below is a list of the steps we've taken to assist you.
From the very beginning, you need to be clear about the purpose, location, budget, and size of your Rental LED Screen.
Try to find suppliers and see who has the best deals and reviews. Once you've decided on a provider, contact them and explain what kind of LED you want, your budget, and the location of your venue.
It is necessary to guarantee that you can successfully finish your assignment within the allocated time because locating a manufacturer, contracting, custom manufacturing, shipping, and installation requires time.
16. How to calculate the size of Rental LED Screens?
The most common and standard aspect ratio for mainstream videos and displays is 16:9. For example, The aspect ratio of 16:9 is ideal for your LED screen.
The most common rental LED display sizes are 500x500mm and 500x1000mm single LED cabinets. If your budget allows, buying the 500x500mm size is best to add one more height option when building a large LED screen.
When renting an LED screen, the size does not need to be very large, and we recommend at least 3.5m x 2m. This is precisely the 16:9 ratio perfectly displays the video, and the resolution is satisfactory.
You can contact us to obtain the most professional rental LED display solutions.
17. How big can a Rental LED Screen be?
You can make it as big as you want!
Because a small box connects the rental LED screen, so no matter how big you want to be, splicing cabinets will help you get there.
Suppose a 100-square meter screen is rented or purchased all at once. Then you have two options for how to handle it:
First, you can directly create 100 square meters for use or rent.
Second, you can divide it into five 20-square-meter screens you can use or rent.
18. How to use the Rental LED Screen?
Take it easy! A rental screen is straightforward to create. Let me explain how you can learn to use rental screens in detail.
The manufacturer will provide free control software and manuals
The manufacturer provides free online technical support
Learn from your peers
Learning in factories in China
Watch online instructional videos
19. Get the best quality Rental LED Screen with BIBI LED
BIBI LED, a professional LED Rental display manufacturer with over 7 years of industry experience, focuses on designing and manufacturing the most practical and cost-effective rental LED display to meet the growing market demand. By providing high-quality Led Display Rental with excellent visuals for living production, BIBI's LED screen rental solution can create an engaging and dynamic atmosphere for your event.
With the aid of this ultimate guide, I hope you can find the most satisfactory answer for you.
If you have the idea of buying LED rental screens but don't know where to buy them; I think this article will give you the answer: