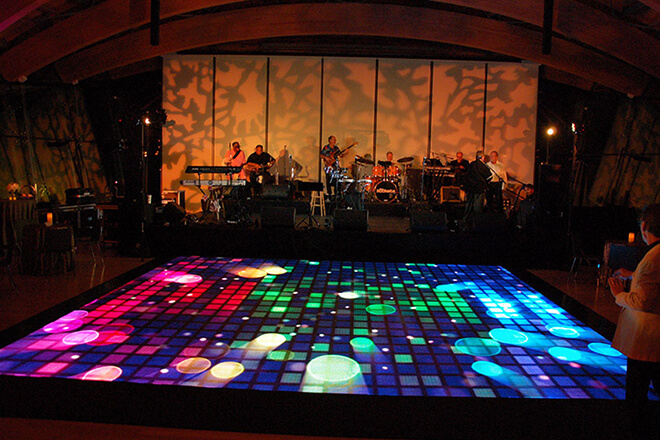 Did you notice that there were remnants of snowflakes where the actors stepped during the opening ceremony of the 2022 Beijing Winter Olympics? The LED Floor Screen is used here.
When it comes to floor tile LED screens, many people think of "LED screens used on the ground" that appear in stage performances and exhibitions. In fact, in addition to the floor LED screen just mentioned, the LED dance floor is also included in the floor tile LED screen, but there are some differences between the two.
We shall compare floor LED screens and LED dance floors in depth in this article.
Let us start!
1.What is an LED dance floor? What is a floor LED screen?
The LED dance floor is also known as a lighted dance floor or a disco dance floor because of its colorful LED panel, and the movie "Saturday Night Fever" popularized the LED dance floor. It mainly renders the entertainment atmosphere by presenting light shows with different themes.
Many LED dance floors are rented, and the ease of installation makes them the preferred choice for a variety of occasions.
A floor LED screen is a customized LED display that has been designed for use on the floor. It can play video, text, and pictures, and has a good carrying capacity, strong protection, and communication capabilities. There are two types of floor LED screens: classic floor LED screens and interactive LED floor screens.
The interactive LED floor screen is a variation of the traditional floor LED screen that includes extra technology such as pressure sensors and infrared sensors. It is more advanced than classic floor LED screens.
What is the connection between an LED dance floor and a floor LED screen?
The LED dance floor is actually one of the LED floor tile screens. In other words, the LED floor screen contains the LED dance floor.
Overall, LED dance floors are gleaming surfaces that may emit a wide range of colors and patterns. It is a smooth lighting surface perfect for dancing, complete with sound equipment and a lighting system. The floor LED screen is a type of LED screen that is specifically built for use on the ground. They are light, flexible, and simple to install and maintain, and they can be customized with interactive sensing capabilities.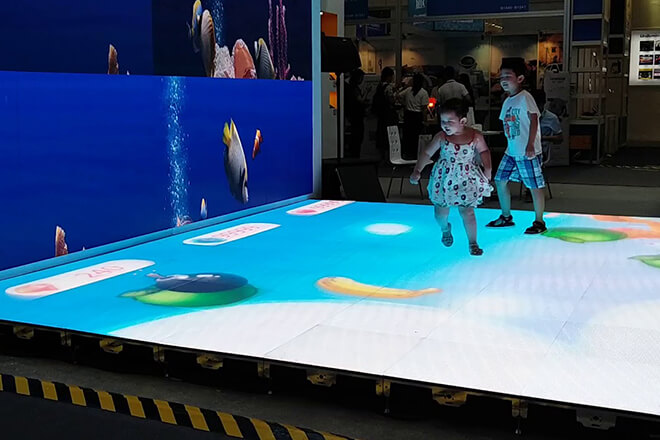 Floor LED screens are divided into traditional screens and interactive screens. So what is the obvious difference between them?
1) The effect of interaction
The biggest difference between traditional screens and interactive screens is whether they have interactive functions. The traditional Floor LED screen just has a display feature.
A pressure sensor or an infrared sensor is built into the interactive floor LED screen. The sensor can detect a person's position as long as they move on the LED floor screen. The main controller will then output the appropriate display effect.
2) The control software is unique
Traditional LED floor screens require simply ordinary playback software. To achieve the interactive effect, the control software of the interactive LED display must first receive the information of the interactive point and then mobilize different programs or video files to play.
What about the other possibilities?
A traditional LED dance floor is typically a flat solid surface that is unappealing as a platform for people to dance on.
The interactive LED dance floor can boost creativity and engagement by allowing audiences or visitors to participate in person with performers or events.
That's really cool!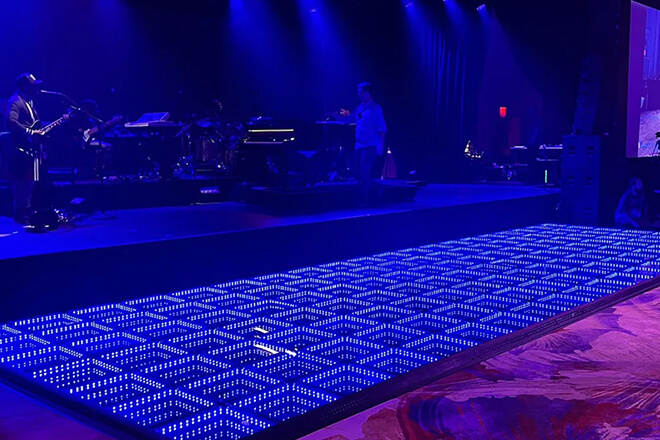 The dance floor is separated into two sections: wired and wireless.
LED dance floors that are wired are better suitable for long-term or permanent installations. The installation procedure of the wired LED dance floor is more complex than that of the wireless LED dance floor, but the connection between the panels is more stable. The labor and time required will be greater than that of a wired LED dance floor.
The vast majority of wireless dance floors are LED rental dance floors. It offers the benefit of being more adaptable, easier to install, and portable.
3. What are their characteristics?
Let us first discuss the characteristics and benefits of a floor LED screen:
The colors are rich, delicate, and lifelike, and they display well in a variety of applications.
Excellent carrying capacity
A good carrying capacity is required for an approved LED floor screen. They are sturdy and can support a lot of weight. It is made of an aluminum alloy and can support 1.5 tons of weight per square meter.
Superb protective ability
High-quality LED floor tile displays are water-resistant, non-slip, wear-resistant, and scratch-resistant. It can withstand long-term use and trampling because it is made of high wear-resistant resin or frosted glass material. These innovations improve the floor LED display's protective performance.
It supports a number of installation techniques. Depending on the installation environment, you can select from a variety of installation techniques. There are options for ground installation, embedded installation, steel frame installation, and track installation.
Then let's look into the LED dance floor's characteristics:
1) extremely personal
LED dance floors typically have a special design, and beautiful look, and are hip and fashionable. Because the LED dance floor is digitally controlled, you can select whatever theme you like.
2) The LED dance floor serves an unusual purpose: drunk people in bars are often unsteady, and the LED dance floor also functions as lighting, which can protect those drunk clients to some extent.
To make some recommendations for renting an LED dance floor:
It is critical to select the appropriate size
The size of your LED dance floor rental will have a big impact on the overall cost. Remember to measure the available space and select the optimal size, keeping in mind that conventional dance floor panels are typically 2 by 2 feet (20 by 20 inches).
It is critical that you know where you intend to place the dance floor. For example, if you are planning an outdoor wedding on the lawn during a wet season, you must first lay the grass floor before installing the LED dance floor. This will safeguard both the landscape and the framework of your dance floor.
It is critical to select a reputable LED dance floor rental supplier to ensure a positive event experience. When making your decision, consider the following factors: reputation and client testimonies, industry experience, after-sales service quality, pricing and payment conditions, and insurance.
The installation steps are relatively simple:
Measure and reserve the location to be installed.
Install the structure.
Install an underground ventilation system.
Install the floor-standing LED screen cabinet
Connect the wires.
Apply power and connect the control system.
The LED dance floor is a popular choice for various events and venues, such as weddings, car shows, company annual meetings, or the floor of exhibition halls. It adds a very attractive visual treat to these events.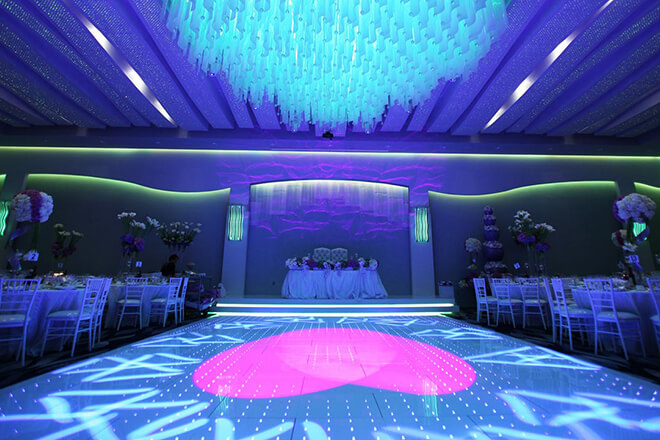 1) Stage
Many large-scale evening gatherings have LED floor screens on the stage. The LED floor screen can be paired with the stage background to create a stunning image effect during the performance.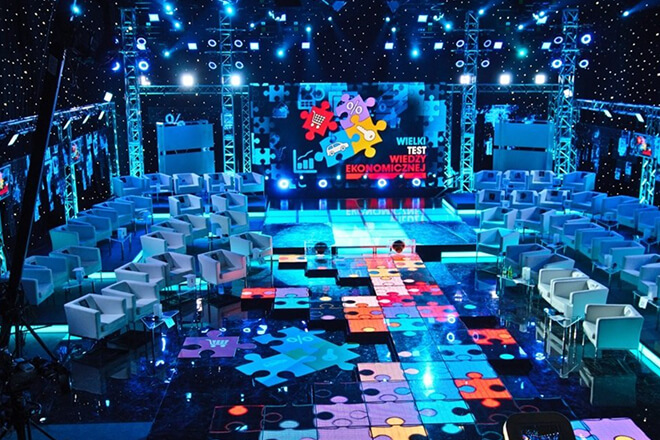 2) Extensive shopping centers
LED floor screens, in addition to normal LED screen panels for advertising, are used in some large retail malls. Its interactive elements have the potential to attract more clients. Furthermore, LED floor screens may display promotional information in shopping malls, making them an excellent tool for brand promotion.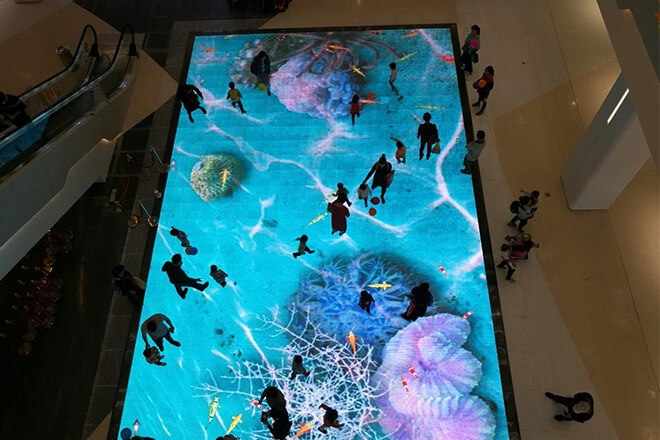 3) Exhibition hall that is interactive
LED floor screens are commonly found in science and technology museums and modern exhibition halls. They are easy to keep tourists' attention and provide them with a more novel experience.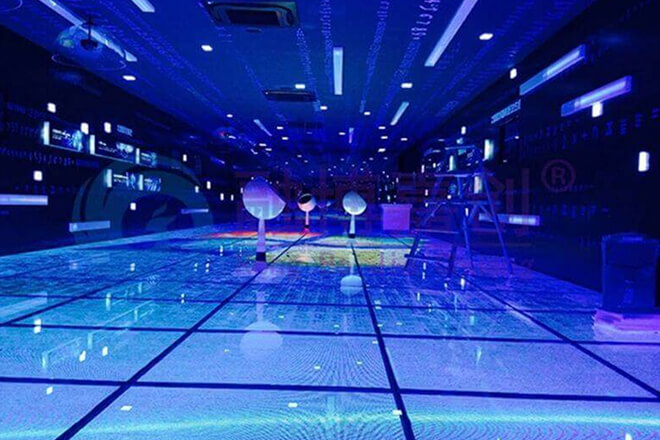 4) Medicine
The use of floor LED screens in medical institutes is a true boon for illness treatment. Having patients walk on interactive floor tiles, for example, transforms therapy into a game-like experience.
Besides that…
Catering industry: hotel ballroom or passageway and lobby, restaurant ordering area or significant passageway, and so on.
Entertainment: bar counter, main channel, private room floor, and so on.
Scenic features include a glass skywalk, a reception center, a recreation center, a viewing platform, and so on.
Municipal projects such as Garden Road, the square, etc. Command and control rooms, for example, are all part of a monitoring center.
This article covered a range of angles on the LED dance floor——another cutting-edge application of floor LED screen panels and floor tile displays. If you're interested in employing LED floor screens or an LED dance floor for your event, please get in touch with us. We are glad to collaborate with you.