On July 1, 2021, Beijing Bei'ao Cinema installed the first locally made UC-A41 LED screen.
In 2022, China Film Times stated during CineEurope that the "HeyLED Innovation Experience Center," which the British AAM co-founded, will be formally formed in Los Angeles.
Beginning in 2023, the first HeyLED movie screen made in the country was successfully lit in Hall 6 of the UME Cinemas in Beijing, allowing viewers to view startling 3D pictures with their naked eyes.
The industry has once again turned its attention to LED movie screens as a result of the general trend that the state of the film market is improving.
1. What is an LED movie screen?
We are all familiar with LED screens, which use numerous tiny module panels to display a variety of data.
If it's an LED movie screen, the projection effect of "projector + curtain" can be duplicated or even surpassed in the theater with just one LED screen.
2. What was the cinema using before this? ——Projector
Advantages of projectors:
1) Less expensive than an LED movie screen
2) It is capable of producing larger images than LED movie screens.
3) Additional installation techniques can be given (for example, a projector can be installed on the ceiling).
Disadvantages of projectors:
1) The greatest viewing experience is only possible in a dark environment.
2) The resolution is not as high as that of an LED movie screen.
3) Because they are more delicately built and more prone to harm, they require more frequent maintenance.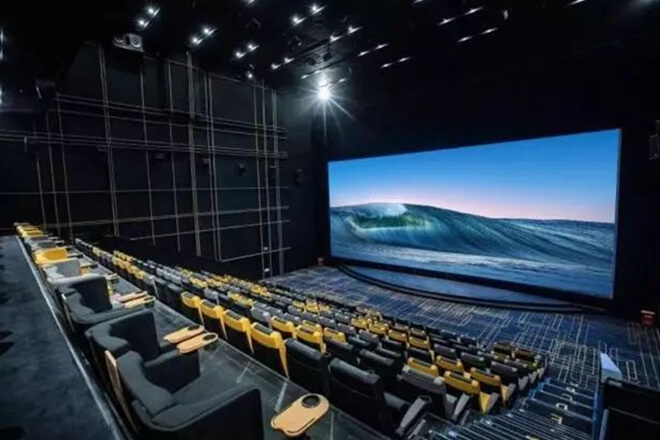 3. What is the most notable feature of an LED cinema screen?
The primary distinction between an LED movie screen and a regular movie theater screen is that it can emit light on its own and does not require a projector.
Restore black and white as much as possible
The contrast ratio of the cinema's projection system, which cannot display pure black and white, is 2500:1. The LED movie screen has an "infinite" contrast setting that will fully restore black and white.
The entire color spectrum is more vivid thanks to the integrated HDR technology in the LED movie screen. You may take this as: Watching movies won't be affected at all if you decide to turn on all the lights.
4. What are LED movie screens' benefits and drawbacks?
1) A wider field of view.
2) Reduced power usage.
3) More long-lasting and sturdy than projectors. 
4) Clear, with no angle deviation.
5) More versatile than a projector, as it may be used for a variety of other purposes, including live events and video games.
1) Costs more than a projector.
2) Takes up more room than a projector since the larger the screen, the more space it requires.
5. Is it worthwhile to invest in cinema LED screens?
As digital technology advances, so will the future of cinema. For many years, projectors were the standard in movie theaters.
With the introduction of LED screens, this may soon alter. LED screens will most certainly replace projectors within the next few years.
The characteristics of LED can be used by major theaters for marketing purposes, such as creating VIP rooms to satisfy tailored watching needs, reservation-based viewing, or specific movie halls. These are beneficial in terms of drainage and increasing theatrical attendance. Furthermore, many additional application situations, such as sports or e-sports live broadcasts, performing arts engagement, and so on, can be expanded.
Remote engagement across regions, time, and space can be completely realized through giant LED screens with the adoption of the national 5G+8K strategy.
LED movie screen has a high return on investment as a cutting-edge application.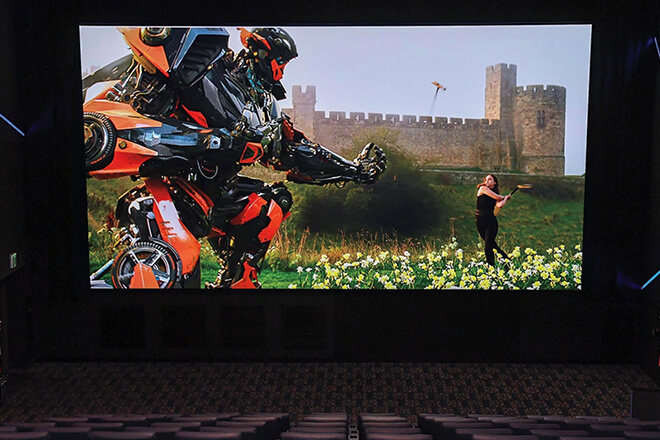 6. Since the market is so hot, why are LED movie screens still uncommon?
Simply said, LED movie screens must meet tight standards. Furthermore, the continual landing of LED movie screens requires parallel price reductions with its supporting systems while maintaining product quality.
To summarize, the revival of the movie industry has surely given fresh life to the LED movie screen business. Its market development has been accelerated by the recent arrival of LED movie screens in China. However, the continual landing of LED movie screens must still accomplish simultaneous price reductions with its supporting systems while maintaining product quality.
BIBILED is a professional service company that offers LED display solutions. So far, it has concentrated on R&D, manufacture, and sales of LED display industry support goods. Committed to supplying professional clients and end users at home and abroad with high-standard, high-quality LED display supporting products, as well as providing consumers with the best product solutions. Please do not hesitate to contact us if necessary!