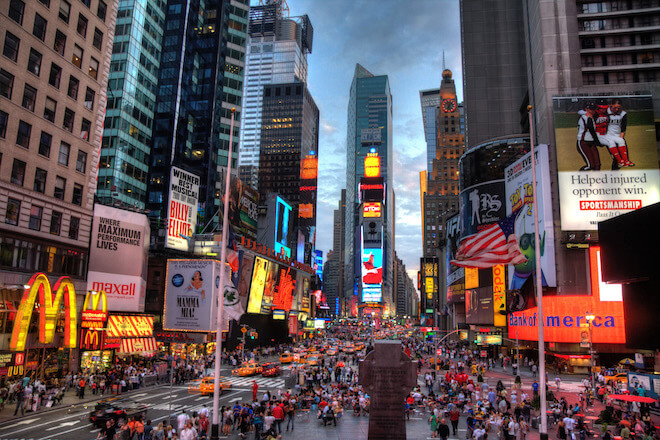 How to find the most suitable supplier among the many LED screen rental in New York?
About the led screen, do you pay more attention to waterproofing? after-sales service? video effect? cabinet design? cost-effective? etc.
Every LED screen rental manufacturer has its main hot products, and their product features and advantages can meet your needs.
New York is a prosperous city. 
People's pursuit of events is high and renting LED displays is an indispensable part of holding events.
To help you make the right decision, we have listed the top 10 LED screen rental suppliers in New York below, hoping to help you.
(The ranking has nothing to do with the order)

                                    Source: https://www.atd-av.com/
ATD Audio Visual is a one-stop event production company focusing on high-quality event production, audiovisual, etc. The company participates in nearly 200 similar events every year.
ATD also cooperates with the best venues and catering suppliers in New York City to provide marketing, public relations, and creative content activities. 

                                  Source: https://eventrentalsny.com/
Event Rentals Group is a high-end event rental company in New York. The company has a complete LED display manufacturing workshop, 30,000 square meters of inventory, and professional audio-visual equipment.
The main rental services of Event Rentals Group include event lighting rental, LED video wall rental, wireless LED, dance floor rental, printing, bar rental, and all event equipment.

                               Source: https://www.leddisplayrentals.net/
Visual Impact is a company that rents LED displays. The company has a wide variety of displays to meet the needs of various occasions.
Visual Impact allows you to turn any venue into a huge stage through the LED display rental so that everyone will get a "front-row" seat.

                             Source: https://meetingtomorrow.com/
Established Year: 2009

Tel: +8774412640 \ 6467067540

Fax: +8007861749
Meeting Tomorrow is a leading full-service, national audiovisual and event technology partner for Fortune 500 companies, institutions, and associations.
Meeting Tomorrow is headquartered near Albany Park in Chicago. The company has more than 100 employees and several office dogs to establish a culture of respect and affection.

                             Source: https://ledwallsystems.com/
ENCORE is an audiovisual service provider based in New York, USA. The company's products have participated in high-profile events, including numerous fundraising events, corporate events and shareholder meetings, New York City Marathon, Tony Awards, Woodstock Film Festival, JVC Jazz Festival, and New York Fashion Week, as well as numerous fundraising events, corporate events, and shareholder meetings.
ENCOREX's LED video wall cooperates with the world's top LED manufacturers such as Leyard, Unilumin, Absen, ROE, Novastar, etc.

                                Source: https://avworkshop.com/
AV Workshop is a provider of audio-visual solutions. For more than two decades, it has met the audio-visual needs of events of various scales and complexity, from business meetings and celebrations to fundraising and product launches, microphones for speeches, regardless of scale or scope. The AV studio provides complete resources for events of all sizes.
AV Workshop's convenient downtown location can quickly respond to project setup, equipment replacement, and emergency handling.

                               Source: https://www.matrixvisual.com/
Matrix Visual is a full-service event production company that provides LED video displays. It is also the fastest-growing LED distributor in the United States, specializing in the rental, sales, and service of large LED walls.
Matrix Visual is one of the companies with the potential for LED display in the United States.

                              Source: https://crunchytech.com/
Crunchy Tech focuses on developing and supporting business-critical and entertainment-driven technology systems for the global market. Crunchy has developed interactive customer experiences that deliver extraordinary brand messages through hardware, software, mobile development, and social media.
 Crunchy's products and services address the cutting-edge technological advancements promoted by traditional information technology systems and the commercial industry.
9. BML-Blackbird Theatrical Services

                                   Source: https://bmlblackbird.com/
Tel: +2016178900

Fax: +2016178908
BML-Blackbird provides a wide range of production services for the entertainment and event industries, with more than 40 years of rich experience in the industry,
Provide stage lighting systems and equipment and stage, audio, technical and production services for sale, rental, or as part of a comprehensive on-site production, including delivery, installation, operation, and dismantling.
BML Video Services is a full-service video enhancement and production service company with a wide range of equipment, such as projectors, camera bags, plasma screens, LED walls, and full HD functions.

                                   Source: https://insaneimpact.com/
Insane Impact is a major supplier of selling and renting LED video wall displays, and the company's mobile devices are perfect for any event that wants to enhance audience entertainment.
 The company has self-sufficient mobile devices equipped with all of the following in-vehicle equipment: DISH network, Blu-ray/DVD player, PC for sponsor looping/advertising, quiet generator, and complete audio system.
The above is a list of rental LED display manufacturers in New York. If there is a supplier that meets your needs, please contact it quickly~
If the above list is not satisfactory, you can look at the top 10 LED display manufacturers in the United States.
The manufacturers inside are relatively rich in the LED display industry and have a certain influence.
Of course, in addition to local purchases, you can also import, if you:
1. Pursue cost performance
2.Use the LED display only after 2 months
3. Believe in Made in China
As the "world's largest manufacturing country"-China, Electronic products are growing rapidly, especially LED displays, which have automated and mature manufacturing systems.
Bibiled is a local LED display manufacturer in Shenzhen of China.
Its products have been exported to 25 countries around the world.
It has experience in import and export, and its product knowledge is very professional. 
If you have any questions about the LED display screen, please email us at [email protected], and we will answer the questions as soon as possible.
The following are recent BIBILED display screen cases: