You are very lucky to read this article if you are very confused when choosing a good quality outdoor LED screen.
Nowadays in the LED display industry, most of the outdoor led displays are made by SMD technology, it is produced by the machine, better color uniformity to show the videos and images than DIP technology.
But why there are still some customers are fall in love with DIP technology for their outdoor LED billboard?
We will talk about four parts about the difference between DIP and SMD technology.
The brightness, stability, pixel pitch of resolution, and price.
1. Higher brightness – DIP Advantage
The max brightness of outdoor DIP can meet up to 10000nits, when outdoor DIP is facing the sunshine directly, it still could show the content very bright, and the max brightness of most SMD only can meet 6500 more or less.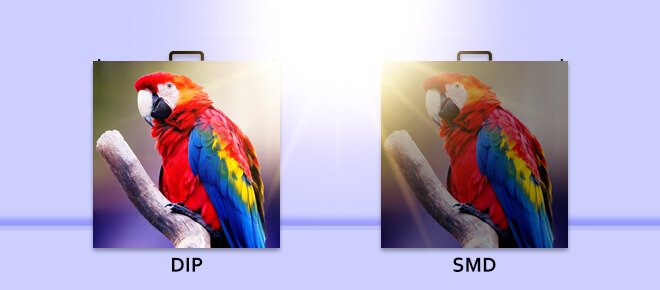 2. More stable quality and longer working life – DIP Advantage
Some of our customers gave us feedback on the very old outdoor DIP screen, "it is almost 6 years,  there are only 4 modules are broke after working 6 years, it is fantastic, we still want DIP for our outdoor project in the future",  said by Kevin from the United States.
How about you? Do you like SMD technology or DIP technology for your outdoor LED display?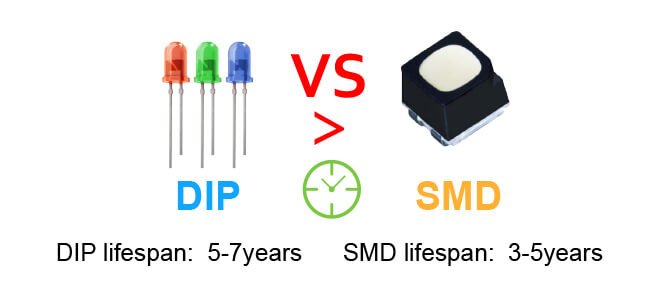 3. Smaller pixel pitch options – SMD Advantage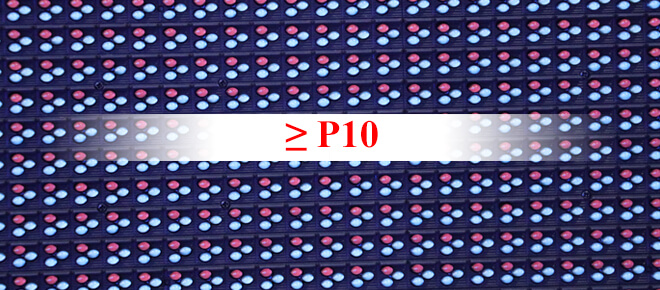 The pixel pitch for DIP only could make it over 10mm, 16mm, 20mm, etc.
Because there are three LEDs in each one pixel, and the size is DIP346.
So this means for 8 meters view distance, DIP will not okay.
BUT for SMD technology, it could be make start from P3 outdoor, much smaller pixel pitch distance and high resolution in small size.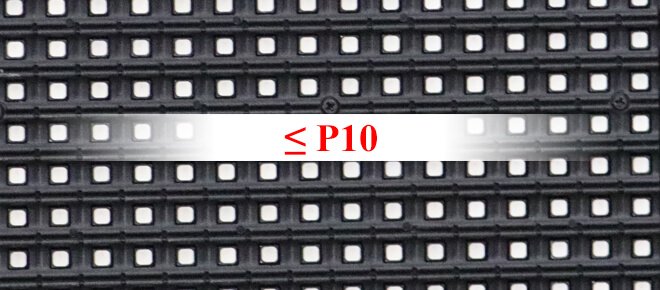 4. Better price performance – SMD Advantage
Nowadays, SMD technology is more popular than DIP technology, because SMD technology, is a much lower cost than DIP technology, around $100-$150 per square meter.
For DIP technology, it needs two more production lines than SMD technology, which means the LED screen manufacturer needs to hire more around 6-8 workers and more place for production DIP LED screen.
LED lamp beads occupies almost 70% of the price of LED display.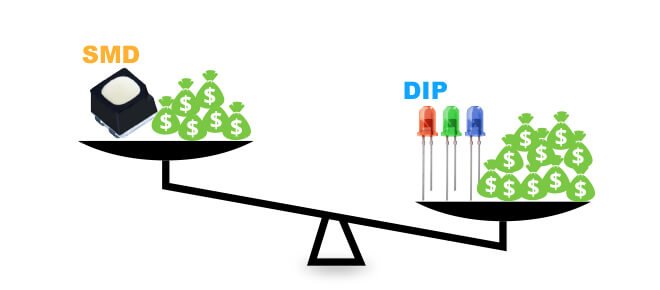 The result – How to choose it?
So, if the view distance is over 10 meters and requires high brightness, then DIP LED technology is your first option.
But if the view distance is below 10 meters, like 6 meters, 4 meters, and the outdoor LED screen is not facing the sunshine directly, and it is better to go with SMD technology.