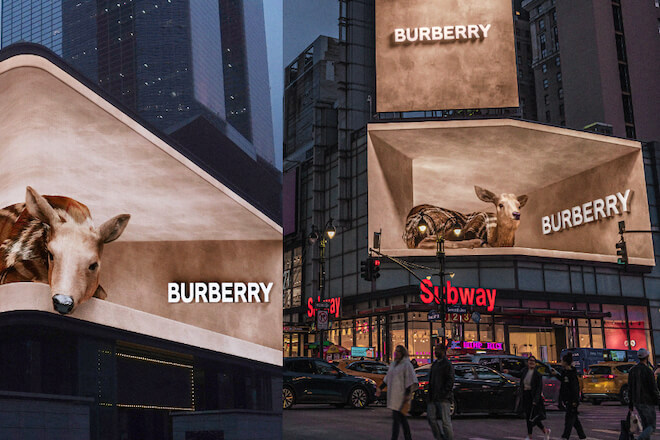 Why are naked-eye 3D LED displays very popular with luxury brands such as Dior, Louis Vuitton, and Burberry? According to incomplete statistics, 15 luxury brands have tested naked-eye 3D outdoor advertising since 2020, and the advertising effect is surprisingly good.
Phil Hall, co-director of Ocean Outdoor, a well-known British advertising company, said: "Glass-free 3D advertising will be the next major change in digital outdoor after the video."  
As a luxury product always at the forefront of brand marketing, 3D naked-eye outdoor advertising is worth trying.
So what impact will naked-eye 3D outdoor advertising have on the luxury industry? We will explain it to you in detail from 7 aspects:
(If you don't know what a naked-eye 3D LED display is? How does it work, and is it designed? You can click to learn it.)
1. What are the opportunities for luxury brands to launch naked-eye 3D outdoor advertising?
1) Cooperate with new store opening
The opening of a store is a very important event. It signifies a good beginning for everything. This year, Dior released an opening advertisement on the naked-eye 3D LED display in Seoul, South Korea, to celebrate the grand opening of the new store, which caused good brand benefits.
2) Store upgrade
The store upgrade is a better performance of the brand and product service. In 2014, the SLS Hotel in Las Vegas wanted to be renovated and upgraded to create a new technological virtual model of future retail interaction.
The hotel has created 7 surprising multimedia works indoors and outdoors, a naked-eye 3D display of outdoor cubes, immersive music interactive display in outdoor sky gardens, an atmosphere display in bars, and more.
3) Cooperate with fashion shows/Campaign
In March 2022, this outdoor advertisement of Burberry has the same theme as its 2022 spring and summer women's clothing series "Animal Instinct Animal Instinct". It will be released in Wuhan, Hangzhou, New York, Tokyo, and Seoul. On the screen, brand news quickly spread.
The image's subject is a fawn with Burberry's classic brown plaid coat, sometimes staring straight ahead, stirring his ears, and looking around curiously.
4) Show new products
The "Air Force 1" sneakers co-branded by Louis Vuitton and Nike (Nike) will be released today and in June 2022. Before this, naked-eye 3D LED displays were used in popular cities such as Chengdu and New York. The appearance of the eye-catching joint series quickly attracted people's attention.
2. Who is making glasses-free 3D outdoor advertising for luxury brands?
D'strict is a Korean design company specializing in creating creative spatial experiences with digital technology. In May 2020, D'strict displayed a dynamic digital work, "Wave" on a large led screen in the SM company building in Seoul, South Korea. The 20-meter-high waves rolled turbulently in the building, attracting the attention of many passers-by but also causing swiping on the Internet. 
This is a milestone in naked-eye 3D outdoor advertising technology, and it has become a model for common naked-eye 3D outdoor advertising.
Most naked-eye 3D outdoor large-screen works in Yingjia Plaza in the Taikoo Li business district of Chengdu are performed by Chengdu Film and Television Technology FintWalk.
Examples of luxury brands he has led include Gucci bamboo handbags and Dior Vibe handbags-themed ads, Jaeger-LeCoultre ultra-thin master series and Tiffany ATLAS series of watches-themed ads, Canada Goose shoes-themed ads, etc.
British outdoor advertising company Ocean Outdoor launched a simplified naked-eye 3D advertising creation technology, "DeepScreen," in 2021, which can easily render 2D creatives into 3D forms. Users include IWC, Balenciaga, etc.
3. Compared with traditional outdoor advertising, what are the advantages of naked-eye 3D outdoor advertising?
Compared with traditional outdoor advertising, what are the advantages of naked eye 3D outdoor advertising?
1) Strong eye-catching
Glasses-free 3D outdoor advertising breaks people's aesthetic fatigue on traditional advertising forms with novelty and visual impact. "Outdoor Advertising Internal Reference" quoted big data research results, saying that compared with 2D advertising, naked-eye 3D advertising has increased attention by more than 7 times, memory increased by more than 14 times, and return on investment increased by 3.68 times.
The highly creative naked-eye 3D outdoor advertising directly converts public resources into advertising, making it difficult for people walking around to ignore.
Prominent naked-eye 3D outdoor advertising can also attract people to check their mobile phones, forming secondary communication on the Internet and social media. Unlike passers-by who watch ads live, online users are a larger potential audience.
2) Immersive experience
What makes the Burberry fawn and Doggo case even more appealing is that it allows the avatar to break through the dimensional wall and travel across the screen to the real world. Although it is just an optical illusion, it makes the brand's avatar "live" in front of the audience.
All in all, this is the embodiment of the technological progress of traditional LED display, which provides a brand new experience for brand building, and there will be more virtual world and immersive experience applications in the future.
4. What special value can naked-eye 3D outdoor advertising bring to luxury brands?
1) Enlarge product details to highlight the beautiful attributes of luxury goods
Glasses-free 3D outdoor advertising has two obvious characteristics: the main body (product or character) is large enough, and the other is that main body tends to appear to rush out of the screen. The sophisticated products of luxury brands are well-suited for such presentations.
For example, IWC and Jaeger-LeCoultre magnified a small watch countless times, allowing people to see the intricate details; when the Pomellato Nudo series gemstone ring is enlarged, its brilliance is shocking. Luxury itself is pleasing to the eye, and naked-eye 3D technology helps this beautiful attribute to be infinitely magnified and spread.
2) The cutting-edge and creative nature of digital technology is in line with the tonality of luxury brands
Luxury brands have always been pioneers in exploring cutting-edge fields. For example, Balenciaga and Burberry have already tested the water game, NFT, and the metaverse. Their enthusiasm for naked-eye 3D outdoor advertising seems to be the same as other digital technologies.
The luxury brand itself is an industry that pays great attention to vision and creativity, and enduring luxury brands have embraced new technologies and carriers to convey creativity. As traditional advertising forms can carry content that is gradually saturated, leading brands have set their sights on the new "virgin land" of naked-eye 3D technology, where they still have a lot of creative space to explore and develop.
5. How to make naked eye 3D outdoor advertising valuable to luxury brands?
Although naked-eye 3D outdoor advertising has obvious advantages over traditional outdoor advertising and can bring added value to luxury brands, it does not mean that it is a 100% "safety card", and many challenges are hidden in specific applications.
With good quality naked-eye 3D technology, that would be the best. If the dynamic effect is slightly distorted, it will greatly affect the overall advertising effect.
It would help if you kept exploring to create works that are more creative, more first-class, and more able to raise topics and spread. At present, the naked-eye 3D outdoor advertisements of luxury brands are still limited to the surface display of "greeting" with the audience. How to make good use of this To develop deep interaction and unique and meaningful themes with the audience through various technical means, much innovation is needed.
How will consumers react when this form of advertising becomes more and more normalized? Ubiquitous advertising and a lot of "visual impact" can create visual fatigue and boredom. Therefore, brands need to strike a balance between "visual impact" and "visual pollution".
To sum up, for luxury brands, naked-eye 3D outdoor advertising is a new form of advertising that can attract attention, but as more and more brands launch this kind of advertising, homogenization has become a risk that needs to be vigilant. This requires brands to constantly break down creative barriers to make this form of advertising truly valuable.
6. China's naked eye 3D industry status
In China, from 2018 to 2020, the results of the number of patents according to the patent disclosure data show that the number of patents related to naked eye 3D showed a trend of first increasing and then decreasing. 
The number of patents in 2018 reached a peak of 390,165 patents published. The data on the decline in the number of patents can show that the development of naked-eye 3D has entered a mature stage. 
Technology application scenarios are gradually expanding, such as shopping, exhibitions, park construction, advertising, etc.
At present, most of the naked-eye 3D technology in my country is in the research and development stage, which is mainly divided into two directions.
7. The future of naked-eye 3D LED display
1) The degree of personalization of outdoor advertising will increase in the future
In the future, people will be more inclined to use data to make precise decisions.
The digital transformation trend in the outdoor industry will be more rapid, and outdoor advertising can be personalized using basic demographic characteristics such as age and gender to predict consumer behavior by time and season.
For example, 5:30-6:00 pm is the craze for dinner, and 20-35-year-olds are more inclined to eat out for lunch.
After 5:00 pm on Friday is school closing time, more parents need to pass by this place and so on.
2) Marketing through special features
In the future, we may see advertisers targeting more and more personal characteristics, accurately targeting consumers, and conducting precise marketing. There will be no such thing as recommending carbonated drinks to 80-year-olds or maternal and child products to young unmarried women—so strange.
With personalized data sheets, it is possible to create interesting marketing methods and impressive experiences with naked-eye 3D LED display; camera AI recognition, AR, and other technologies.
E.g.:
New Balance recently used computer vision to identify uniquely dressed people walking the streets of Soho during New York Fashion Week, and to be able to do this; New Balance technology must be able to:
Identify different body parts of people who may have a variety of clothes
Compare styles to data collected on people walking past LED billboards
Then, those who are uniquely dressed get a pair of New Balance shoes.
3) The future of privacy and ethics in outdoor advertising
The tracking technology built into many outdoor billboards is steadily increasing. Based on data tracking on the Internet, it is increasingly possible for advertisers to understand their potential consumers, such as consumer behavior habits, what beverages are often purchased, and when Duan will pass through here, and even learn about the nature of work and family situation of consumers, etc. This situation is very similar to a "fugitive" being monitored. Do you feel comfortable? So this invasion invades people's privacy, especially since most don't even know they are being followed.
The legal implications of billboards tracking consumers are currently underexplored, and there are unique privacy and ethical challenges to consider in the future.
The above are the related effects on glasses-free 3D outdoor advertising and luxury goods. The effect of a glasses-free 3D display is just the icing on the cake. If you want to keep the brand in the audience's memory for a long time, in addition to instant content, there is also a long-term brand: business and image.
The leading luxury brands have set their sights on the new "virgin land" of naked-eye 3D technology. They still have a lot of creative space to explore and play. If you urgently need an outdoor advertising brand strategy, you might as well try it. Try the naked eye 3D LED display while there is still a chance.
If you have any questions about the naked-eye 3D LED display or let's discuss together when the naked-eye 3D display becomes "normal", what is the next technology to become the password of traffic, please leave a message below.