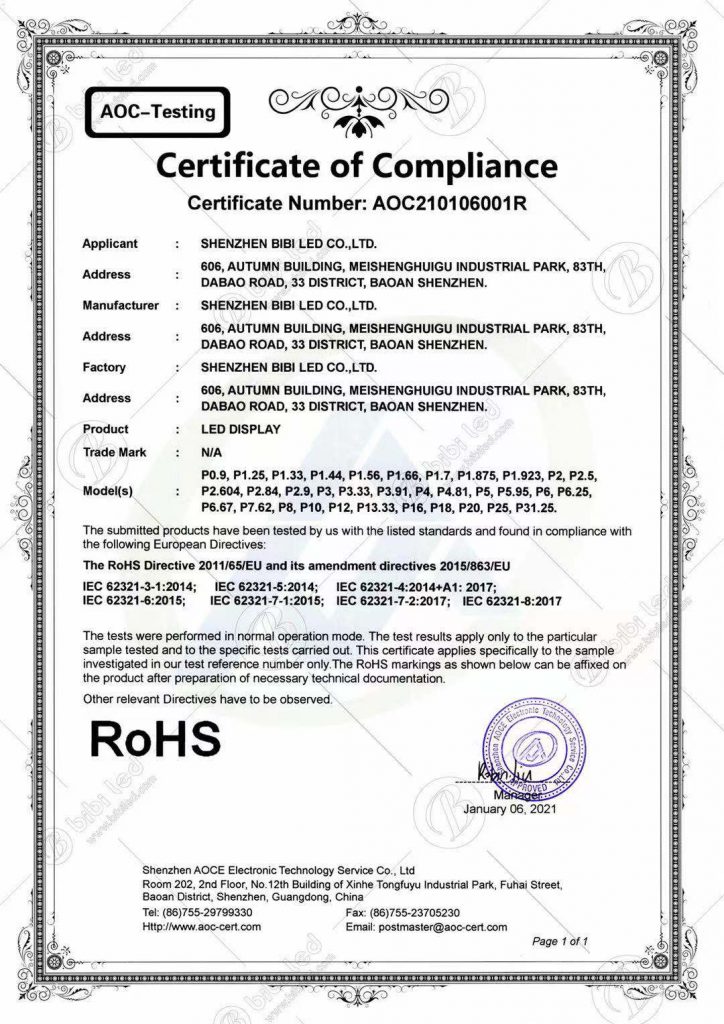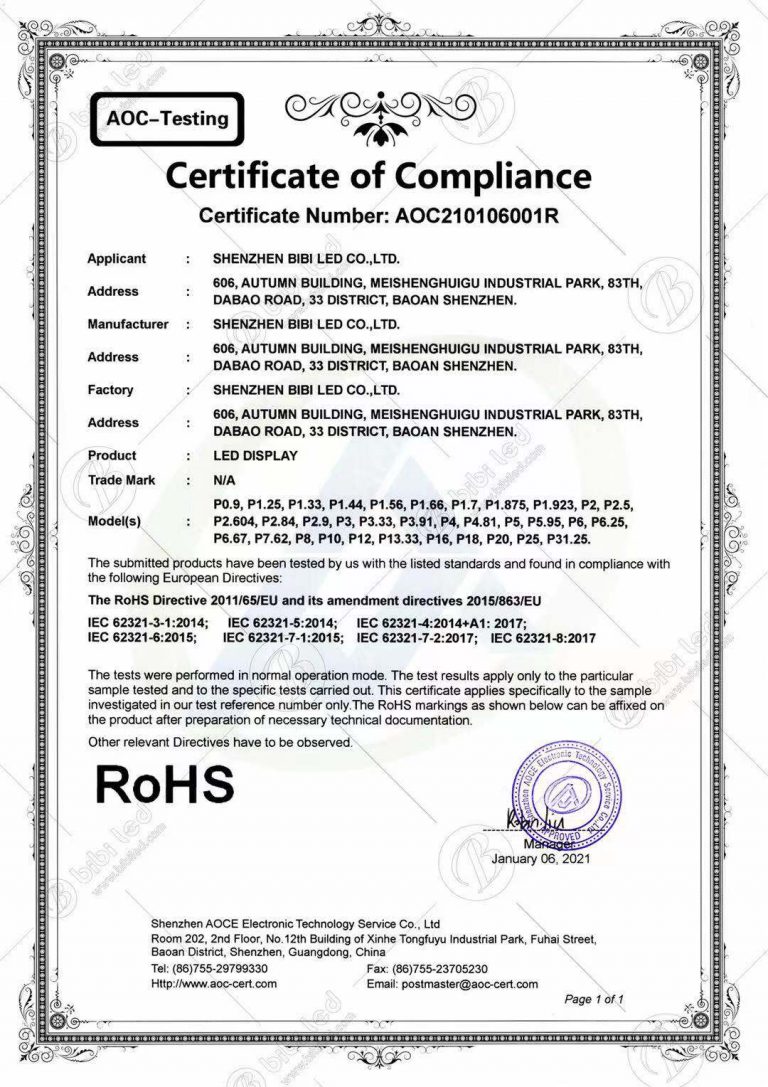 On January 6, 2021, a third-party notary laboratory issued the Restriction of Hazardous Substances certificate to bibiled, which indicates that bibiled's LED display products comply with the mandatory standards set by EU legislation for six substances: lead, mercury, cadmium, hexavalent chromium, polybrominated biphenyls, and polybrominated diphenyl ethers, and They are not harmful to human health and the environment.
1. Why do we need RoHS certification?
The main reason is the super high content of cadmium found in the cables of many game consoles sold on the market in the Netherlands in 2000.
Cadmium is very destructive to the human body, when cadmium toxicity into the human body is extremely difficult to excrete, long cycle, high insidiousness, elementary to damage the liver and kidneys, spleen and stomach dysfunction, hypertension, etc.
And subsequent testing found that other electrical appliances, electronic equipment, packaging, and printing were also found in this harmful metal, causing healthy unease in Europe to maintain people's health and environmental protection.
After the EU and Japan implemented RoHS one after another on July 1, 2006, electrical and electronic products that use or contain heavy metals and PBDE, PBDE PBB, and other flame retardants exceeding the standard will not be allowed to enter the EU and Japanese markets.
Then on January 1, 2007, the United States implemented RoHS;
on March 1, 2007, China implemented RoHS,
on January 1, 2008, Korea implemented RoHS.
The multi-country focus creates a healthy economic market, avoiding the risk of closure and criminal detention for producers and reassuring buyers.
Here is the report of the BIBILED product test : (Global Application)
2. Testing principles.
The following are the upper limit concentrations of the six hazardous substances specified in RoHS.
Cadmium: less than 100ppm.
Lead: less than 1000ppm.
Less than 3500ppm in steel alloy.
Less than 4000ppm in aluminum alloy.
Less than 40,000ppm in copper alloy.
Mercury:less than 1000ppm.
Hexavalent chromium: less than 1000ppm.
We are glad that our products do not cause damage to human health.
Bibiled has always focused on good service and professional product quality, If you buy the nationastar LEDs can't distinguish the real from the fake or feel unsure about purchasing an LED display screen for the first time.
We can free-testing nationstar LEDs; the testing organization is by the nationstar LEDs testing center identification. After testing, we will email you the test results. Specific details can contact us. We are happy to serve you:i[email protected]  
Past regular quality control product video: