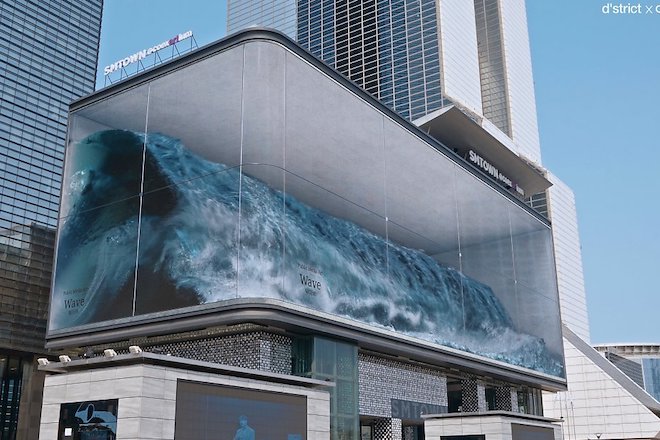 (Picture by D'strict)
You may not be familiar with D'strict, but you must have seen such a popular video on YouTube or TikTok – a 20-meter-high 3D water tank appeared on the streets of South Korea. 
The work is called "Wave", and it is from D'strict creative hands; in 2021, the digital media artwork "WAVE" stood out among 9509 works and won the German Design Award IF Gold Award with the highest score.
Who is D'strict?
D'strict was established in 2004 by CHOI EUN SUK, KIM JUN HAN, and LEE DONG, respectively. Two of the founders were once well-known web designers in Korea. Therefore, the company's initial main business was to design interactive Websites; at the time, the only platform for digital media was WEB.
From 2004 to 2007, it mainly provided customer services such as Samsung Electronics' global website.

From 2008 to 2010, d'strict began to transform into digital marketing services, contracting almost all overseas conferences of Samsung Electronics.

In 2009, 70% of the company's revenue came from Samsung.
During this time, D'strict has accumulated rich experience. With the gradual rise of LED display screens, 3D holographic projectors, and various XR technologies, D'strict uses digital media technology, combined with strong visual creativity, to provide luxury goods; countless creative projects have been designed in parks, businesses, hotels, and more.
Let's take a look at 8 works of outdoor activity art:
Tiffany&Co Beijing flagship store opened, and brand owners came to Samsung to design solutions, which led to the case cooperation of Beijing International Trade. The Theme d'strict team took 6 months to complete the stunning 3-minute visual, combining art and technology perfectly.
Not only has the piece won an IF Design Gold Award, but Tiffany is its first major international client outside of Samsung.
This spectacular show, shrouded in dazzling diamonds and classic Tiffany blue, transforms Chinese architecture into a fantastical Pandora's Box. With the cooperation of light and shadow, the gift box of the girl's heart and the dazzling diamonds are presented three-dimensionally, dancing gracefully. The butterfly is so vivid that its sound becomes a large 3D multimedia show.
2. SLS. Hotel GX Design · 2014
In 2014, the SLS Hotel in Las Vegas wanted to be renovated and asked d'strict to create a new model of future retail interaction, creating a sanctuary integrating luxury and tranquility. The design cost up to 400 million US dollars, and created 7 multimedia works, including naked-eye 3D LED display, holographic projection, Mapping, and other technologies, presenting a visual feast for tourists.
In 2015, aware of the huge potential of commercial multimedia in the Chinese market, he set up a company in Shanghai and officially entered the Chinese market. He has successively created different digital media projects in Quzhou, Nanjing, Yinchuan, and other places in China.
Kingdo Life Center GX Design
This is September 2016. Nanjing Jingfeng Life Center opened, which was fully renovated by D'strict. Outdoor multimedia LED displays large screen and multimedia interaction in the shopping mall.
We saw and experienced this design, and it is still fresh and attractive today.
This is October 2016. At the intersection of Yinchuan and Beijing, an interactive multimedia tower of cultural wisdom was created, integrated with ancient China's scenes.
4. Gwangmyeong Cave LED Tower · 2017
In July, d'strict released interactive digital content for the large LED tower – the largest in Korea at 22m in height, 12m in width – in Gwangmyeong Cave Theme Park.
At that time, it was the largest outdoor LED screen in South Korea, presenting 7 sets of multimedia images with visual impact. The display elements of the LED screen mainly used the mining background of gold, silver, copper, and other minerals, integrated into culture and art, and through modern technology means to present some bizarre and sci-fi pictures to the audience, bringing a new visual experience.
In terms of user experience, Mobile AR technology has also been added. On-site visitors can vividly interpret the faces of the absent workers carrying out mining operations in Yanbu on the 3D face scanning screen of the tablet computer. This echoes the original site of the Park Mine.
5. Lotte World "Magic Circle" 2019
One & only in Lotte World, mysterious and full of wonders, "MAGIC CIRCLE".
To celebrate the 30th anniversary of Lotte World Adventure, d'strict has unveiled "MAGIC CIRCLE," a high-resolution, three-dimensional circle-shaped attraction. This attraction keeps the Roller Coaster Giant roof's original shape while adding a 12.5m-wide circle-shaped LED screen.
This huge "fish tank" is a giant LED curved screen 20m high and 80m long, located on the roof of SMTown in Seoul, South Korea. The d'strict team created the work. In addition to the visual state of the waves rolling in the building, a sound system is also installed so the audience can achieve the desired auditory effect.
Viewed from the led screen side, this 3D naked-eye LED display is still lifelike, and the entire screen will automatically adjust the brightness according to the movement of the sun to prevent visual inconvenience to passing pedestrians and vehicles.
7. Public Media Art "Waterfall-NYC" · 2021
In 2010, d'strict established an office in New York, and in July 2021, created a public media artwork in Times Square, New York.
Installed on the exterior of Times Square, "Waterfall-NYC" uses four vertical LED screens with a total height of 102.5 meters. The majestic waterfall creates a striking and overwhelming presence in the city's iconic red-brick and steel-framed buildings.
d'strict will continue to publish various sensual artistic content in the form of public media art.
After months of preparation, a'strict, a digital media art team under d'strict, created new works, "Waterfall – NYC" and "Whale #2", which were launched at One Times Square in Times Square. In creating the 102-meter "waterfall", to achieve the ultimate effect, d'strict boldly challenged and linked four vertical LED screens to present the most realistic naked-eye 3D effect.
The huge screen is also limited to the space depicting whales' majestic free movement. Therefore, surreal whales made of water were born to break through huge waves and show free and gorgeous movements.
The above are the 8 major outdoor creative art media activities of the d'strict; we look forward to more work from it.
Every visual feast is not only this, but the theme of every d'strict is also beautiful, such as "WAVE" in the water tank.
The tumultuous waves trying to break through the electronic confinement, repeatedly rushing forward; it seems to see the human beings trapped by the epidemic fighting for survival against the environment changed by the virus; the elements of nature convey a strong sense of power and constantly impact the heart.
"Whale #2" Whales have become an endless force transmitted in a complex world. Tenacious humans have begun to understand the profound meaning of coexistence with the epidemic, and the world is gradually recovering its energy in pain relief.
These topics are very close to us and give people a lot of energy to move forward.
All the above video materials are provided by d'strict; if you want to know more about it, you can directly log in to the website: https://www.dstrict.com/.
If you have questions about the naked-eye 3D LED display, you can contact us anytime.