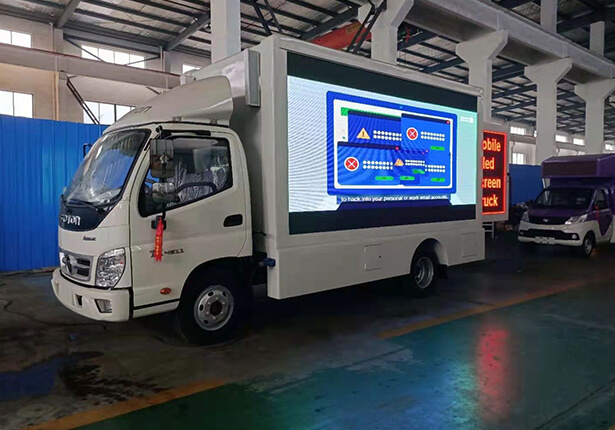 Mobile truck LED screens

Movable, easily moved to different places, the best solution for a mobile advertising tool

High brightness, strong adaptability, and all-weather proof

Easy for operation, all signal types accepted, HDMI, SDI, DVI, USB with plug&play

2023 New LED Screen Price Check
Quick and easy: Enter your specifications and get a quote in one business day
Who needs truck LED screen?
The advertising value of the LED truck screen is balanced by unfixing location demand. The advertising information can move to different locations along with the truck.
The truck LED screen can do more; the installation is already fixed on the truck, which means, when you do event or information play, you can easily and quickly move your LED screen to the place plug and play without extra assemble work.
What is an truck LED display?
A truck LED display is essentially a mobile LED screen. It is a mobile LED display that is ideal for rentals due to its ability to be driven almost anywhere.
The truck LED display is an LED display mounted on the trailer truck; it is also known as a truck LED display or LED trailer. It can display the text, images, and videos on the side of the truck.
The LED truck screen has high brightness, good adaptability, all-weather resistance, mobile media, better communication, more comprehensive coverage, a high contact probability, and a consistent contact frequency. It makes them popular for use in outdoor events. It delivers high-quality, high-resolution digital displays ideal for advertising and brand promotion.
If you have upcoming outdoor events, you should think about renting or installing an LED advertising truck.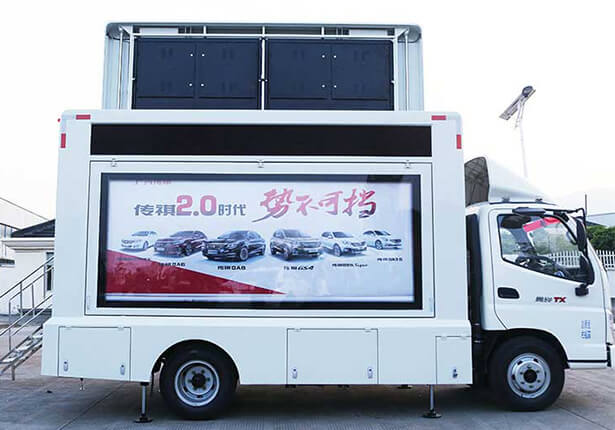 LED truck screen technical features
The most important parts to pick up the truck LED screen is the resolution and truck type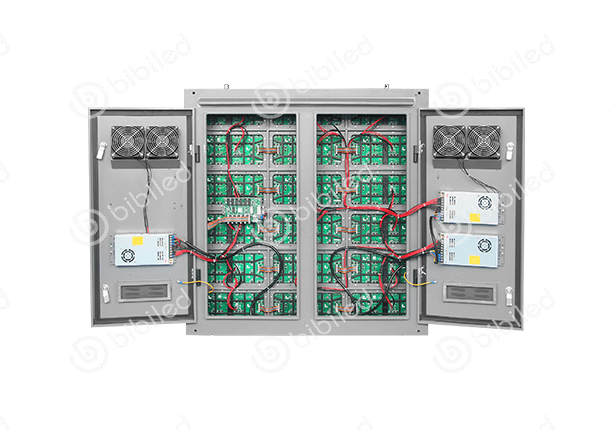 When selecting a high-quality truck LED screen, three factors must be considered.
The first is the different types of trucks and trailers. Before purchasing the LED screen, you must first decide which kind of truck you will use. It is responsible for determining the size of the LED screen. Because the mobile LED truck will be moving and transferring from one location to another, selecting a high-quality truck is essential.
The second step is to ensure that the pixel pitch and resolution are correct. Because the truck LED screen size is limited, not every pixel pitch can display videos; therefore, you must confirm the purpose of your truck.
Third, don't always choose the truck LED display with the lowest price. The LED screens will be fixed and installed on the truck or trailer; they must always be moving on the road and have a durable quality to withstand a long time on the road.
ITEM
UNIT
Description
Pixel Pitch
mm
3.91, 6
Brightness
Nits
Up to 6500
Refresh Rate
Hz

>1920

Key Point
All weatherproof
#1 Movable
Due to the fact that the LED screen trucks have wheels. It is simple to move it wherever you like. Transferring from one location to another does not necessitate the use of an additional transportation system. Moving the LED screen trucks is as simple as driving a car.
#2 All-in-one
The outdoor mobile LED screen is an all-in-one LED truck display. It has a generator, a control room, a structure, and audio. All you have to do is drive it to the area or start displaying your commercial or live videos while driving. It takes less time to set up and requires fewer people to manage.
#3 Multi-use
The LED truck screen can be utilized for a number of applications, including sports-related live shows, concerts that also function with a live camera, outdoor theatres with a large LED screen, and so on. The LED display trailers are also effective in political rallies, outdoor church services, community information promotion, business and corporate promotion, and so on.
2023 New LED Screen Price Check
Quick and easy: Enter your specifications and get a quote in one business day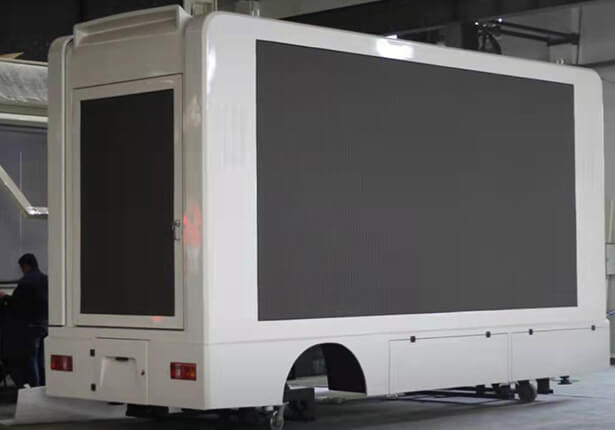 Truck LED display set up

It will just take you about 30 minutes or less to set up your LED truck display.

Our mobile LED trucks are developed with a rapid lock mechanism, making assembly time shorter and easier.

The LED screens are already mounted to the trailer or truck when our LED truck arrives at your site.

It will only take a few minutes for your staff to complete simple setup processes in order to begin displaying your digital ad content.

Whatever time it takes to assemble, it takes just as long to disassemble. LED display trucks are becoming popular as outdoor digital displays for the reasons stated above.

It is simple to manage, operate, install, remove off, and, most importantly is movable.

How to control&operate the truck LED screens?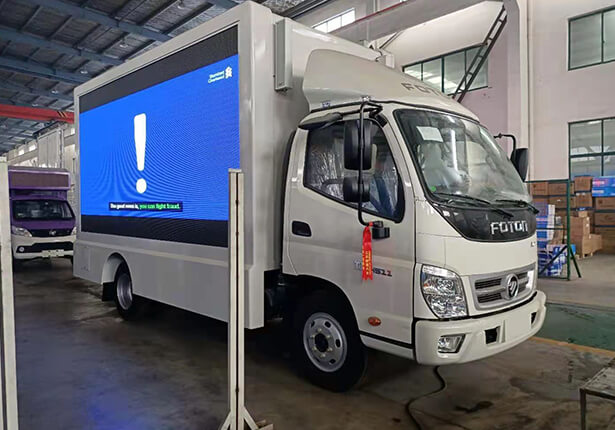 You can publish the content you need to play through the computer, or you can let the truck LED screen immediately play your computer desktop content as the full screen.
Using mobile device control, we will supply free mobile phone software, which you can use to directly upload and update the photographs, videos, and texts that need to be played, or you can create the content that needs to be played in preparation and plug it in with USB to play.
Connect the camera control. When the truck screen is used for live stage performance, it must be linked to the live camera. This is also an option.
The truck screen will be equipped with a generator, which can be directly connected to the generator inside the truck screen to work, or it can be connected to a suitable power source outside to supply power when the truck screen is parked.
Truck LED display is much more than just a simple truck
Conclusion: What is the advantage of the truck LED display?
The truck LED screen has mobile advertising features, with more spread, more extensive coverage, and greater effectiveness. Compared to other LED display displays, vehicle-mounted LED screens are constantly on the move. Advertising information can be broadcast at any time while the truck or trailer is on the road, providing a broader coverage area than a fixed advertising platform.
LED truck screens are moveable, as opposed to regular LED screens. On the other hand, regular LED screens have a fixed installation position and may only be viewed passively or by the flow of people. LED truck screens are highly mobile and active. Vehicles equipped with LED truck screen adverts will actively seek out busy areas to stay. You can actively choose your audience, considerably improving information transfer efficiency.
LED truck screens are more flexible than traditional LED screens. LED truck screens do not require a set installation position, saving on-site rent and taxes.
2023 New LED Screen Price Check
Quick and easy: Enter your specifications and get a quote in one business day